The Old Room
William Stanton
Helfer Productions
White Bear Theatre
–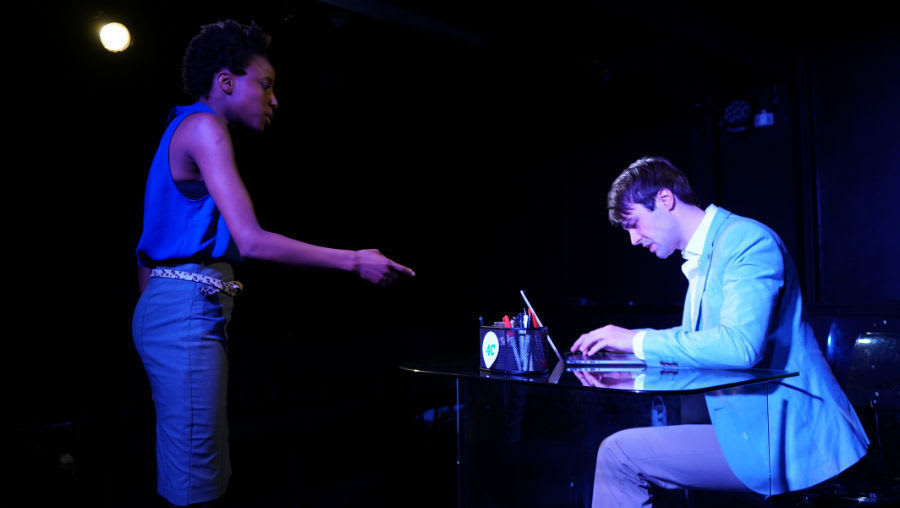 William Stanton's low-key political thriller The Old Room touches on many current controversies from the antics of Cambridge Analytica to the increasing hostility between the Russian and UK intelligence services.
It also reflects a pessimistic mood now being felt by many liberals about their ability to control events.
The play switches continuously between two stories involving the character Sam Conway (Nicholas Limm).
One begins in The Old Room bar when he takes an interest in a woman he does not know who is waiting for someone.
His brief conversation with her takes his mind back to his posting by the UK security services as an IT specialist in Prague. There he had formed a relationship with Romy (Karina Knapinska) who provided him with recreational drugs. However, his employers suspected her of being a Russian "honey trap".
Affectionate but haunted by terrible dreams, she is frightened that men are following her. One evening, she asks for his help in getting her out of a dangerous situation.
Those events may have led to him leaving the service and it is while he is later working as an IT consultant for the firm 4C that he meets Nina Barnes (Nicole Roberts) in the Old Room bar.
She also seems frightened about something and there are more than a few hints that she may have connections to the intelligence services.
4C is campaigning online against privatisation and has drawn more than a passing interest from the intelligence services and a company determined to privatise public healthcare.
All the characters seem to be paranoid including a 4C employee Lulu (Miranda Shamiso) who angrily accuses Sam of carrying out IT sabotage on behalf of the security services.
The play's short scene structure maintains a sombre atmosphere as it conjures up a world of troubled spooks and precarious relationships.
But this mystery story gives us little depth or character complexity, the dialogue can sound awkward and unconvincing, and for all its seriousness it has difficulty getting us to care what happens.
Reviewer: Keith Mckenna