The One Act Festival 2012: Book Ends, Gabrielle's Kitchen and Pamela!
David K O'Hara / John Stanley / book and lyrics by Sarah Underwood, music by Olivios Karaolides
Savin-O'Hara Productions / 6:37 Productions & Levelheaded Productions
Lost Theatre
–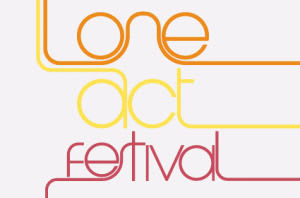 Every year, the Lost Theatre (now found in the Wadsworth Road) stages a week-long festival of one act plays: this is the 28th. There are 18 plays, chosen from 75 submitted, played over 6 nights. From them an adjudicator (this year dramatist and The Times critic Jeremy Kingston) chooses the three that he feels best represent Best New Writing, Best Direction and Best Cast. Because Lost's policy is to be a stepping stone for young talent, the winners must all be under 27. The winning plays are invited back to perform again in the autumn.
I caught Friday's programme which, if it was representative, shows the eclectic range of the material that was offered.
Book Ends by David K O'Hara (Savin-O'Hara Productions)
David K O'Hara's play seems to be about literary invention. It is closing time in a bookshop and a young man in a bookshop is neurotically pretending to browse. He is inventing himself a lover, a girl with fabulous bone structure whom he decides to call Regine. He decides it is the bookseller and fantasises her whole history and the way their courtship will be conducted. Meanwhile "Regine" is doing the same for him, making "Jeremy" a post-graduate, book-browsing pervert who smokes in bed and steals library books.
In their long opening monologues, Russell Woodhead plays the man frenetically and Karina Sugden is an awkward "Regine", like their setting (no bookshop would ever pile books they way they are on this shop's tables) they are difficult to believe in. When they do start talking to each other and we follow their strange pairing, he inventing an imaginary book title and author he is trying to track down, things become more obviously surreal and their awkwardesses play off each other. She literally eats books and reads imaginary texts until eventually the bubble of their invention bursts.
It is an intriguing idea that doesn't quite come off. Director James Savin fails to establish either a real world or a surreal one and the plotting ignores today's book world or digital catalogues and computer searches but there is no attempt to anchor it in an earlier time.
Gabrielle's Kitchen by John Stanley (6:37 Productions & Levelheaded Productions)
Mothers and daughters are the subject of John Stanley's play, through four generations. Holly Elmes plays them all as seen through the eyes of neurotic Gabrielle. We start with her singing a lullaby to her baby daughter, meet domineering mother and gaga grandma. Ko-Eun Lee's simple setting, a child's cot, a mesh screen and a single chair, becomes whatever is needed, though it momentarily confused me; I thought at one point Gabrielle had been put in a mental home or prison when she was actually visiting grandma.
Stanley presents a multi-voiced monologue that is a gift to an actress and Elmes handles it beautifully whether in a paean to her husband Pete's bison-sized penis and its powerful penetration or becoming her dictatorial mother. Gabrielle's actions may be monstrous but you understand her pain as she moves from sadistic ten-year old to suicide, disposing of all four generations on the way. Director Fana Clobhan keeps it well paced and uses the space to match the meaning with rather jagged French pop to intercut the scenes, though my French is not up to understanding whether the lyrics were significant.
Pamela! Book & lyrics by Sarah Underwood, music by Olivios Karaolides
Sarah Underwood and Olivios Karaolides musical play gives us an American 15-year-old who has been kidnapped by religious cultists. In a long, spoken monologue, Ceris Hine's schoolgirl Pamela, her hair done in bunches, tells us how she has been snatched at a bus stop. Mr B is her vision prone captor with Mrs Jewkes (who despite the name seems to be some sort of wife) has been given a strange annunciation that she is to be their daughter, but once they have got her Mr B seems to want a more intimate relationship.
Karaolides writes a clear vocal line so the words are comprehensible, not lost in high soprano bravura, but there is nothing I found myself singing on the way out of the theatre and his note cluster scoring on piano seems a ground for the singers rather than developing the melody, but it is music that is pleasantly operatic and easy to listen to. The plot doesn't really seem to go anywhere and if it has any deep meaning it managed to elude me but Ceris Hine gives a stunning performance against which Virge Gilchrist's and Chris Kellick's kidnappers seemed a little under-powered; perhaps they lacked enough rehearsal in the venue to judge its acoustic and find their light, it is not esdy when you are sharing a bill with other companies.
With a carpet, a chair and some bedding and light cast to give us a window, Katerina Angelopoulos provides a simple but elegant setting and director Melina Theocharidou makes excellent use of the space of the whole theatre.
Anyone wanting to showcase their work in future festivals should remember that plays must be between 20 and 45 minutes long and to have a chance of being selected for repeat performance either the writer, the director or the complete cast (or all of them) must be under 27 years old. Lost Theatre is also running a two-week festival of solo theatre under the title Face to Face.
Reviewer: Howard Loxton