The Ones Who Kill Shooting Stars
Conall Quinn
Three Streets Productions
White Bear Theatre
–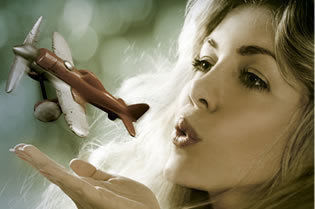 On the beach at Drogheda in Ireland during what the Irish then called "The Emergency" (what we now call the Second World War), you can meet a strange bunch of people.
There is lovelorn, alcoholic Henry (Gegory Finnegan), keeping watch for submarines and invaders. He is armed with a Very pistol and he's trigger-happy, shooting red flares in the sky to attract the attention of the girl that he loves. She ignores him, though he nearly burns her to death. Instead, taking walks in the night, there is Alice (Claire Fraenkel) who, though she lives on her own, keeps running away from home. Then along comes self-important Edward, Mr Trilling (Damien Tracey), who's giving up his time (well two days every fortnight) to serve Eire by supervising Henry.
Henry is supposed to keep a log of his watches. His descriptions of "windy wind, rough sea and laughing seagulls" may sound as though nothing is happening, but it is surprising the number of American airmen who seem to get washed up on the beach. If they are not dead already, they don't stand much chance of survival after Henry and Edward drag them out of the water. With his share of the cash in their pockets, Henry plans to fund is own escape across the Atlantic. Lonely Alice digs up one airman they have buried and promptly falls in love with him. She pushes the body around in a wheelbarrow, giving it her caring and amorous attention.
Conan Quinn has a gift for words as well as a fertile imagination, not least in his description of Mrs Trilling waking up in the morning, and the actors show a similar relish for words. They play them with forceful energy that pairs realism with a conscious theatricality to combine a real feeling of aloneness with a satirical comment on their wayward Irishness.
If you think this sounds surreal, the second act goes further. Alice's airman Dumas (Paul Hayward) is now resurrected, talking and making love to her, and a drowned sailor, Schimmelfennig (Dominic Ridley), is with them together with a silent elderly figure called Manus the Wise, whom Schimmelfennig has encountered, with his one-eyed dog. Schimmelfennig seems to believe they may be in Limbo, but this could all be somebody's fantasy.
The fantasy could be Alice's, except for anachronistic references to bikinis and kiss-of-life resuscitation that date the fantasist well post-war. Perhaps Quinn just wants to add another layer of fantastication, though he to returns to his 1940s "normality" with Henry also taking up necrophilia as an answer to loneliness.
Alice Malin's production drives things on; you forget about literal logic and stop looking for precise meaning and go along with the actors' belief in their characters. Designer Ruth Hall's setting matches the play's mixture of solid reality and the poetically surreal with draped parachute clouds paired with a very real deck and Matthew Augustus's painted floor of simulated shingle.
Reviewer: Howard Loxton