The Orchestra
Jean Anouilh
TeatroLatino
Omnibus Theatre
–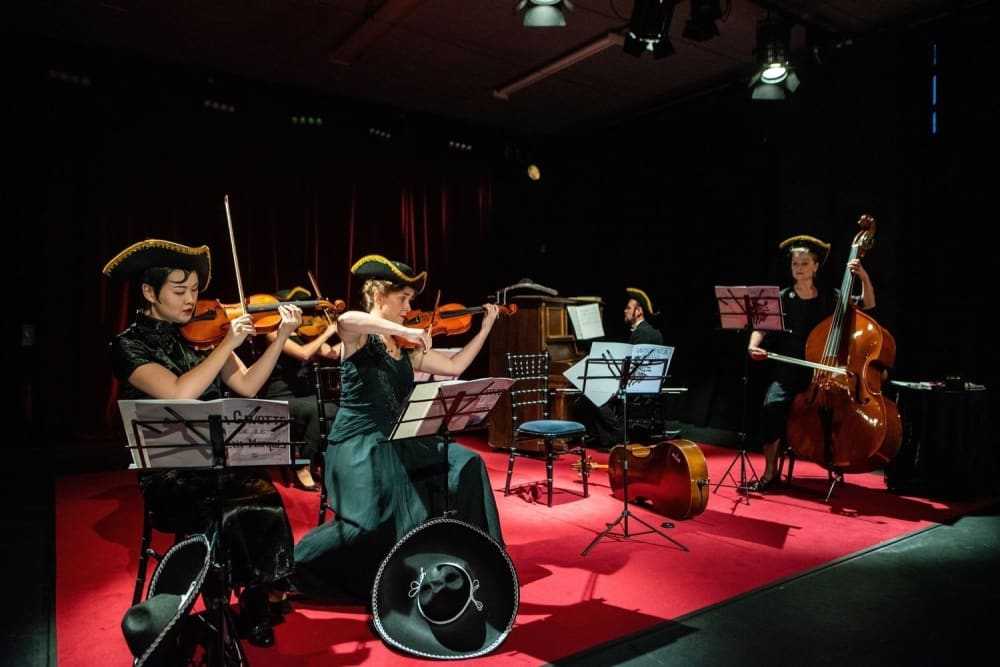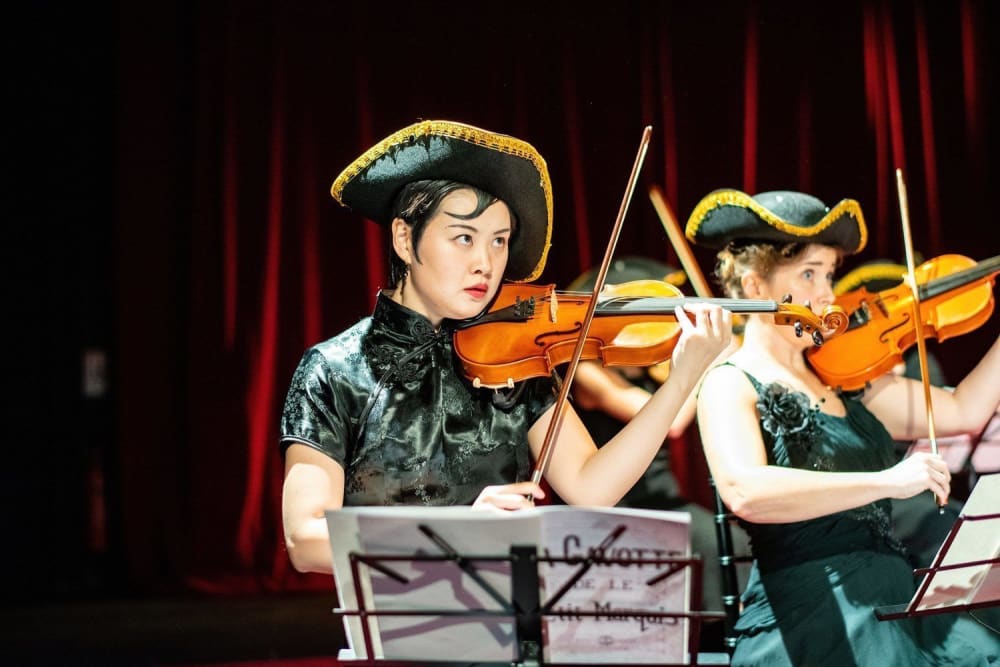 The orchestra in this 1962 short black comedy from the prolific French dramatist is a band that has come down a bit, now reduced to playing café concert in places like spa hotels. Three violinists, cello and flute are directed by the bass player, Mme Hortense, with pianist M Leon the only man among all these ladies.
They may once have seen better days but now play second-rate music for an audience that is rarely listening even though there is a scattering of polite applause at the end of each number. It's so kitsch that Kristine Landon-Smith's production has them put on sombreros to play a piece called "Rapture in Havana" then don period headgear to match some Venetian music.
Between pieces, and sometimes during them, they gossip and bicker. It's a group that is riven by jealousies and dissatisfaction with a recriminating undercurrent of accusation of wartime collaboration. This one claims she refused to take up a post in Vichy France, the cellist Suzanne (Stefania Licari), who is having a passionate affair with the pianist (Pedro Casarin), claims that when she had to perform for Germans she deliberately played out of tune.
The company have such a variety of accents (which sometimes doesn't help understanding the rapid-fire dialogue) that I thought for a moment we should perhaps think of them as refugees (who faced as many problems after the Second World War as they do as a result of today's conflicts) but it appears that TeatroLatino's aim is to "focus on working with internationality" that accounts for the wide range.
Comment and gossip carries on with disregard for the audience which makes it all seem rather unnatural but then you realise that, though the bowing is mimed to match the recorded music, there is no fingering, there's a joke here, gently but deliberately signalling its artifice by such deception. It is made even clearer by the way in which, when they are playing, those gossiping are picked out by spotlights.
In the same way, Toph Enany as hotel manager Lebonze stomps in and out very noisily, expressing his feelings instead of being discreetly managerial as expected in real life, though he has plenty of reason for anger. Mme Hortense, with her air of respectability, may try to impose a martinet discipline but there is still a long hiatus between every piece; sometimes its she herself giving her attention to M Lebonze, and she is so inefficient distributing scores between works rather then having them in order on the music stands. Amanda Osborne gives Mme Hortense a brave face, desperately presenting a brave face while despairing of controlling her orchestra.
But thank goodness for those long interruptions, for they cut down the amount of banal music that takes up so much of this short play. Though it effectively scratches at private and public concerns of the post-war years, it doesn't dig deeply, its original audiences would not have needed that. They also would have seen this as part of a mixed bill. As a standalone play, it seems too slight and too easily melodramatic, though it has some of Anouilh's characteristic flair for mixing angst and humour.
Reviewer: Howard Loxton