The Overcoat
Esa Leskinen & Sami Keski-Vähälä adapted by Catherine Grosvenor and based on a short story by Nikolai Gogol
Ryhmäteatteri
Pleasance Theatre, Islington
–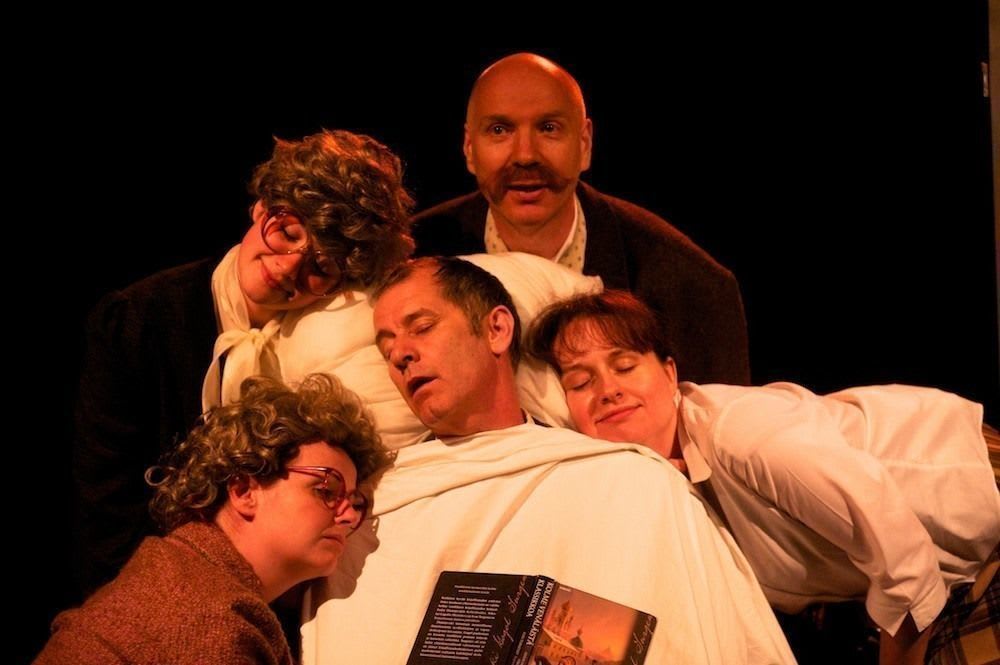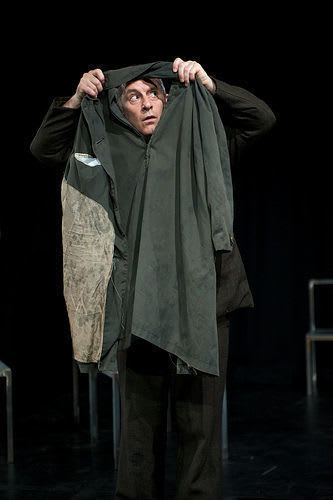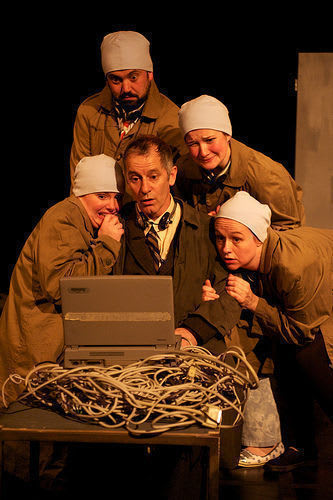 Performed with style and panache and sometimes very funny, this 75-minute play gives us a man's life from birth to beyond the grave and a whistle-stop tour of the times he has lived through.
Its origin, of course, is Gogol's much-adapted short story about minor St Petersburg bureaucrat Akaky Akakievitch Bashmatchkin, best know in Britain, perhaps, in Wolf Mankowitz's East End version The Bespoke Overcoat, made into an Oscar-winning film with David Kossoff by Jack Clayton.
The present version, a very free adaptation, began as a production by Ryhmäteatteri (Group Theatre), one of Finland's leading independent theatre companies. They commissioned a Scottish adaptation from Catherine Grosvenor, relocating it to Edinburgh, which they presented on the Edinburgh Fringe last year. It won five stars from my colleague Phillip Fisher and the Stage Best Actor Award for Billy Mack who plays what is now McAkaky. It now plays in London as part of the "From Start to Finnish" initiative of the Pleasance Theatre Trust and ACE Production Finland, which aims to bring Finnish work to the UK and take British work to Finland.
It is very much an ensemble production with lugubrious-faced Billy Mack's McAkaky joined by Sarah McCardie, Simon MacCallum, Tom Freeman, Hazel Ann Crawford and Karen Fishwick playing his family, work colleagues, bosses, muggers, medics and social services staff as well as sharing narration between them which is passed voice to voice.
Baby McAkaky emerges from the womb complete with overcoat and briefcase. His father remarks from the start that the boy "looks like a bank clerk". Once he has survived the bullying at school, that is what he becomes, or at least a typist churning out loan documents. Turning up every day in the overcoat that gets older and smellier, he rejects promotion to doing something different and is himself rejected by the buxom office blonde.
When a European entrepreneur takes over the bank and has everyone selling stuff on the telephone on commission, he is hopeless, even forced to work all hours from home until by-products of his exhaustion take over and make him top seller. He has money and soon he is swanning around in a new overcoat and giving inspiration speeches recommending "Faith, Hope and Potatoes" as what you need for success. But of course, it can't last.
With lively musical insertions from Saturday Night Fever onwards strutting bewigged through each decade style, the action catches up with the globalisation of business and on to recession and global economic crisis. Under Aleksis Meaney's direction, it high-spiritedly tracks the times through which McAkaky lives.
It is a stylized, cartoon theatre treatment full of fun, a comic parade rather than a satire, perhaps more at home in a festival context than in isolation. Its energy is what you enjoy rather than responding to any political critique, but then that's not its aim: it succeeds very well in what it sets out to do.
Reviewer: Howard Loxton