The Owl and the Pussycat
Devised by the company, with dramaturgy by Laura Lindow, based on the poem by Edward Lear
Kitchen Zoo
Gala Theatre Studio, Durham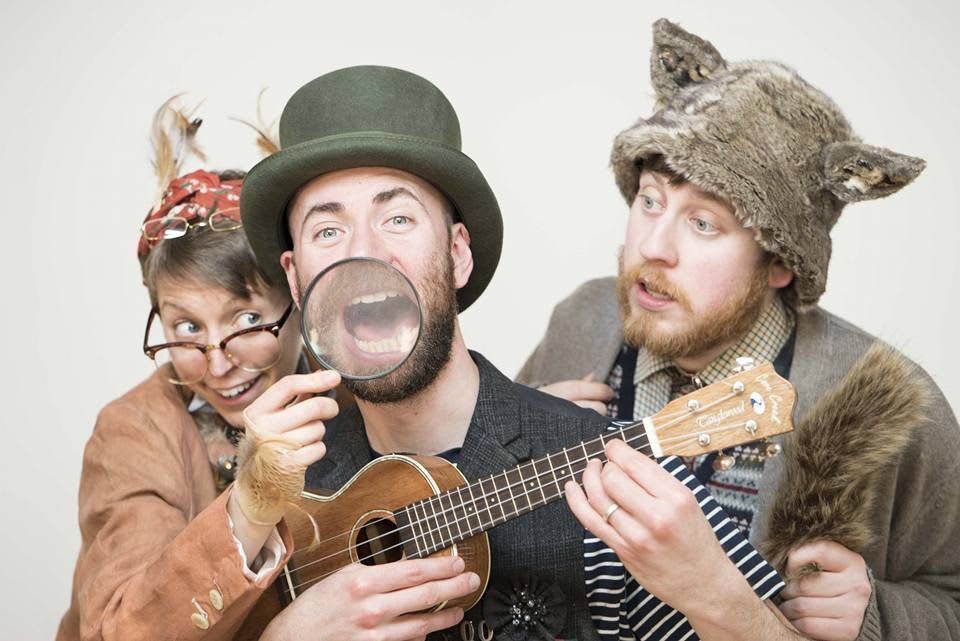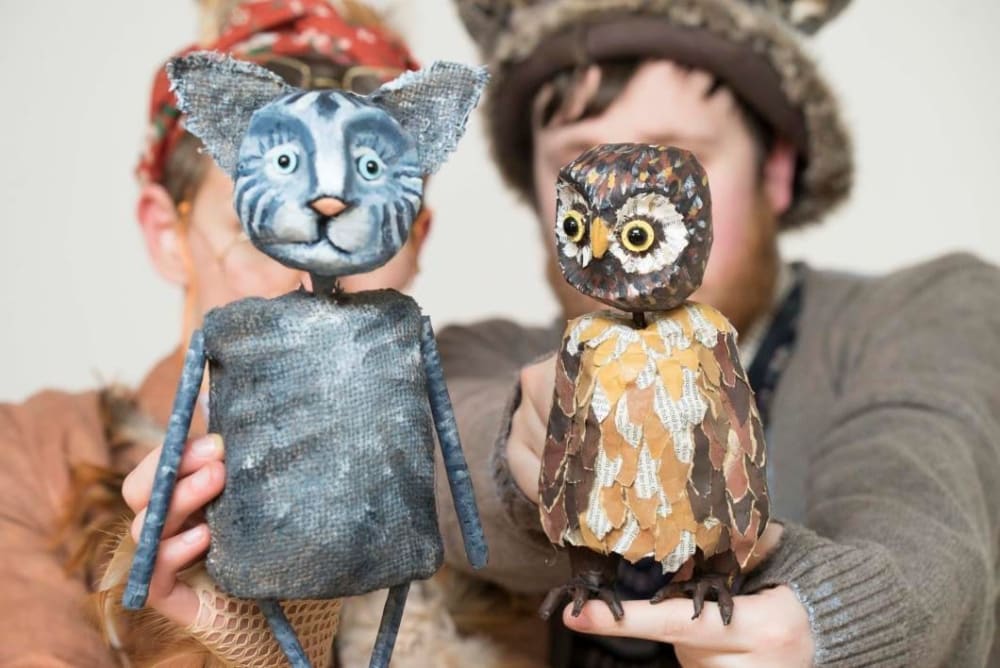 Owls and pussycats simply don't go together. How can they be friends? Owl and Cat (emphatically not Pussycat, thank you very much, as he made perfectly clear) squabble all the time. As they're welcoming the children and their parents in, they ignore each other but engage in constant little bouts of one-upmanship in which they make the children complicit with grins and fingers on lips. And as for going on an adventure together…
Owl wants adventure, wants to see a Bong-Tree, but Pussycat's ideal day consists of waking up, having breakfast, snoozing, a little elevenses, a nap followed by lunch… Well, you get the picture. And biscuits are far more attractive than Bong-Trees!
But, of course, the adventure happens. A sudden storm carries them away and they sail for a year and a day. 366 days!
The story—which is aimed at children aged from 3 to 7—is told by the always amusing interaction between Owl (Hannah Goudie) and Pussycat (Bob Nicholson), with help from Jeremy Bradfield as a singing and multi-instrument-playing narrator (in a top hat, no less) and, in no small measure, from Ailsa Dalling's puppets (I loved the turkey who lives on the hill, and so did the kids—although some, I think, found it a bit scary) and a fascinating set by Alison Ashton, the study of which is quite an entertainment in itself.
And that last point is quite important, because all the best children's theatre doesn't just appeal to children; it should be—and this is—simply good theatre with production values as high as possible. To go down any other path would be patronising and condescending in the extreme.
The piece is directed by Ruth Johnson whose experience in theatre for children both as actor and director informs the entire production. She is not afraid to use what we, as adults, might see as well-worn, even clichéd, ideas. As the sea sweeps our heroes away, it's represented by a large, blue sheet of fabric which is wafted over their heads and around them and we adults think "again!" but for the young children it's new and exciting and even a bit scary, as their squeals and gasps witnessed.
And I have to say, I loved the pig! Edwards Lear tells us, "There in a wood / A piggy-wig stood," but this one didn't. He was stuck in a biscuit tin having eaten all the biscuits, providing a nice culmination to the running joke of the Pussycat's love (and frequent mention) of biscuits.
Audience interaction and participation are essential elements of children's theatre and this had both—along with something I've never seen before: at the end of the show the floor area where the children had been sitting turned into a kind of mosh pit with cast, kids and parents dancing together in celebration of our heroes' wedding (by the light of the moon, as the poem tells us) until the cast danced off to great applause.
Then they returned, not for a curtain call but for something that seems to be becoming de rigueur for children's shows, to pose for photos with the kids taken by proud parents on their 'phones.
But I still don't know what a runcible spoon is!
The show tours throughout the North East during April and ends in May at The Civic in Barnsley.
Reviewer: Peter Lathan