The Paper Dolls
Julia Donaldson and Rebecca Cobb
Polka Theatre and the Little Angel Puppet Theatre
Polka Theatre
–

Listing details and ticket info...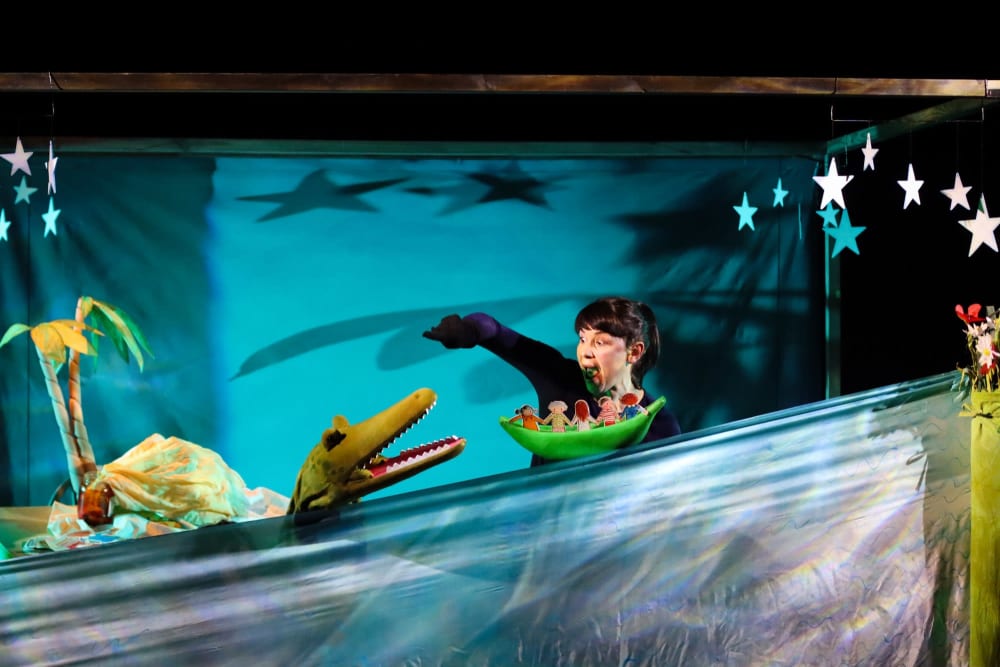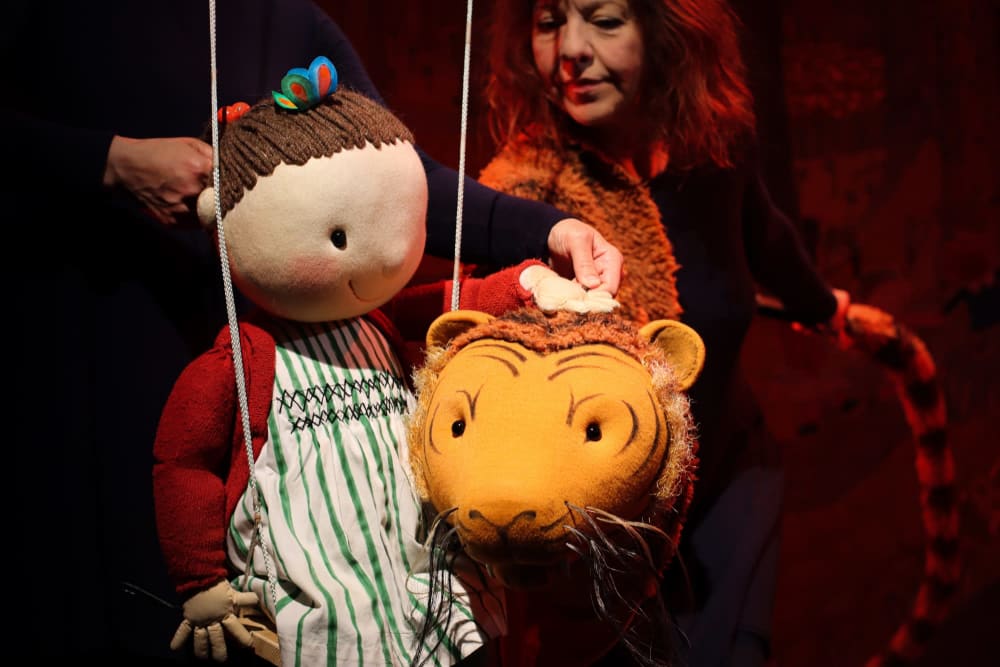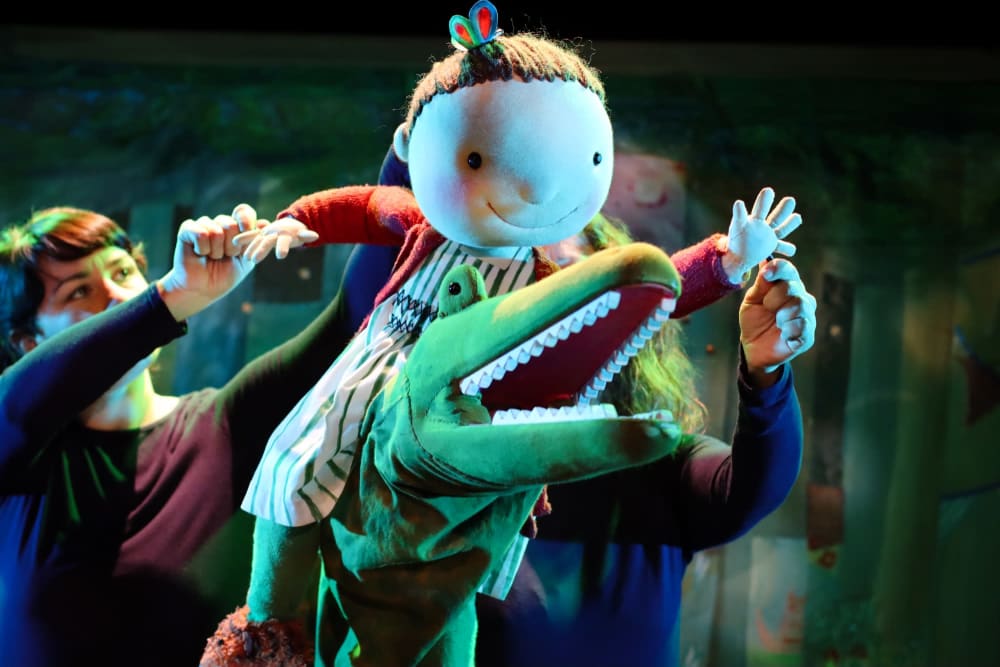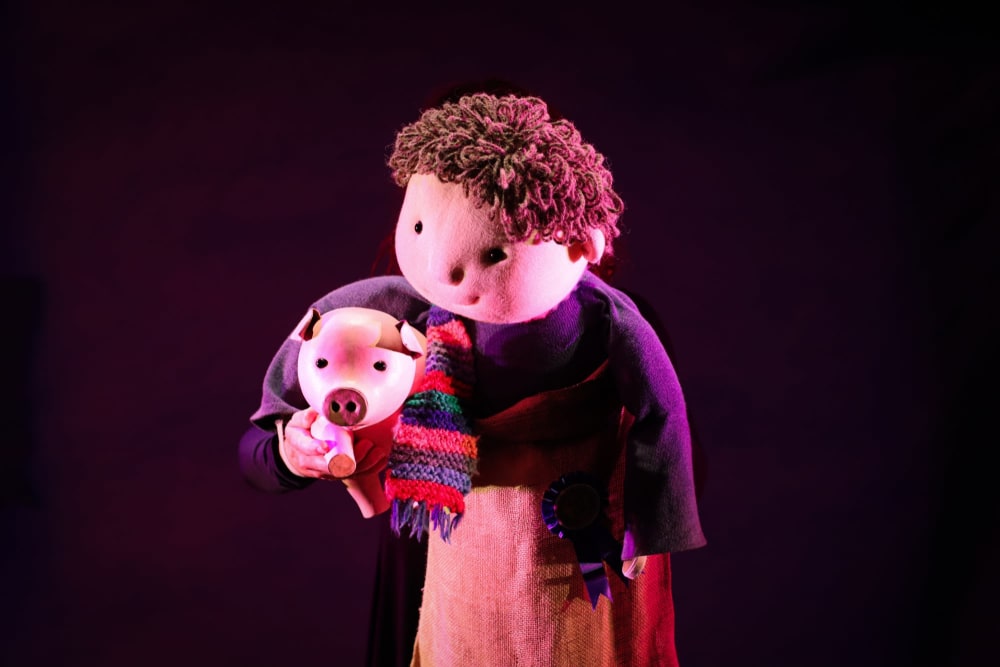 "Nothing loved is ever lost", the words of her mother to young Rosie as she bemoans the destruction of the five paper cut-out dolls with whom she found so much companionship.
It's part of an imaginatively staged performance of The Paper Dolls during which we experience hours of pleasure partaking in the adventures of the paper figures that have been made by Rosie and her mother.
Their names are melodically sung throughout—Ticky and Tacky and Jackie the Backie and Jim with two noses and Jo with the bow—depicting a diversity of colours, styles and personalities. They've been cut in a long strip so the five dolls holding hands with each other can never be separated as they embark on fantastical trips to the sea, to the grasslands, whirring through the air and back home to the garden and finally to bed.
Peter Glanville directs a highly versatile performance that exploits the theatre space, with the young audience hugging the action at close quarters. Dramatic lighting variations help to create different atmospheres as the quintet together run away from a growling tiger, the jaws of a hungry crocodile and the clutches of a dinosaur, all of which are represented by their toy selves, while Rosie, her Mum and brother Tommy are depicted by dolls.
This adaptation of the book bearing the same name by former Children's Laureate Julia Donaldson is beautifully visualised through the graceful puppetry of Andrea Sadler who plays Mum and Tommy and Clare Pointing who plays Rosie. It certainly gave the little girl with whom I watched the performance another dimension to a book about which she is passionate, with any differences from the text playing out comfortably in her mind.
Perhaps most skilful of all was how the characters were played so as to engage and entertain but nevertheless to remain firmly as imaginary figures in the mind of any child watching, rather than as people or animals to be really feared. So when the paper dolls are no more, their demise is more bearable than would otherwise have been. And although Rosie is left bereft, the narrative focuses on the feelings surrounding loss rather than honing in on the loss itself, opening the door for any child watching the play to open up about their own experiences.
Meanwhile, Rosie's mother assures her that the paper dolls will always live on in her heart, because "nothing loved is ever lost". And indeed they're not, because when Rosie becomes a mother herself, she guides her own daughter to their version of the paper dolls, renamed for the next generation. The Paper Dolls it seems will always be with us.
Reviewer: Shiroma Silva