The Past is a Tattooed Sailor
Simon Blow
Sky Productions
Old Red Lion Theatre
–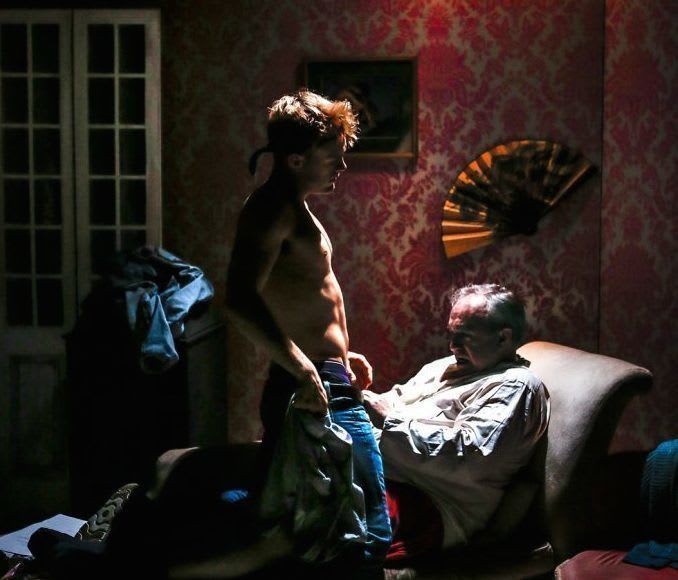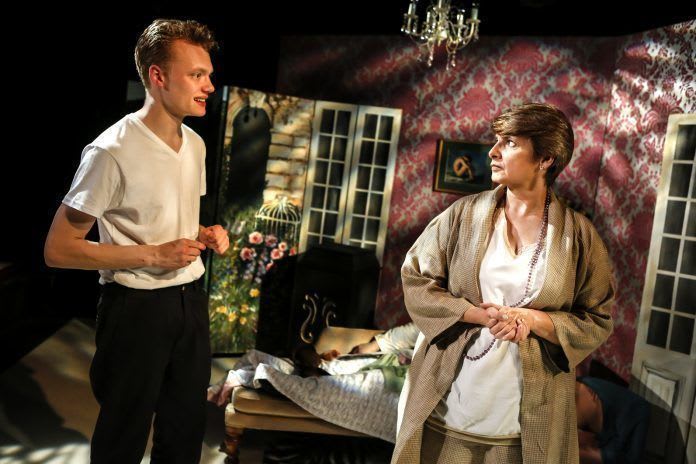 Author Simon Blow's great-uncle was Stephen Tennant, a rich eccentric who was one of the inter-war "Bright Young Things," an outrageous figure in artistic and fashionable society, a lover of Siegfried Sassoon and the inspiration for fictional characters such as Sebastian Flyte in Brideshead Revisited.
Overweight and aging, he remained obsessed with his own beauty. With gold-dusted hair and make-up, he reclined in bed writing letters, never completing his novel Lascar. It is Tennant and Blow's relationship with him that inspires this play in which he becomes its fictional Uncle Napier.
The play shows Joshua (Blow's young autobiographical character) visiting and forming a friendship with his uncle, giving him attention much more caring than he gets from other remaining friends and relations, but first it presents us with Joshua and his new working class boyfriend, builder's labourer Damien.
Joshua (Jojo Macari) has an aristocratic background and public school education but no family money: posh but penniless. Damien (Denholm Spurr) is more of a realist and rather less tolerant of Uncle Napier's excesses, though he does see a potential for advantage: a possible inheritance.
There is the thinnest of plots: how will this affect Joshua's prospects and his relationship with Damien. It is much more interested in Napier's personality and past and exploring the inherited traits, the effect of upbringing and privilege. Although it doesn't dig very deeply into cross-class attraction, there is an interesting contrast between Damien's attitude and the mercenary justification that one of Napier's matelots has to give himself to justify their brief encounter. Spurr plays them both, delivery two strong performances.
Jojo Macari has a much harder task trying to make something of Joshua; weighed down by the past but wanting his own future, he comes over rather wimpish. In the ancestral home, he has to cope not just with his aging uncle but with the spirit of Napier's mother (Elizabeth George) and that of the handsome, androgynous golden boy that was young Napier (Nick Finegan) who is waspish in his scorn for his older self.
Designer Rosie Mayhew provides a simple setting of a bench (and sometimes an added chair) in front of a screen decorated with drawings in Tennant's own Minton-like style: boats, Marseilles docksides and sailors, direct reproductions of the covers Tennant drew for his collections of poems, a melange of his interests operatic and sexual. This folds back to reveal Napier in his boudoir, stretched out on a chaise longue in a suitably decadent surround that reaches out through the windows to his parkland.
Wearing red shorts under the cover, which he throws back to reveal chubby legs to be admired as the beautiful limbs of a dancer, he lies there while others wait upon him, demanding that he be the centre of attention.
It may be director Jeffrey Mayhew's intention to show just how far he has fallen from the glittering young socialite who goads him but Joshua's response suggest that he should still have charisma whatever he looks like.
He is constantly name dropping Siegfried (Sassoon), Cecil (Beaton), Virginia (Woolf), Jean (Cocteau), Balanchine, Pavlova but he is thin on interesting anecdotes (though he does tell Joshua that Genet stole his cufflinks). He certainly thinks he is being witty but Bernard O'Sullivan deprives him of any bright intelligence and makes him a boring old fart. We get his oddity but where are those outrageous recollections he seems to promise? We must make do with one tattooed sailor. There are lots of old queens whose company is much livelier.
The Past is a Tattooed Sailor keeps raising expectations it doesn't deliver on. There is a much better play hiding under its surface which would allow the ideas behind it to develop or at least spill the beans as well as naming names.
Reviewer: Howard Loxton