The Perfect American
Philip Glass
Improbable, co-comissioned by ENO and Teatro Real Madrid
London Coliseum
–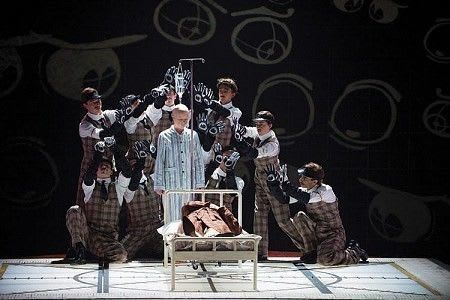 Having already opened in Madrid earlier this year, Philip Glass's 25th opera The Perfect American now makes it's UK première, created alongside Phelim McDermott of Improbable theatre. The result is a visual feast; a splendid cast plays amongst constantly drawn blue print animations in this perpetually moving production.
Operas have always been written about characters with extreme rollercoaster emotional stories: Macbeth, Lulu, Mary Queen of Scotts and, in more recent times, Anna Nicole Smith. Walt Disney now joins these ranks, and no-one can deny that this perfect American had a stellar career. Rising from humble beginnings he reached international fame and success by the ago of 30. Yet he's not a man of tabloid fame; in fact his true character feels lost from history swallowed by the giant company he created and gave his name to.
Rudy Wurlitzer's libretto adapts Peter Stephan Jungk's fictional book charting the character behind an enduring, award-winning brand. Jumping between scenes from his early business days, moments in his beloved hometown Marceline to his desperately ill last years, this is a melting pot of Disney's haunting dreams and reality. With a wonderful round, sumptuous voice, Christopher Purves (Walt Disney) commands the stage as a self-assured, successful business man exuding confidence and pride. Faultlessly he navigates through this shifting timeline, subtly exposing a weaker side to a character plagued by neuroses, desperate for perfection.
Unsurprisingly, Disney have made no comment on this new opera, perhaps hoping to avoid more publicity around a work which depicts Walt Disney as a miscogynistic, iron-fisted ruler of his company and a casual racist. The story focuses on Walt Disney's branding of his company, a one-name world taking all the credit, despite hundreds of dedicated employees generating material. Disney strives to create an everlasting perfect brand, spouting 'as long as we stand as one body, all we have created will never die'.
McDermott's direction of The Perfect American echoes the seamless nature of Glass's composition. Centred around a central hospital bed, a camera rig spins projecting animations all around the stage. A team of draftsmen morphs into bunnies then excited puppy dogs with tails wagging before returning to their desks to scribble never-ending sketches for the Disney brand. McDermott's fascination with the quality of movement gives the first act a hypnotic charm; the characters move as if in air made of clay, moulding the space with graceful, slow-motion gestures.
Dan Potra's revolving set is endlessly redrawn and reconstructed, and the slick projections have a Lepage-esque feel. Glass's score doesn't yield distinctive melodic arias, but the rhythmic minimalist music morphs between ominous and sickly-sweet. Post-interval, the work picks up pace, and the beautiful final chorus moments are underscored with an exciting tension.
All of the cast are strong, but a particular highlight is the animated Abraham Lincoln, convincingly played by Zachary James whose chiseled features and styalized movement have you wondering for a few seconds whether he is real or truly a puppet. The new skills movement ensemble injects a lightness and energy to the story. They are the draftsmen, constructing Disney's memory worlds that he and his family step in and out of. A wonderful example of the possibilties presented by the total art form that is opera when movement, music, technology, and art are all intangibly integrated.
Any unflattering portrayal of Disney's life is likely to rub many up the wrong way, especially as The Perfect American does little to celebrate the phenomenal skills he did possess in bringing together a new animated language.
Putting biographical accuracy aside, Glass and McDermott have created something magical, an enchantingly fresh staging coupled with an entrancing musical world. They have created a rare beast in this difficult genre—a contemporary opera that's extremely accessible with the capacity to excite, mesmerize and spark debate.
Reviewer: Louise Lewis