The Perfect Murder
Peter James, adapted by Shaun McKenna
Derby Theatre
Derby Theatre
–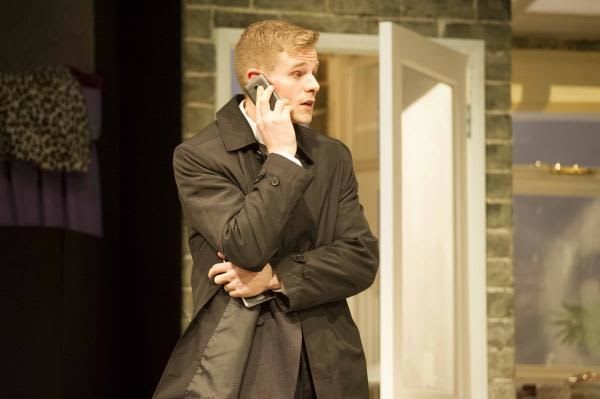 Peter James is one of our most successful thriller writers. His novels about detective Roy Grace have sold 13 million copies worldwide and have been translated into 36 languages.
As an avid reader of some of his novels, I find it strange that Roy Grace has yet to appear in any other medium. It appears though that film and television adaptations are in development, with James overseeing all aspects of the projects.
Until then aficionados will have to make do with Shaun McKenna's stage version of James's novella The Perfect Murder.
The play is set in the present in a small, 1960s house in Saltdean, East Sussex and in a room in a Brighton brothel.
Victor and Joan Smiley have been married for 20 years but cracks have appeared in their relationship. Six years previously Victor took out life assurance on his wife and thinks the time is now right to get rid of her by committing the perfect murder.
He has been visiting Croatian psychic prostitute Kamila Walcak three times a week for several months and wants them to make a new life together once Joan is off the scene.
But Joan nurtures her own murderous intentions after taking up with Don Kirk who becomes her lover.
For once a Peter James work is not centred on how Roy Grace—here a detective constable on his first case rather than the senior officer of the novels—goes about solving the crime.
The Perfect Murder is about how relationships change and how people react to extreme circumstances they never expected to find themselves in.
Les Dennis might not seem to be the first choice to play a dramatic lead but he has a wealth of stage experience, not only in comedic roles. He impresses as Victor and immediately gets the audience on his side with his opening line "my wife doesn't understand me".
Understudy Maeve Malley-Ryan, deputising for Claire Goose who had a shoulder injury, gives an excellent performance as Joan. She changes from a fault-finding, nitpicking wife into a vivacious, fun-loving mistress and later a panicky, irrational individual once she comes under Grace's suspicions.
The script is vividly incisive when the married couple are bickering over trivialities and selfishly ignoring each other's wishes.
Gray O'Brien brings brashness and swagger as well as a clever line in cockney rhyming slang to the role of Joan's lover Don.
Steven Miller provides gravitas and efficiency as Roy Grace as he investigates the serious business of whether a murder has been committed.
The concept of a psychic prostitute might seem a difficult one to grasp but Simona Armstrong adds credibility to the role of Kamila which has plenty of scope for humour.
There are several funny moments, none more so than when two of the characters struggle to wrap up a body with black bin bags and gaffa tape.
The Perfect Murder has a very clever plot with twists and turns that last right until the end—a Peter James trademark.
Ian Talbot directs with pace and assuredness while Michael Holt's two-storey design strikingly depicts the Smileys' house and Kamila's room in the brothel.
It's a solid, entertaining production and a perfect introduction for anyone exposed to Peter James's unmistakeable style for the first time.
Reviewer: Steve Orme