The Phantom of the Opera
Music by Andrew Lloyd Webber, lyrics by Charles Hart, additional lyrics by Richard Stilgoe, book by Richard Stilgoe and Andrew Lloyd Webber
The Really Useful Group and Cameron Mackintosh
Palace Theatre, Manchester
–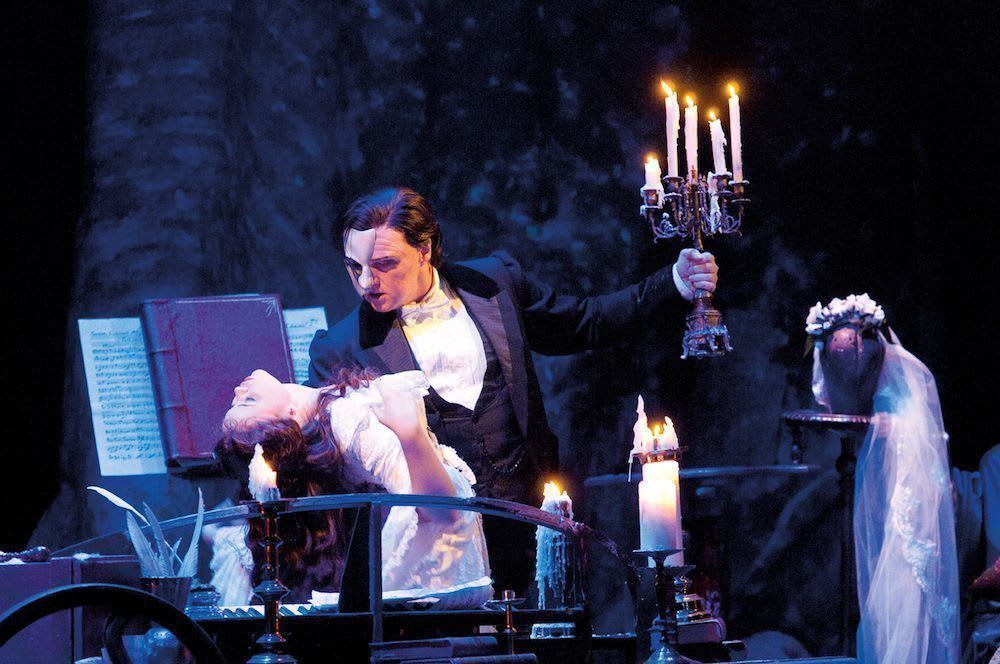 After opening a successful new touring version of Les Misérables in Manchester two years ago as Jean Valjean, John Owen-Jones returns to try to do the same in the title role of Andrew Lloyd Webber's The Phantom of the Opera, once again directed by Laurence Connor.
Lloyd Webber's take on Leroux's melodramatic novel about a deformed, masked man who haunts the labyrinthine vaults under the Paris Opera House is now celebrating its 25th anniversary. The Phantom—who signs himself "OG' for Opera Ghost—insists on having a box kept free for his use during performances where his "salary" is to be left each month, a kind of supernatural protection racket. The new owners of the Opera House, Messieurs Firmin and André, try to laugh off the superstitions of the company, until OG makes his desires and the penalty for not fulfilling them very clear.
But there's more: the Phantom has taken a shine to a pretty member of the corps de ballet, Christine Daaé, and has been giving her singing lessons, and he insists on her taking the main role from the company's lead soprano Carlotta Giudicelli, even writing his own opera around her. However he reckons without her falling in love with her childhood friend Raoul, Vicomte de Chagny.
It's as ridiculous and confused a story on stage as it is in the novel, but with Lloyd Webber's score fusing pseudo-operatic and eighties pop music it has been a worldwide hit for a quarter of a century, and Connor has done as great a job of refreshing it for a new audience on tour as he did for Les Mis and Miss Saigon.
Paul Brown's new set design is as spectacular as any show you could see on tour, with the elaborate gold decoration of the Opera House boxes and proscenium arch rotating out of view to show the depths of the building where the Phantom resides down some steps that very impressively appear one-by-one out of the wall. Between we see the private opulance of the owners' office and the rather less decorous dressing rooms and back stage areas. The original wonderful costume designs of the late Maria Björnson have been retained.
Owen-Jones has played the Phantom more times on the West End than any other actor, and if his performance as Valjean didn't establish him to regional audiences as a musical theatre superstar then this surely will. He has great support from the very young-looking Katie Hall as Christine and Simon Bailey as Raoul. There are many other fine performances including a great double-act of Andy Hockley and Simon Green as Firmin and André, putting across the funniest of Stilgoe's lyrics perfectly, and Elizabeth Marsh as an intimidating Madame Giry, the ballet mistress.
But the star here is the production. The show itself still takes a long time to get going, some of the opera scenes go on a bit, some songs add very little to the plot, none of the characters is at all sympathetic and those awful synthesized drums in the title song destroy the impact of an otherwise-atmospheric piece of music, but this production does a decent job of papering over the cracks and delivering something with major impact on a very impressive scale.
Watching from the circle, it was clear that that level doesn't only have restricted leg room and toilets but restricted bass as well, the microphone sound especially sounding loud but very thin and harsh. Hopefully this will be sorted out.
While the material has the pomp and depth of an extended Meatloaf video, Cameron Mackintosh and his team have done an amazing job to bring it to life, bringing a a show that feels like a full West End production to the regions with a truly great cast. A spectacular and entertaining night at the theatre.
Reviewer: David Chadderton