The Pirates of Penzance
William Gilbert and Arthur Sullivan
Shakespeare in the Park
Released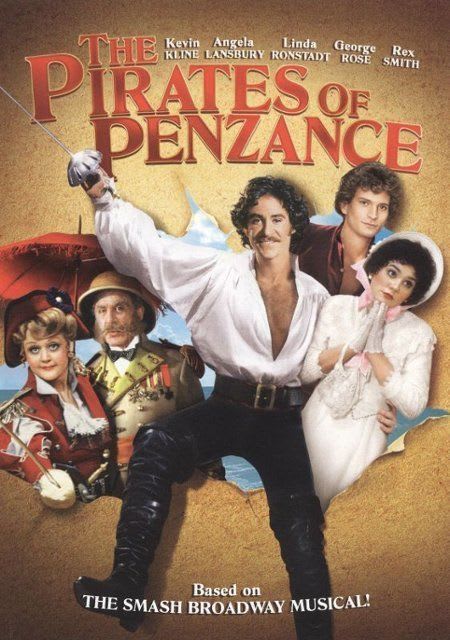 Gilbert and Sullivan's The Pirates of Penzance has always has been one of the most popular of the Savoy Operas ever since its première in New York in 1879. Its centenary was celebrated by Joseph Papp's New York Shakespeare Festival in Central Park with an innovative production which transferred to Broadway and eventually came to Drury Lane in London in 1982 with Tim Curry, memorable as the Pirate King.
Purists were shocked that a classic English operetta had been tampered with and orchestrated into a Broadway musical. But for theatregoers like myself, who had been bored rigid for so long by the stale museum productions of D'Oyly Carte, Papp's exuberant interpretation was a major turning point in the enjoyment of Gilbert and Sullivan. I always hoped Papp would give HMS Pinafore the full Papp treatment.
The libretto is a burlesque of pirates, policemen, romantic girls, the peerage, the army, Victorian values, especially Victorian duty, operacrobatics, especially coloratura, Gothic melodrama, patriotism and Queen Victoria. The Queen was not amused and Gilbert didn't get his knighthood until after she was dead.
The film cast is the same as the Broadway cast. Kevin Kline has flair as the Pirate King. Linda Ronstadt is Mabel, Rex Smith is Frederic, George Rose is the Major-General. The only newcomer is Angela Lansbury, as Buttercup, replacing Patricia Routledge.
The boisterous production really comes to life in the second act with the arrival of the frightened policemen in their blue uniforms, white spats, white gloves, carrying helmets, truncheons and lanterns, led by the lanky and rubbery Tony Azito as their sergeant and wittily choreographed by Graciela Daniele with lots of jerky movement. Tarantara! Tarantara!
When Sullivan was choirmaster at St Michael's Church in Chester Square, Belgravia, in 1861, he drew on the local constabulary for his tenors and basses. He always said that he had had his policemen in mind when he was composing The Pirates of Penzance.
Reviewer: Robert Tanitch