The Pitmen Painters
Lee Hall, inspired by a book by William Feaver
A Live Theatre Newcastle and National Theatre co-production, presented by Bill Kenwright
Yvonne Arnaud Theatre, Guildford
–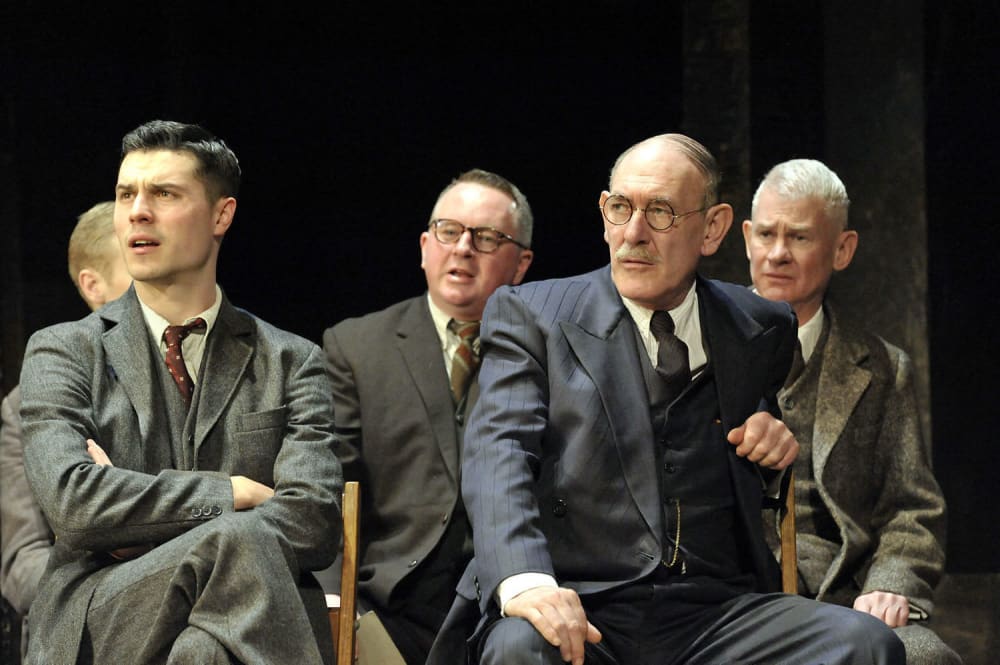 Basically true, and truly inspirational, Hall's play about a group of miners in 1930's Northumberland continues to enthral, filling theatres to capacity wherever it goes.
These miners, originally about thirty in number but here represented by five, would work a ten-hour shift deep underground in back-breaking, noisy and dangerous conditions, but that hadn't blunted their thirst for learning.
Many started down the pit at ten years old, missing out on education, and to 'improve' themselves they would scrub off the almost impregnated grime of the day, dress in suit, collar and tie, and spend the evening in a hut where the Workers' Education Association gave access to subjects which interested them for a tanner (sixpence) a time—"self-improvement doesn't come cheap".
The course they are about to embark on is Art Appreciation; not their first choice but the economics lecturer had not been available, and Robert Lyon (originally William Feaver himself) is the hapless tutor arriving full of enthusiasm for his subject, soon to be deflated when these outspoken men give their opinions on his choice of paintings.
The classics, Rubens and Michelangelo, do nothing to impress them and the confrontation between tutor and pupils becomes more and more hilarious with Lyon trying to give his rather pretentious interpretation and the down-to-earth miners dismissively rejecting his opinions. The broad Geordie accent with words like 'divvn't' totally confuse Lyon, while his pronunciation of 'renaissance' has them floored—all adding to spontaneous laughter from an audience which is thoroughly enjoying the repartee.
Louis Hilyer expresses Lyon's enthusiasm with expansive arm-waving and general vivacity, but soon totally frustrated he suggests try for themselves, painting subjects they know well, and the results are amazing. Not technically perfect, but real and expressive, showing the harsh everyday lives of the pitmen and objects which inhabit their world—horses, people, shops, streets and their homes, all created with whatever materials they had to hand.
The cast interpret their characters extremely well. Nicholas Lumley is union man George Brown, intent on keeping to the rule book at all times. Even when, in front of a horrified assembly, a pretty, warm-hearted waitress Susan (Catherine Dryden) arrives for her job as artists' model he objects to her presence as "nudity is an executive matter". Not the opinion of Donald McBride's Jimmy Floyd with "let's not be too hasty here".
Joe Caffrey is a bombastic, Marx-quoting, tub-thumping socialist as Harry Wilson, contrasting with the sympathetic and altruistic Young Lad (Riley Jones), who also plays the effete young painter Ben Nicholson, protégé of Suzy Cooper's socialite art collector, Helen Sutherland.
As Oliver Kilbourn, Philip Correia's finely-drawn features and his obvious artistic talent suggest that he might be out of place in this group of tough, realistic miners, but his working-class roots are firmly established with love of family and friends, something which cannot be said for his upper-class would-be patron, Helen Sutherland, with her broken marriage and acquired friendships.
The accepted class divide is also illustrated as Lyon gives the allocated third class train tickets to the group on their visit to London as guests of the BBC, before departing for his first class carriage.
The mood changes slightly in act two as Oliver tries to make a decision which will change his life and there is sad news of Young Lad, ending symbolically with the whole company singing The Miners' Hymn.
A play to make you laugh, cry and think a lot about life, dreams—and politics.
Touring to Derby, Sheffield, Leicester, Brighton, Newcastle, Darlington, Harrogate,
Oxford and Richmond, Outer London.
Reviewer: Sheila Connor