The Pitmen Painters
Lee Hall
Live Theatre/National Theatre On Tour
Kings Theatre, Edinburgh
–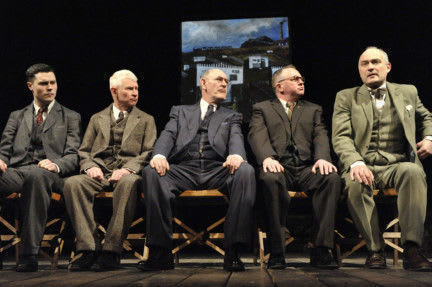 There have been all sorts of strange ways of dramatising visual artists and their art, sometimes completely avoiding anything close to an actual painting on stage. In this play however the audience is allowed to fully appreciate the art of this remarkable group of artists. Which makes sense as this is a play about bringing art down from its pedestal and allowing it to become more accessible.
The Pitmen Painters has been very successful and the reason it has kept going and been so well received by so many audiences is, amongst other things, its simplicity. Large screens show the artwork of the Ashington miners, a group set up in 1934 that continued for many decades later. They are not necessarily masterpieces, but through Lee Hall's light, honest and intelligent dialogue you understand and appreciate the painters and what they were trying to achieve.
The play manages to create a real connection between the art, the men who painted it and the audience. The play progresses quickly from the first meeting of the pitmen and their instructor Robert Lyon, played with suitable plumminess and passion by Louis Hilyer, through their first successes to their acclaimed public exhibitions.
By reducing it to just four of the actual painters (there were thirty on the first register for the class), the play is able to concentrate in detail on a few paintings by these four men. The play sticks very closely to the actual events and in particular the authorship of the art. There is still plenty of room for Hall's witty lines and these are not just a bit of fun—they also help in the understanding of the art and the difficulty of really espressing your own opinions about it.
Young and talented Oliver Kilbourn (Philip Correia) and the radical Harry Wilson (Joe Caffrey) reveal a considerable of depth to their characters, often heading beyond art into philosophy. Indeed the group as a whole show in a quiet unassuming way a remarkable level of principle, which involved them never 'selling out'. This central gently but firmly espoused political message is what makes the play so moving.
The development of the group's confidence through art yet continued solidarity may well have struck a chord with the play's many audiences and helps to explain the play's longlasting appeal. From the twenty-first century, we should perhaps see what lessons we can learn from this inspiring set of events from the last century and what we have perhaps lost or are losing as a society.
Reviewer: Seth Ewin