The Planet and Stuff
Simon Daw, Joel Horwood and Lucy Kerbel
Polka Theatre and Tonic Theatre
Polka Theatre
–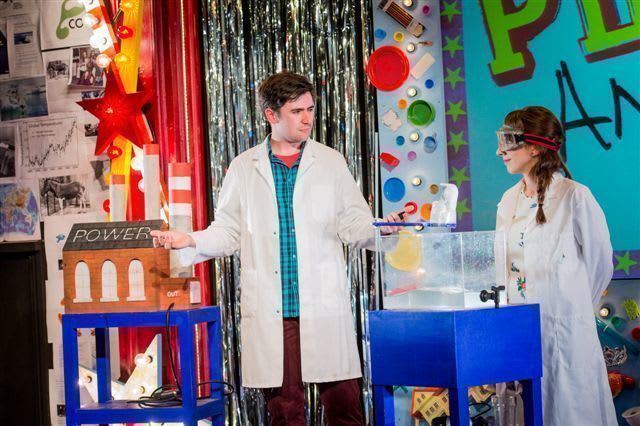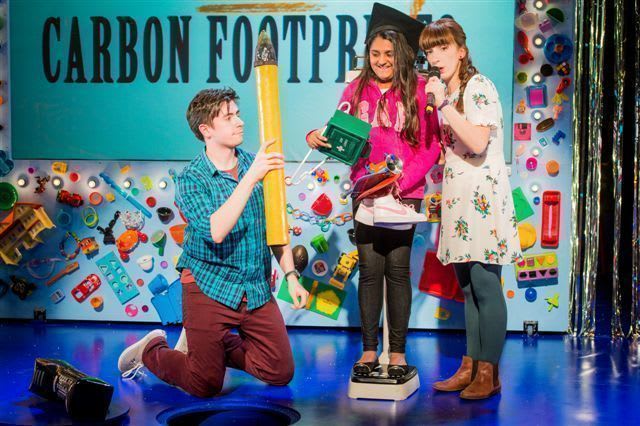 Can kids change the world? This is a show, aimed at 9– to 13-year-olds, that asks them to use their voices to try.
It takes a comprehensive look at climate change, or, more specifically, at global warming, looking at what makes it come about, what effect it has, who is to blame and what can be done to halt it.
It is not a drama but Polka and Tonic have made it so interactive that you hardly notice that it is really an illustrated lecture with logos flashing up and Beethoven's call sign symphonic opening booming out every time anyone mentions Carbon Dioxide. Shouting is encouraged and members of the audience are called up to represent polluting nations, one child being loaded with a token pile of stuff made using fossil fuel, and plenty of full audience involvement.
The young audience seems to particularly enjoy their teachers being put on the spot to see what they personally have taken in of all the information being thrust at them.
It is like a mix of science lesson, pantomime and Royal Society lecture, full of facts and fun. Its young presenters Joe and Becci (played by Felix O'Brien and Sarah-Jane Scott) are a lively couple (one Irish accented the other Scottish) who are in the auditorium from the start and establish instant rapport with the audience.
They handle the complexities of facts and manipulating the props and models help to bring the show to life with skill and aplomb at a pace that takes the breath away. Several re-cap sessions help keep everyone up to speed.
There is plenty of confrontation as conflicting arguments get presented which adds a more theatrical dimension, and as a barrage of information is presented from the stage, with comparative graphs and forceful film clips on large television screens on theatre walls covered with research materials. There is the added input of interviews conducted by local youngsters from Polka Theatre's own Young Voices Panel who have not just done vox pop in the street but talked to scientists and campaigners.
It often seems chaotic, but that is part of the clue to why it works. It is actually put together in the most accomplished way. It doesn't wrap its message up in a narrative drama but gives it out full frontal, bold and clear. If it is not exactly what you expect to see when going to the theatre, it still is vastly entertaining and the packed audience drawn from several schools I saw it with clearly enjoyed it.
Maybe a bit more old agit prop theatre is what is needed to kick start people doing something about all those other issues—public versus private ownership, offshore tax avoidance, transport infrastructure—the list is endless bu,t where so many are questions that split the political divide, the need to deal with climate change is one almost all British politicians pay lip-service to.
Maybe our children can make sure they do something about it—and get their friends and families to play their part too. This show is their rallying call.
Reviewer: Howard Loxton