The Play That Goes Wrong
Henry Lewis, Jonathan Sayer, Henry Shields
Mischief Theatre
The Lyric, Theatre Royal Plymouth
–

Listing details and ticket info...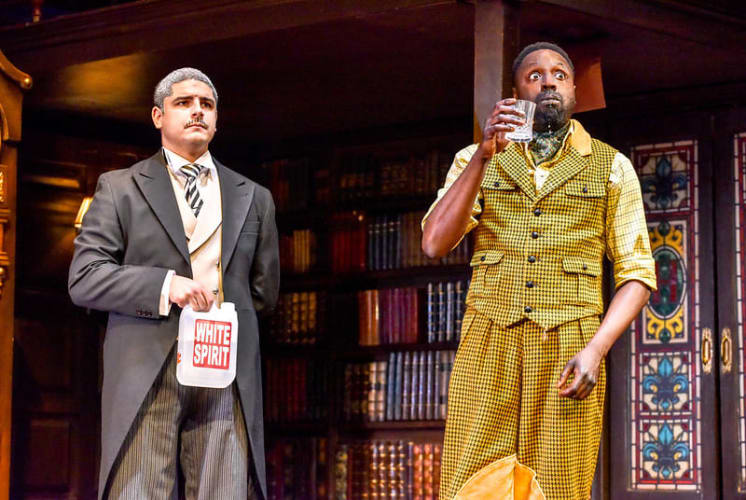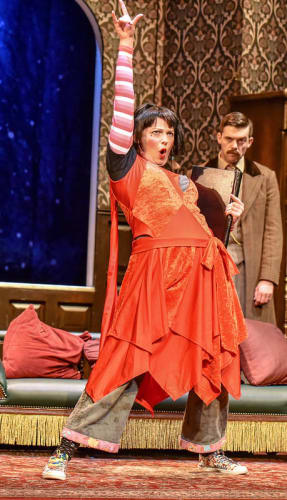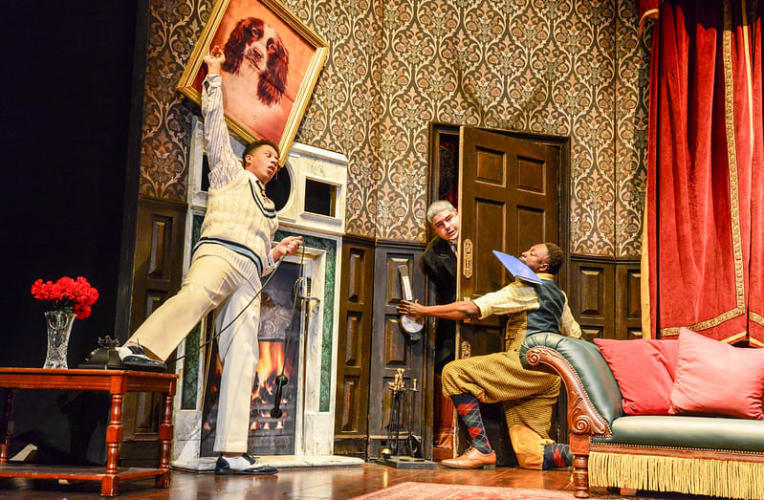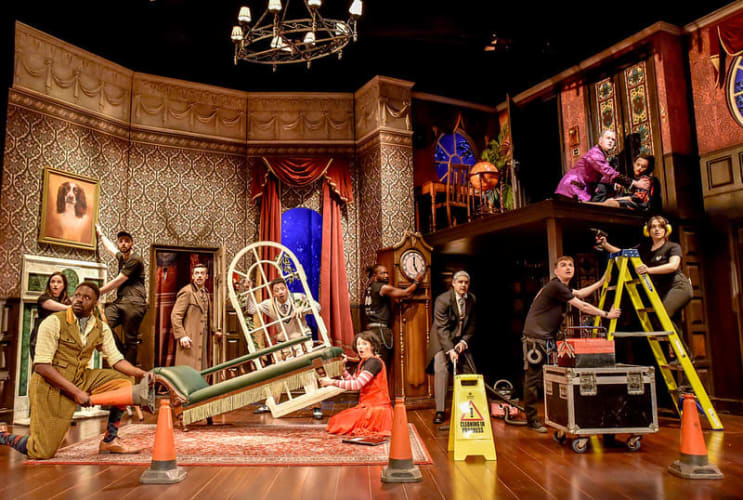 Relentless silliness and absolute disarray erupts on stage as the very clever but jaw-achingly daft Olivier Award-winning The Play That Goes Wrong parodies the pomposity and luvviness of the stage and amdram theatre with a chaotic rendering of the Murder at Haversham Manor.
Mischief Theatre, created by a clutch of like-minded former LAMDA students in 2008, presents a play within a play with the dual programme an absolute must—particularly for vegetarians eating in the canteen—with fine detail including donated legacies, missing personal property all-important and the cast list a must.
The conceit starts well before kick-off time with stagehands and press-ganged audience members bodging the set, remedying uncooperative doors and mantels with much duct-tape, misbehaving tools and plaintive pleas for the return of Trevor's missing Duran Duran CD signalling the slapstick and mayhem to come.
Self-proclaimed creative genius director (and president, designer, costume designer, prop maker, box office manager, press & PR, dramaturgy, voice coach, dialect coach, fight choreographer and more) Chris Bean (Colin Burnicle) despondently opens proceedings with a lamentable list of previous underfunded and undermanned productions (Cat, Two Sisters, Snow White and the Tall Broad Young Men, James and the Peach—later James, to name but a few), profusely apologising to those expecting to spend a night with Cher.
The dated whodunnit debacle unfolds in a veritable plethora of overacting, much posturing, precise timing and slapstick. Jonathan Harris played by Steven Rostance is the rather active corpse of soon-to-be-wed Charles Haversham found murdered on the evening of his engagement celebrations and suspicion falls on knockout, pouting, philandering fiancée Florence (understudy Clare Noy playing Sandra Wilkinson), her lover, her brother and anyone else in the snowbound vicinity.
Nigel Hook's meticulously constructed set is designed to fall apart with absolute precision allowing, inter alia, for particularly spectacular scrambling by Kazeem Tosin Amore as Robert Grove (acting lessons on application) as Thomas Collymore on a 45 degree incline amongst exploding lift, sliding plants and myriad mobile furniture in an attempt to answer a late night telephone call from his accountant. Waste bins catch fire, curtains fall, windows deconstruct and stuff falls off the walls. Doors jam, secret passageways appear and the fourth wall evaporates.
Bean as Inspector Carter is on the case as the body count rises and the creative crew reluctantly answer the call to arms with diminutive and shy stage manager Annie Twilloil (Beth Lilly) delightful as a burgeoning actor with her Florence-off with hammy Sandra Wilkinson an absolute highlight. Bumbling manservant Damien James has an interesting take on the difficult words written on his hand (morose, cyanide and façade) while acting newbie Max Bennett (Edi De Melo) has bought his casting as cheating brother Cecil Haversham and dour gardener Arthur (with wandering sideburn and missing dog) overplaying his part and loving the applause.
Very clever and such good fun—even third time round.
Reviewer: Karen Bussell