The Play That Goes Wrong
Henry Lewis, Jonathan Sayer and Henry Shields
Mischief Comedy
Theatre Royal Bath
–

Listing details and ticket info...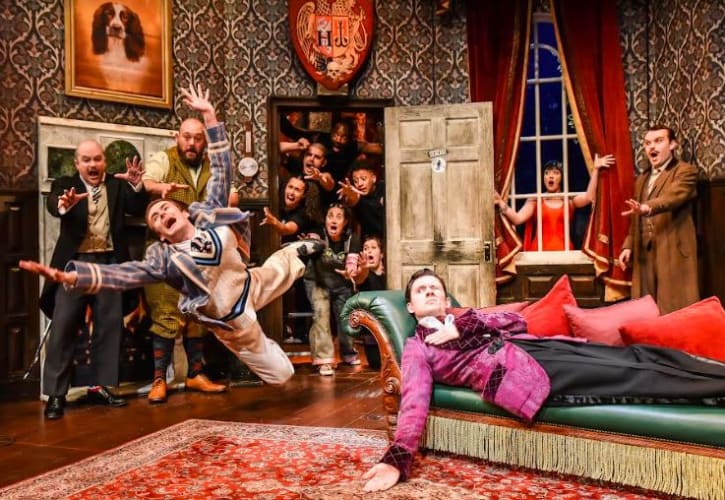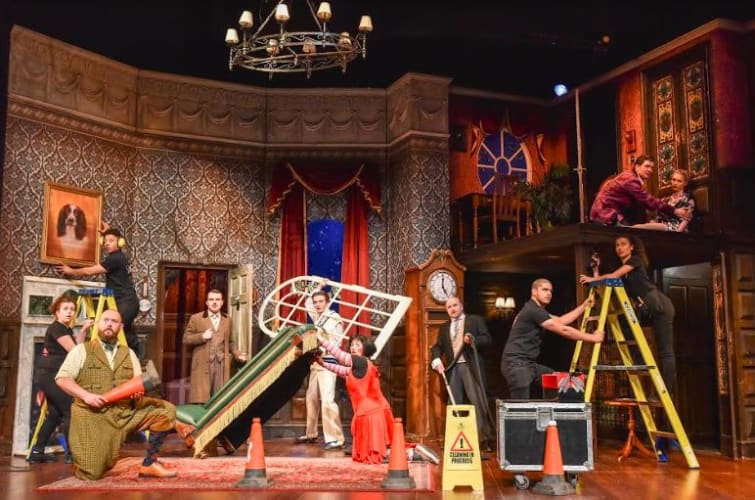 Mischief Comedy has been quite the theatre success story over the last decade or so. From its first show at the Edinburgh Fringe Festival in 2010 to sold-out tours and runs across the UK and USA, audiences can't get enough of its mischievousness. With a resumé of hit plays and TV shows, in addition to a podcast series launched over lockdown, they've gone from a group of LAMDA graduates to a theatre group prodigy.
The Play That Goes Wrong revels in its own humiliation. A combination of Curb Your Enthusiasm and Laurel and Hardy with a touch of Agatha Christie. What ensues is complete and utter bedlam and minute-by-minute madness as a local theatre group attempts to put on a production way outside its comfort zone. Of course, as the title suggests, mayhem takes over.
Since premièring above a pub in 2013, The Play That Goes Wrong won Best New Play at the Oliviers and was even performed at the Royal Variety Show in 2015. And it is easy to see why…
Even before the patrons take their seats, the entertainment begins. It doesn't take long for the audience to eat up every line they are served. The strong ensemble of eight play equal roles throughout and never skip a beat—a feat for a show in its opening days of a nationwide tour. Of the eight, Kazeem Tosin Amore cannot help but steal the limelight with his physical comedic timing and pin-sharp delivery. But that is not to take away from a superb ensemble with no weak links.
Aside from the actual stars in the show, one can't help but leave the theatre in awe of the set design (Nigel Hook). In tandem with the choreography and direction (Mark Bell), the elements combine superbly—like salt and caramel. The level of precision to each movement towards the ending is perfect comedic theatre and has the audience enter a crescendo of stomach-aching laughter. And if we are to believe that young people are vital to theatre's longevity and survival, then it is rewarding to see the young demographic flocking to their seats in Bath. From families and university students to the regular patrons and theatre lovers, nobody left the Theatre Royal with a frown.
Alongside companies like Told By An Idiot and New Old Friends, Mischief Comedy is leading the way in slapstick, timeless laughs—and we're all here for it. Sure, it's a tried-and-tested form of laughter that is centuries old, but Mischief Comedy has dialled it down to a precise recipe of delightful laughter and all-out, belly-laughing fun!
Reviewer: Jacob Newbury