The Play That Goes Wrong
Henry Lewis, Jonathan Sayer, Henry Shields
Mischief Theatre
Theatre Royal Plymouth
–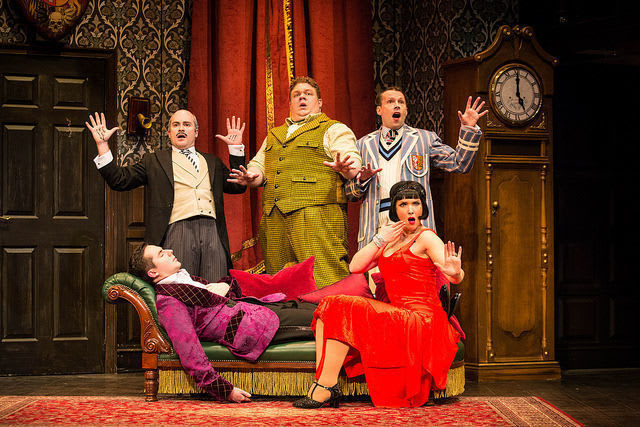 It's pure pandemonium as the very very silly but oh so clever The Play That Goes Wrong explodes the very luvvieness and pomposity of the stage and am dram theatre with a chaotic rendering of the Murder at Haversham Manor. And oh boy does it go wrong.
Mischief Theatre, created by a clutch of like-minded former LAMDA students in 2008, presents a play within a play with the dual programme an absolute must—particularly for vegetarians eating in the canteen—with fine detail including legacies, damp tissue-stuffed guns and missing CDs all-important.
The scene is set long before curtain down and up. Stagehands wander the auditorium as the audience takes its seats; frantic whispering and gesticulating ensues; doors jam; duct tape and a variety of misbehaving tools are employed, and assistance recruited. Slapstick and obvious silliness is clearly on the menu.
Self-important and self-proclaimed creative genius Chris Bean (Patrick Warner) mournfully opens proceedings with a lamentable list of previous less-than-stellar miscast, mismatched and under-funded productions (Cat, Two Sisters, Snow White and the Tall Broad Young Men, Ugly and the Beast to name but a few), profusely apologising to those expecting to enjoy an iconic musical.
A mix-up has meant that Funny Girl is showing at the alma mater while the erstwhile thespians are on tour. And clearly Conley Poly is out of its depth.
The dated whodunnit unfolds in a plethora of posturing, pouting, failing props, meticulous timing and knockabout (and out). Relentless mayhem ensues as the murder of young Charles Haversham (Jason Callender playing a rather active corpse)—on the very night of his engagement to debutante Florence (a seemingly resilient Meg Mortell) no less—is investigated.
Nigel Hook's beautifully constructed set is designed to fall apart with absolute precision allowing for particularly spectacular choreographed scrambling on a 45 degree incline amongst sliding plants and myriad furniture by Chris Leask as Robert Grove as Thomas Collymore answers a late night call from his accountant and much comedy as stuff catches alight or drops off walls.
The snowbound suspects include faithful, fumbling manservant Dennis (Edward Howells) whose attempts to pronounce the difficult (morose, cyanide, façade) words written on his hand prove rather interesting and who clearly studied maths with Diane Abbott; and brother and love rat Cecil (with Alastair Kirton delightful as the irrepressible acting newbie Max overplaying his part, thriving on applause and doubling as the gardener complete with missing dog and straying sideburn).
Bean is on the case as the body count rises and the behind-the-scenes crew is pressed into action with the hammy Mortell—Kate Bernstein Florence-off a high point of luvvieness while the dour Duncan as Trevor (Graeme Rooney) as the love interest having an episode is a moment not to be forgotten in a hurry.
All very very silly and great fun—even second time round in a matter of weeks.
Reviewer: Karen Bussell