The Play What I Wrote
Hamish McColl, Sean Foley and of course Eddie Braben
Birmingham REP in association with David Pugh and Theatre Royal Bath Productions
Birmingham REP
–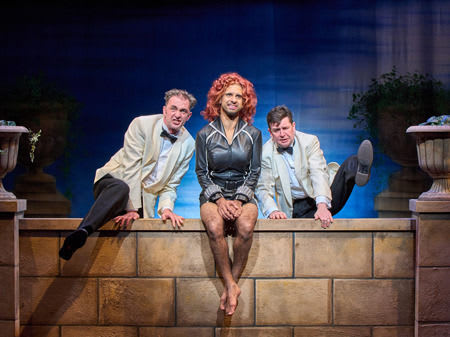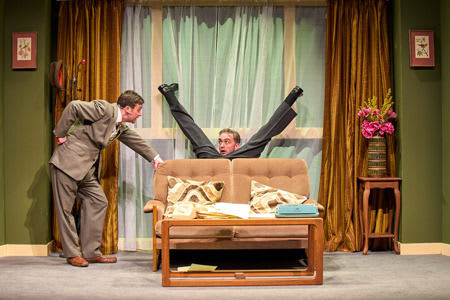 For his first Christmas show since taking over as artistic director of Birmingham REP, Sean Foley has not gone down a traditional route. He has opted for neither a panto nor a seasonal favourite. Instead he has gone for what many people consider to be a modern comedy classic.
Foley acted in The Play What I Wrote when it made its debut at Liverpool Playhouse 20 years ago. Now he is directing a revival of the show he co-wrote which forms part of the REP's 50th anniversary season in its current home on Centenary Square.
The Play What I Wrote celebrates "Britain's finest and funniest ever double act" Morecambe and Wise. Like the original Morecambe and Wise shows, there is a play within a play and each show features a special mystery guest.
Two of the three central characters do not impersonate Eric and Ernie but pay homage to them. They use settings that Morecambe and Wise employed for their sketches as well as the odd joke that the two legends told during their act.
The premise of The Play What I Wrote is that Thom has written a play, an epic set in the French Revolution called A Tight Squeeze for the Scarlet Pimple. But his stage partner Dennis wants to continue with their double act. He believes that if they perform a tribute to Morecambe and Wise, the double act will continue.
But Dennis needs to persuade a guest star to appear in Thom's play because Ian McKellen has not turned up—he is still in the pub.
The Play What I Wrote is superbly performed by Dennis Herdman, whose tall presence is matched by his dominating voice, and Thom Tuck, often the butt of Dennis's jokes who, like Ernie Wise, believes his plays are ground-breaking and deserve a big audience.
The third cast member, Mitesh Soni, proves that Arthur is an indispensable character who drives forward the story and the comedy as he also appears as theatrical agent David Pugh, a stage manager, a member of the Morecambe and Wise fan club and even Scarlett Johansson.
Audiences going to see The Play What I Wrote will no doubt be expecting an evening of mayhem, madcap humour full of slapstick and physical comedy. They will not be disappointed.
However, for some reason The Play What I Wrote did not have me rolling in the aisles laughing. My humour has been described as off the wall and I was brought up on Morecambe and Wise whom I revered. I appreciate how slick The Play What I Wrote is and how brilliantly it is directed. At risk of being branded a Scrooge, I feel the play has become slightly dated over the past 20 years.
No doubt the mystery guest stars will add to the enjoyment. Tom Hiddleston appeared on press night and on the evening that I saw The Play What I Wrote, Sue Holderness—Marlene from Only Fools and Horses—was warmly applauded when she set foot on stage.
She had no qualms about sending herself up during A Tight Squeeze for the Scarlet Pimple, adding another dimension to the comedy.
There was deserved applause at the end of The Play What I Wrote from an enthusiastic audience. I just wish I could have shared their passion. It was good but for some inexplicable reason it only occasionally touched my funny bone.
Reviewer: Steve Orme