The Pleasure Garden
Book and lyrics by Glenn Chandler, music by Charles Miller
Produced by Ban Paturel and John Owen in association with Andy Hill and Tom McGregor for Above the Stag Theatre
Above the Stag Theatre
–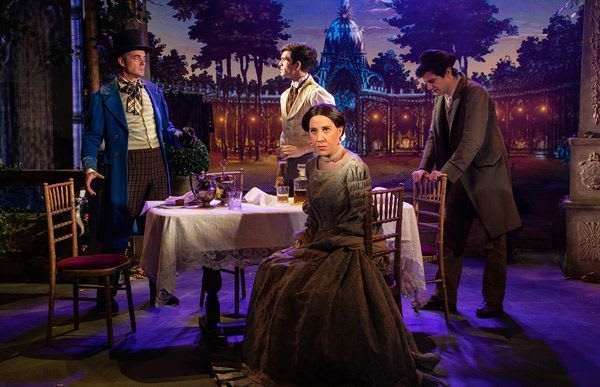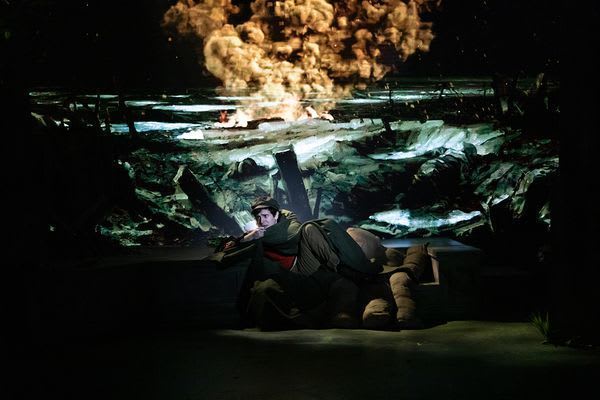 The Pleasure Garden where this new musical is set is the resort right next door to where the Above the Stag now is that for two centuries was where Londoners came for recreation, entertainment and some illicit excitement. It began in the 17th century when it was known as New Spring Gardens but was officially known as Vauxhall Gardens from 1785.
Glen Chandler starts his story shortly before their final closure in 1859. He tops and tails his entertainment with brief modern scenes setting up a romantic relationship between two construction workers and introduces a homeless man who sketches in the area's history. Then we are whisked back in time to designer David Shields's recreation of leafy bowers and exotic architecture incorporating George Reeve's video design making imaginative use of old prints and engravings.
Now it is shipping clerk Ralph Pottinger (Jay Worley) who spots gardener Tom Restless (Sam Baumal) at work in the gardens and begins to write verses to him, but he has competition. Young Tom has also caught the eye of aristocratic Lord Roger Lovelock (he's rather partial to gardeners) who tunefully asks "Can a Man Help Being a Sod" which Rory-Charlie Campbell is soon singing. Given her husband's interests, it isn't surprising that frustrated Maude, Lady Lovelock (Ashleigh Harvey) is seeking solace with Captain Antrobus (Jennie Jacobs); but the Captain is not what he seems, and neither is the exotic Princess Saura (Bea Amora Wong / Benjamin Wong).
Steve Watts as the garden's resident Hermit (like the nightingale, we hear in the trees he's not a real one) watches over their liaisons. He doubles as manager of a group of Italian acrobats and the conductor of a French orchestra. The whole cast are kept very busy in a very contrived plot that includes a trip in a hot air balloon and a Crimea battle.
It's a show that relies more on lively performance than rich characterisation, there isn't time to dig deeply, but with lots of tuneful songs with strongly rhymed lyrics, its rather sardonic look at gay romance has its moving and its humorous moments.
It is full of strong voices, especially Miss (or is it Mr) Wong's with its range and vibrato and there is some lively hoofing choreographed by Carole Todd. It is a show in the British tradition of musical comedy—except that there is no happy ending—and its production values set a high standard for resident designer David Shields to match in the upcoming panto.
Reviewer: Howard Loxton