The Polar Bears Go, Go, Go!
Ivor MacAskill & Fiona Manson
Unicorn in association with The Polar Bears
Unicorn Theatre (Weston Theatre)
–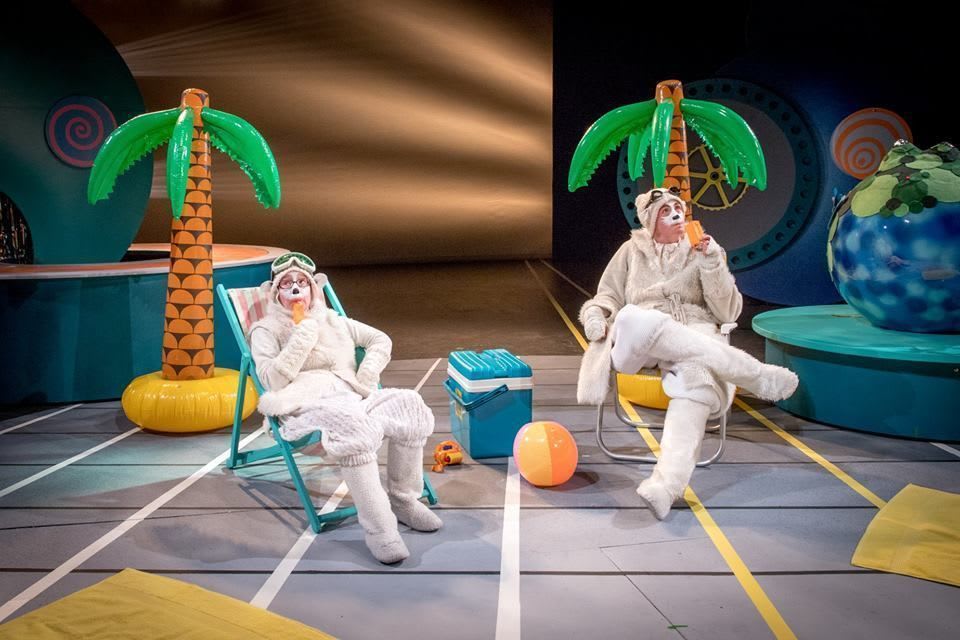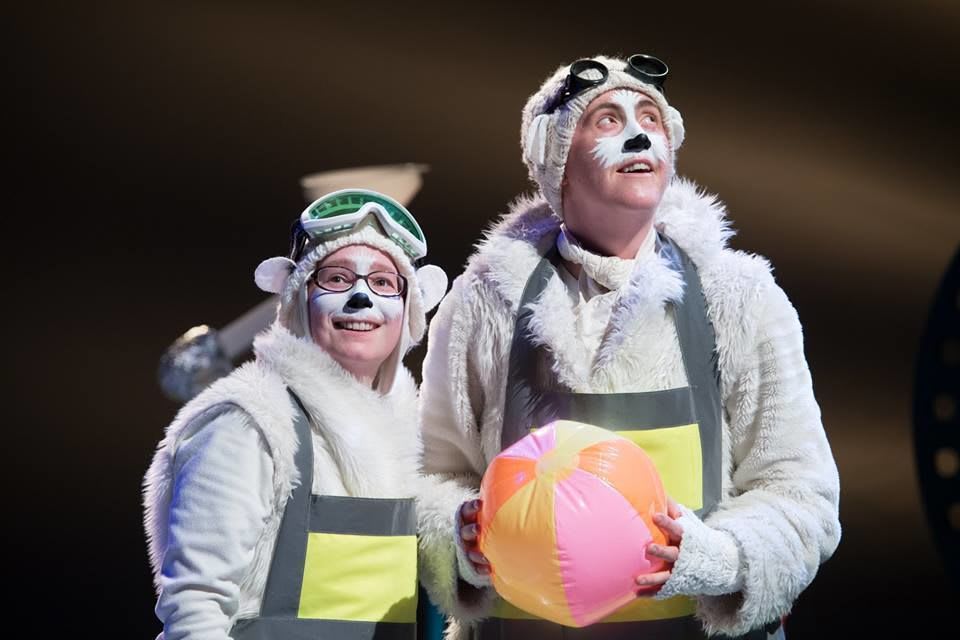 The Polar Bears are silly and childish, but that's really a compliment. Their new show has been made for an audience of 2- to 5-year-olds and Fiona Manson and Ivor MacAskill, who created and play them, know exactly what will connect with and please them. These performers are people who, if they have actually grown up (which may be in question), have managed to remember exactly what it was like when they were that age.
The Polar Bears Go, Go, Go! is a show without words but one that communicates clearly. Manson and MacAskill in their fur-fluffy clothing are very anthropomorphic and, though when they first discover the audience they find it a little scary, they soon risk a little wave and start to share their experience.
In a surreal sequence when the scenery becomes some kind of machinery, they are seen at work and coloured balls start being delivered from above, needing processing, they controlling a Heath Robinson kind of production line, making sure the right colours go to the right places and seeking audience help in making decisions. A factory siren signals their work until, having tidied the place up, they are ready to go on their holidays where it is clear they are looking forward to sun, seaside and ice creams.
On a terrestrial globe that sprouts tropical palm trees as well as a snowy North Pole where we can see them in miniature, they show us the route of their journey as we share it with them. First, they have to get their cases and pack them then go off to the airport, watching planes take off, checking in at departures and passing through security, which does not go entirely smoothly. They double not only staff at check-in, passport and security but also plane controllers with their batons and sadly complications see the plane take off without them.
Now they must make their own way to the seaside, first on foot then by scooter, bicycle, steam train and even by zip line to reach what looks like a tropical paradise. This particular pair of polar bears may get in a tangle with a deck chair but they won't have any problems with global warming. You can forgive the misinformation for this is about audience identification. It isn't a lesson in natural history but a huge game of let's pretend with its plastic palm trees and enormous inflatable ice cream cornets.
If there were any youngsters in the audience I shared the show with who hadn't got airport experience, it didn't show: they all seemed excitedly wrapped up in the adventure which always something interesting to hold the attention whether deciding which bucket a ball goes in or being entertained by an outbreak of dancing.
Once they had got over the presence of the audience, this pair of polar bears weren't fazed by anything. They were having a good time—and from the audience's delighted reaction so were all those who came to see them, not least when the bears produce some big beach balls for everyone to throw about.
Reviewer: Howard Loxton