The Potsdam Quartet
David Pinner
Jermyn Street Theatre
–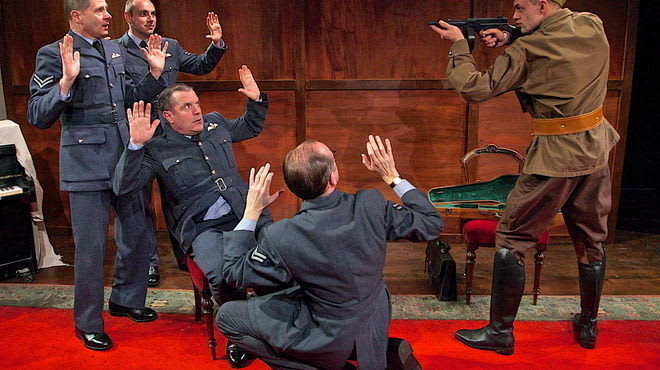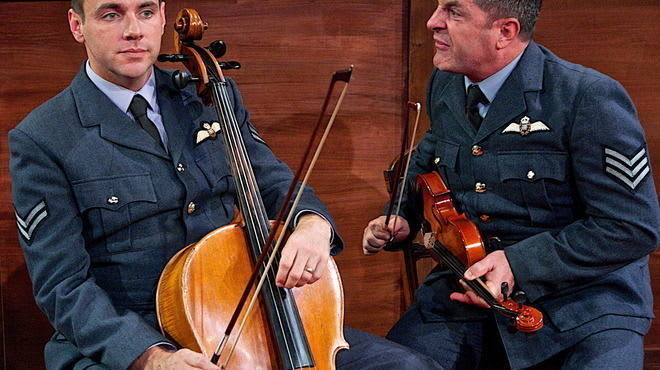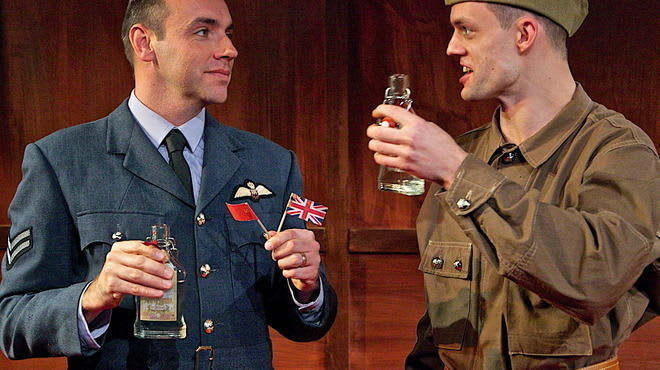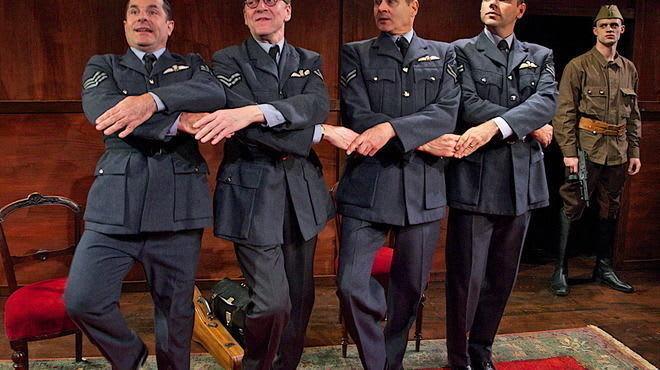 In July 1945, the war in Europe over, a quartet of world leaders met in Potsdam, fifteen miles from Berlin, to divide up the post-war world between them.
They were Josef Stalin, Harry Truman (three months into office following the death of President Roosevelt) and Winston Churchill (accompanied by Clement Attlee, his deputy in the wartime coalition government, who assumed leadership when the 1945 British general election result was known). But there was another quartet there as well, an RAF sergeant and three corporals: the Griller Quartet, one of Britain's finest, there to play for the entertainment of the politicians.
David Pinner's play, first staged in 1974, uses that situation. His musicians are fictional, but in some ways they reflecting the make-up of the real quartet with its dictatorial leader and two of them partners in a homosexual relationship. It is set in a makeshift dressing room where, watched over by a Russian soldier (Ged Petkunas), gun in hand, they kill time between playing a Haydn quartet and being called back to play a piece of Borodin at Stalin's special request.
The world is at a critical point and so is the quartet. Twenty-five years together, tensions are brewing. One member wants out, another knows something that threatens his continuance but Sergeant Aaron Green is determined they are going to stay together, continuing their magical musical partnership.
Despite the political moment, this isn't a political drama. These men aren't party to what is happening. The admiration of working-class born Corporal Ronnie Taylor for Uncle Joe Stalin and support for Attlee contrast with the attitudes of the gay couple, Corporals Douglas Swift and John Healey, who seem more public school types and Aaron, though son of an East End Jewish shopkeeper, is driven by musical aspirations, not political hopes.
They make an odd quartet when set against the power brokers and the military. Pinner's interest is in exploring the interaction of four men who blend beautifully when performing but constantly bicker in private.
Stephen Bednarczyk is bitter and destructive as John, the one who has had enough, suggesting a deep hurt that fuels his actions. Philip Bird as his fey and self-hating partner Ronnie gives a glimpse of the manipulative nature behind his weepiness. These two are a pair trapped in their relationship.
Aaron seems even worse at family. Michael Matus suggests an East-Ender still ruled by his background; though music has taken him into a different world he has no life beyond it. His feelings pour out in a declaration of the joy and privilege of playing great music.
By contrast, Douglas Swift seems more conscious of the wider world. Daniel Crowder makes him a more sympathetic character, especially as more is revealed about a condition which affects his playing.
Anthony Biggs's enjoyable production emphasises the comedy but at the same time we are given a pretty truthful picture of the tensions in a tight-knit group who know exactly how to rile each other, it captures that mix of professional unison and personal friction that so often occurs in groups whose work forces them into close intimacy.
A high-camp element in the combination sees unity restored as musicians momentarily turn ballerinas, but we all know what followed Potsdam's apparent political concord. This quartet's future remains as problematic, though the actual Griller quarter remained together for another six years.
Reviewer: Howard Loxton