The Prince and the Pauper
Mark Twain, adapted by Jemma Kennedy
Unicorn Theatre
–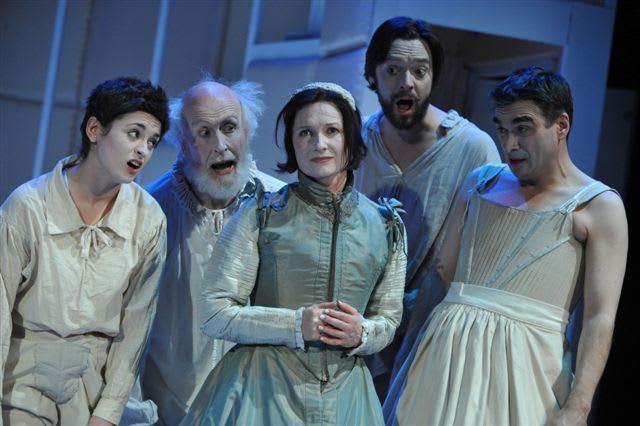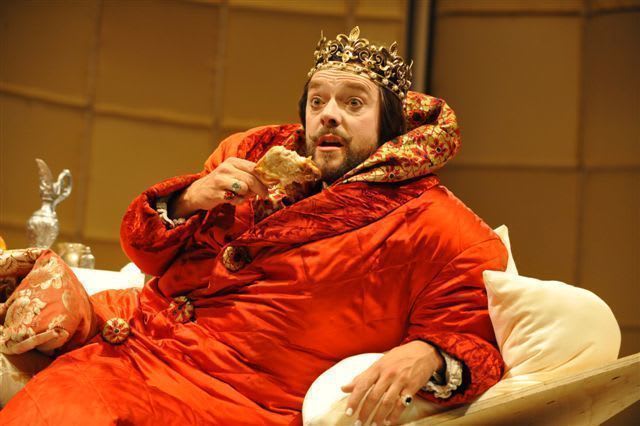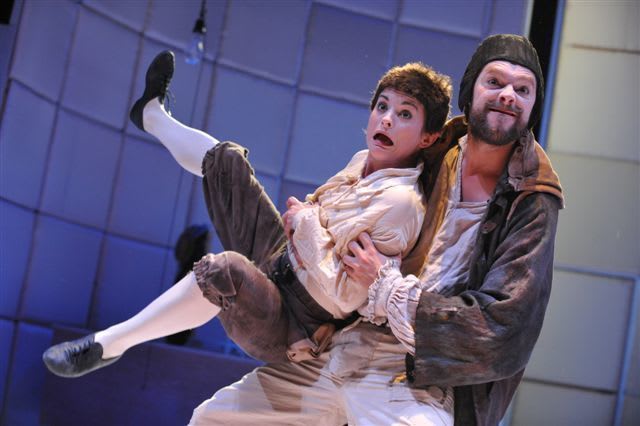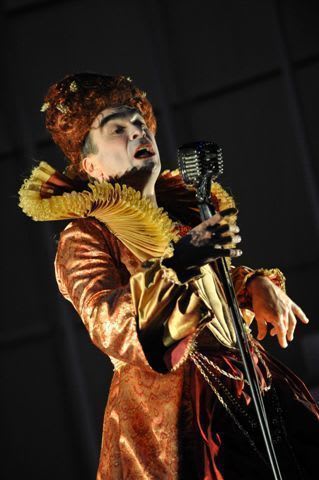 Mark Twain's tale of look-a-likes Tom Canty from the London streets and Edward, son of King Henry VIII, who find themselves unintentionally swapping roles in 1543 has had several stage film and television versions. The first one on Broadway in 1890 led to Twain losing a lawsuit brought by the man whom he had asked to make an earlier unproduced adaptation. Now the Unicorn gives it its own very seasonal treatment.
This is a very jolly version. The style smacks a little of Horrible Histories and a little bit of panto, not least in its cross-gender casting, and there are plenty of songs composed by musical director Antony Elvin. A balladeer Chorus (Jake Harders) introduces and links the story as we see the young princeling coping with life on Offal Street (which he poshly pronounces Awful) and Tom, whom King and Court think an ill Edward, is forced into playing Prince.
Set by designer Garance Marneur in front of a circular structure that splits open to reveal simple interior settings, it begins with a company of players in pale, uncharacterised costumes then throws in some hats and props. It is immediately established that these are actors who are going to become different characters, clearly identified by Susan Kulkarni's costumes but glimpsed momentarily out of role between times. The action is carried into the audience and everyone is complicit in the make-believe.
The production has the advantage of a Prince and a Pauper played by real look-a-like twins, 24-year-old Danielle Bird (Edward) and Nichole Bird (Tom). Both give spirited performances but there is no principal girl thigh slapping here. They convincingly become nine-year-old boys though, this being the sixteenth century, perhaps a bit more grown up than modern ones.
As well as her feminine roles (including Tom's Ma) Katherine Toy also speeds around on a scooter as a lawyer-gowned male Lord Chancellor. However, though he may be numerically outnumbered three to one, Jason Morell's enthusiastic drag portrayal of Tom's sister Bet and a larger than life future Queen Elizabeth more than achieve a cross-gender balance.
"You cannot trifle with a Tudor" says Nicholas Boulton's rich-robed Henry VIII, much more the merry monarch than a sovereign supposed to be on his last legs, unrecognizable as the same actor playing Tom's violently abusive Dad. Richard Evans and Jonathan Glew are kept busy as a priest, doctor, carious courtiers and the wicked brother who has stolen lands and lady from Jake Harders's returning Errol Flynn-like young lord Miles Hendon who becomes the young prince's protector.
This is one of those shows where actors disappear as one character and are suddenly there as someone else, the doubling skilfully managed by both writer and director with just once being so rapid it takes place on stage. Although the story centres on the two boys this is very much a company show and these actors, singers and often instrumentalists too form a well-knit ensemble.
It isn't history of course. It is not as easy to imbue a ruler with egalitarian values as exposure to the hard knocks of life does here, but the sentiments are the right ones to offer young and as the actors romp through Selina Cartmell's lively production the audience shares in the good time.
Aimed at 6+ this is great for the youngsters but there is nothing childish about it so it's a good night in the theatre for all.
Reviewer: Howard Loxton