The Prince
Abigail Thorn
Metal Rabbit Productions
Southwark Playhouse
–

Listing details and ticket info...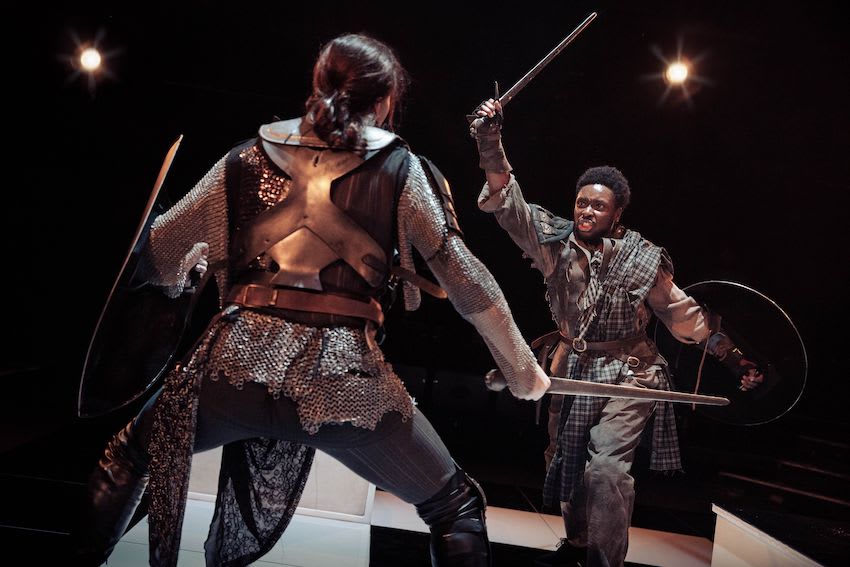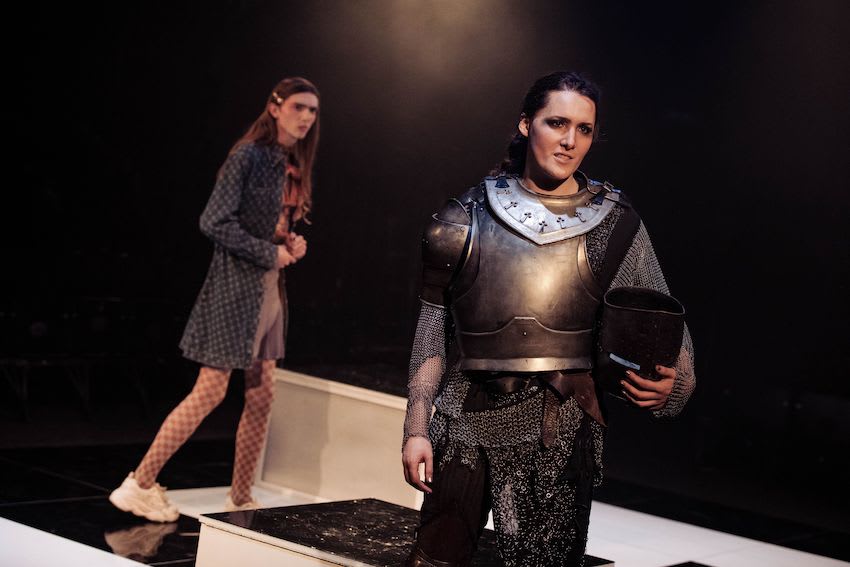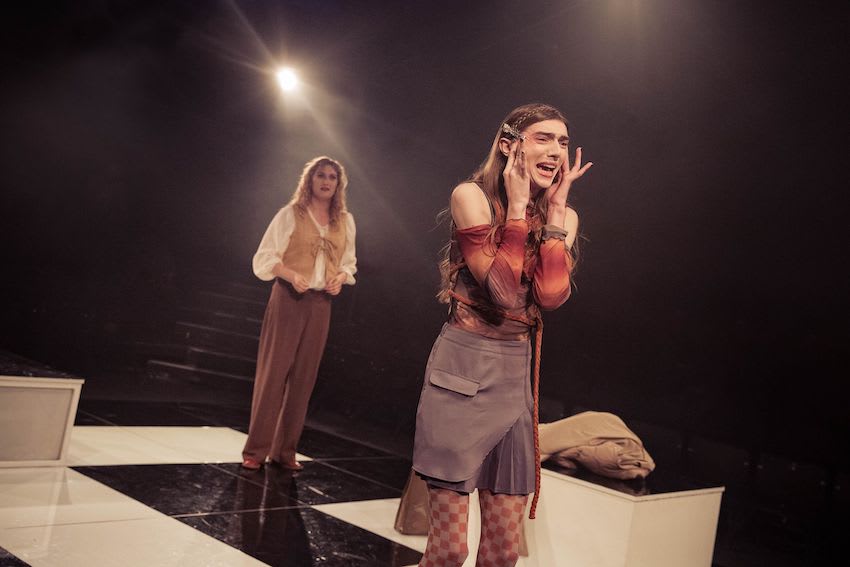 "We're inside Shakespeare," announces one of Abigail Thorn's modern-day characters whom she pitches into the world of 1402 in this intriguing play. Taking its cue from the fact that Shakespeare's women were originally performed by men and boys and that his plots often include assuming a crossover gender, it goes one further by seeing his characters from a modern gender perspective, pointedly played by what publicity describes as "a majority trans cast".
At first, Jen (Mary Malone), who is really the manager of a Liverpool care home, claims she is Brutus's wife Portia while Sam (Joni Ayton-Kent) seems to think she is Cleopatra, but now they are thrust into an episode from Henry IV (Part One) with the King played by Che Walker and Prince Hal by Corey Montague Sholay in which they face rebellion by those who helped make him king: the Earl of Northumberland (Che Walker again), his brother the Earl of Worcester (Richard Rees) and his son Harry Percy (Abigail Thorn), nicknamed Hotspur, who is refusing to surrender his Scots prisoner the Earl of Douglas (Tyler Luke Cunningham).
The text is a mixture of genuine Shakespeare and (mainly) faux-Shakespearean verse, often identified by its modernisms but delivered with style, plus the contemporary dialogue between its trapped modern characters who get access to some kind of magic that allows them to jump from scene to scene or even into a different play.
The second act opens not with Hal but the Danish prince, Hamlet (Abigail Thorn), with Claudius (Che Walker) in the first court scene from that play. It seems largely there to give the writer the opportunity to play Hamlet, but also provides a third father-like figure along with King Henry and Northumberland to whom the action returns.
Sam seems mainly concerned with finding a way to escape being stuck inside the Shakespeare canon, but Jen partly plays along and gets involved with the characters.
Shakespeare's characters have to say the lines and play the parts assigned to them and this is a kind of metaphor for they way in which in real life, people play out the roles people expect them, follow family and society exceptions whether self-chosen or thrust upon them.
Jen actively wakes some of them up to discover their real selves. She edges Hotspur's wife Kate (Tianna Arnold) into seeing women don't have to just be submissive wives and awakens her feminist feelings. Prince Hal may put a dissolute life behind him and please his father by becoming a valiant princeling, but it is Jen who makes him acknowledge his homosexuality.
It is Hotspur who seems to gain the most self knowledge from Jen's interference, as we see a change in gender identification that designer Rebecca Cartwright echoes in the shedding of armour and costume changes. Abigail Thorn in the role dominates this play; though gender may have fluidity, there is no loss of strength in this Hotspur.
The Prince questions gender roles and relationships but offers no strong narrative outside that of the original play scenes or explore the reasons for the choices people make, but the theatricality of Natasha Rickman's production, especially its clashing sword fights and moments when contact between characters has them pulling in different directions, creates an inexplicable frisson to ensure that it holds the attention. It also provides a lot of laughs, though not everyone can handle the difficult acoustic of this in-the-round staging. Che Walker and Richard Rees set an example in clear delivery, but here are times when one side of the audience is laughing and those facing them aren't reacting.
There is some intelligent questioning here, but The Prince is an exploration that doesn't offer reasons or resolution, however it got a rapturous reception from an enthusiastic audience.
Reviewer: Howard Loxton