The Princess and the Pea
Devised by the company; written by Kevin Dyer
Action Transport Theatre
Unity Theatre, Hope Place, Liverpool
–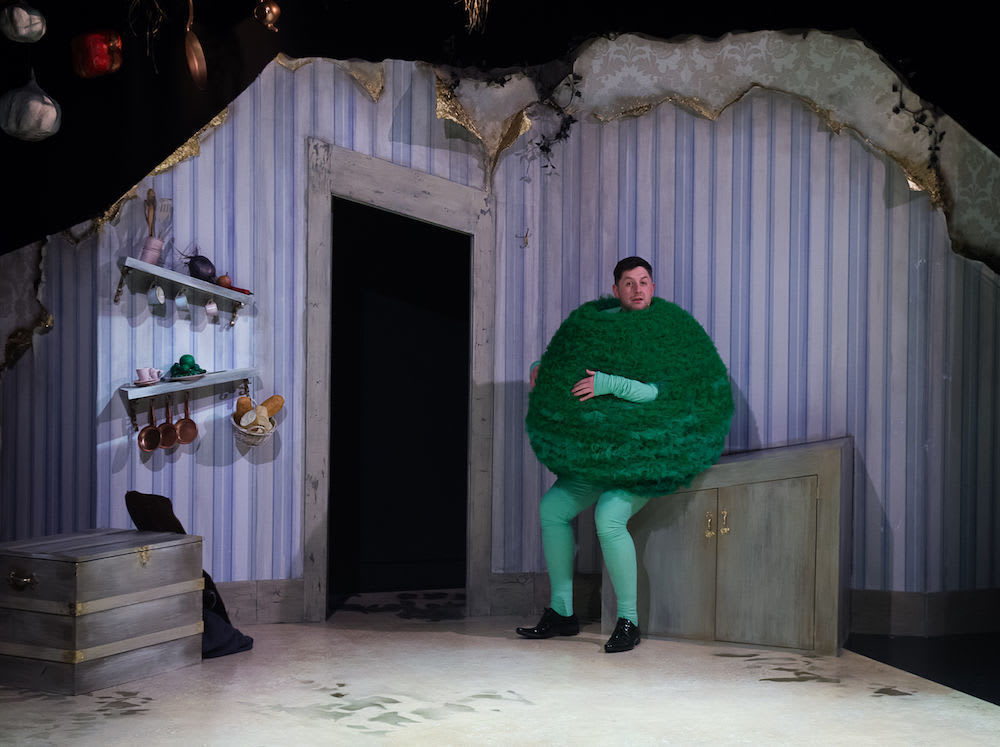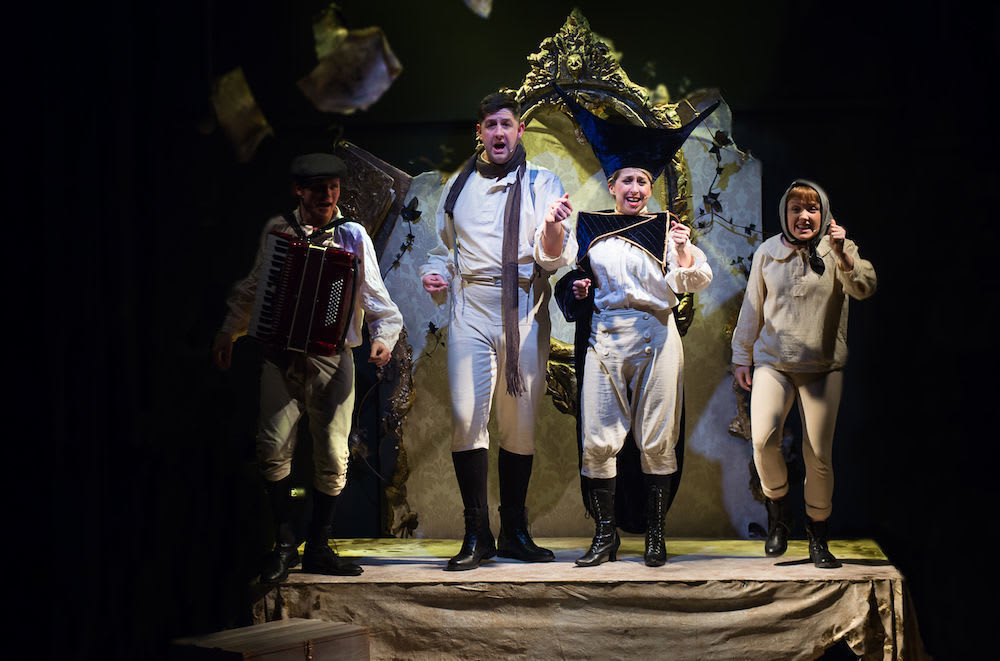 It's a funny old game, this acting lark. What was your last employment? Well, I played a giant talking Pea.
Action Transport Theatre's latest production has all their usual hallmarks: a serious message woven into the playfulness; full-on but very child-friendly performances; plenty for the adults to enjoy as well as the little ones.
In the Queendom of Meane, they have plenty, but they're not for sharing with those less fortunate. Indeed, the Queen issues a command for any foreigner who lands on their shores to be thrown back out to sea (or worse).
For her part, the wicked queen uses her magic mirror to send a storm-tossed refugee to the bottom of the ocean. Despite this, somehow a desperate refugee survives and makes it to shore, only to find that the regulars in the local pub would rather play cruel tricks on her than share their food and drink.
She retreats to the forest, where she arrives just in time to rescue the Prince from being eaten by a wolf. Far from being grateful, the cowardly prince betrays her to the palace guards (and their dogs) and she has to run for her life.
Deep down, though, the Prince is not a bad lad and, when the stranger is caught sheltering in the palace, he attempts to save her by telling his heartless mother she is a Princess from a foreign land. This isn't the ideal solution to her woes that it might seem.
The Book of Meane states that every Princess must face a test. If she fails, she will be thrown into the moat to drown. Three princesses have so far been tested and found wanting. As far as the stranger knows, she will face her test in the morning. After all her troubles, she could use a good night's sleep. If only this bed weren't soooo uncomfortable…
Under Nina Hajiyianni's unfussy direction, the cast give committed well-choreographed performances that hold the children's attention. Josie Cerise fits well with ATT's stereotype-busting policy and gives us a feisty and resilient Princess, too practical (or perhaps too poor) to own a pretty, Princessy dress.
Keddy Sutton brings flair and a neat balance of the ludicrous and the intimidating to her Queen of Meane; she deserves a lot more booing (in a good way). Duncan Cameron's Prince is a young man in need of inner strength—which he finds courtesy of falling for the stranger from another land. And then there's that giant pea…
Graham Hicks as the rolly green giant does a very good job indeed. This oversized vegetable can walk, talk, tell corny jokes and (given half a chance) even sing and dance. His temper tantrum towards the end is clearly a favourite moment for the audience—well, wouldn't you have a bit of a strop if you'd spent all night squashed and half-suffocated under a huge pile of mattresses?
Set (Victoria Saville) and costumes (Molly Lacey Davies) are both practical and stylish (watch out for some notable headgear).
This show isn't quite ATT at their best. The message (kindness and openness to refugees) is underdeveloped (I'm not sure how many children will understand the significance of the Princess, having passed her test, asking for food, clothes, tents etc.). Also, some of the musical interludes could be trimmed. That said, hats off to the lyric: "When I was young I yearned for jelly, But all I got was Machiavelli".
Plenty for adults, Plenty for children. Plenty to celebrate in The Princess and the Pea. Giant talking pea? Get it on your CV, la'!
Reviewer: Martin Thomasson