The Princess and the Pea
Mike Kenny
tutti frutti and York Theatre Royal
York Theatre Royal Studio
–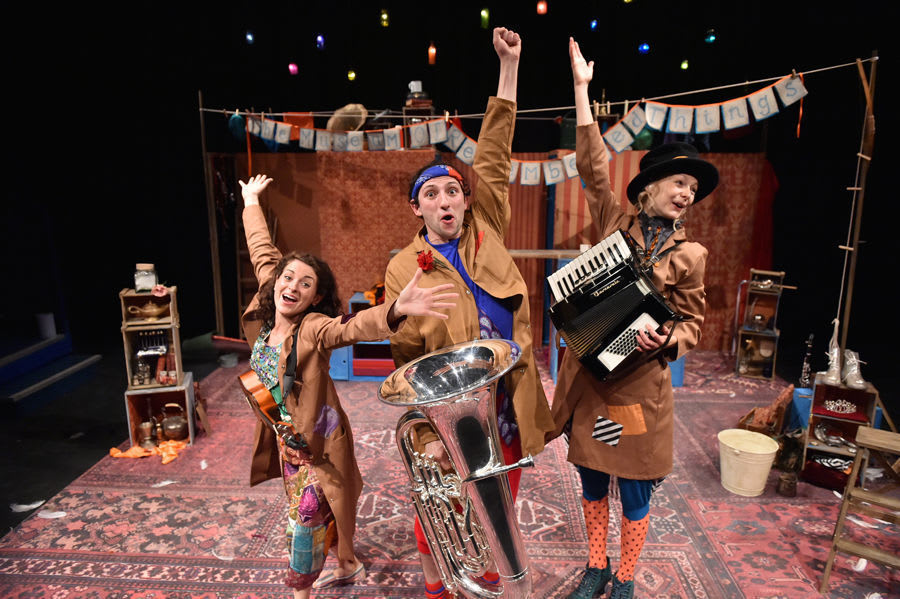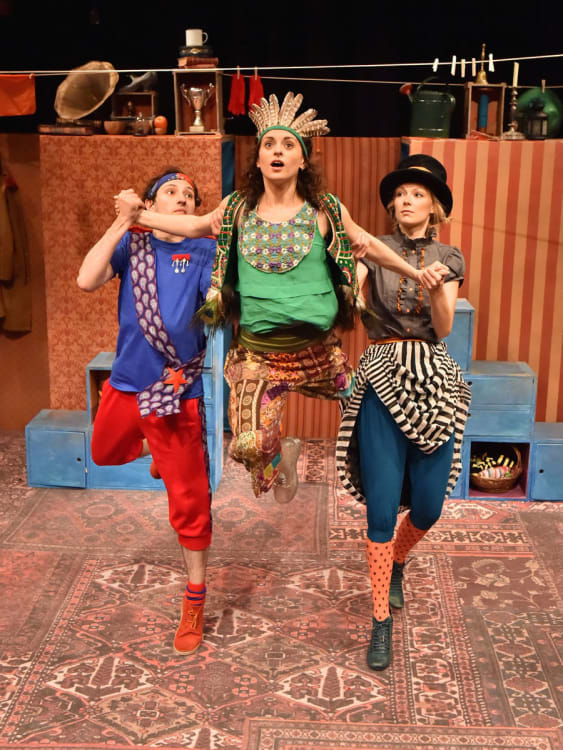 The latest collaboration between well-loved children's theatre company tutti frutti and York Theatre Royal also sees a repeat of the successful collaboration between writer Mike Kenny and director Wendy Harris (previously responsible for Visiting Grandad, Rapunzel and The Boy Who Cried Wolf). It's a winning combination which again comes up trumps, adapting and embellishing a Hans Christian Andersen classic.
We're welcomed into a brightly-coloured, cluttered space—a museum of sorts—by the charming ensemble of Danielle Bird, Oliver Mawdsley and Joanna Brown. They break for 'band practice' before formally introducing themselves as the curator (Brown), assistant (Danielle Bird) the curator's well-meaning but ineffectual son (Mawdsley).
Picking their way among the abandoned and rarely-visited items, they resolve to tell us a story which happened not a long time ago nor a long way away, but recently and 'here'. It's the story of how there came to be a pea as part of their collection, and it involves a multitude of characters and numerous wonderful songs, composed by Ollie Birch and in part played live by the talented company.
Play-time and the wonders of the imagination are frequently important to tutti frutti's projects, and here one character points out the presence of a dressing-up box in the museum. With feather boas, tiaras and tutus galore, the cast take on the roles of the Queen, her sheltered (but loveable) son, and various others in the quest to find a princess worthy of marriage—and rich enough to save them from the financial straits in which they find themselves.
Mike Kenny's script gives us joyous wordplay and a compelling, well-told yarn. His programme note speaks of his admiration for Hans Christian Andersen's language and imagery, writing for children and speaking in 'the voice of ordinary people'. Kenny, too, provides a fantastic blend of the authentic and the magical. He has augmented the story sensitively and with a clear passion for what makes children tick, and giggle. It's another hit.
Metatheatrical touches also abound, but in the least jarring and most accessible ways. Birch's music, as mentioned, matches the sparkling script to a tee.
The performers are all immensely loveable, and their musical and physical talents are shown off to great effect with a score which takes in tuba, ukulele, washboard, clarinet and more. T C Howard (who also choreographed several previous tutti frutti shows) has again provided inventive, irrepressible movement sequences.
Catherine Chapman's design is likewise imaginative, with simple but special imagery conjured, for instance, for the bed and the leaky ceiling which prompts the royals to seek their fortune. Zanna Woodgate's lighting is unobtrusive but effective, with nice touches and well-judged shifts.
The aforementioned dressing up boxes provide wonderful characterisations such as Mawdsley's fabulous Scouse princess clad in pink, Brown's goggled, snortingly adventurous posho, and Bird's wailing Welsh one. When we finally (after comedically interrupted attempts at telling the story) meet Bird as the high-born but commonly-raised princess of the title, she is straightforward, humorous and endearing in wonderful ways.
Unlike some of the company's previous work, this production is entirely without moments which might threaten to upset the youngest audience members—all is played out with warmth, affection and humour. So I can wholeheartedly recommend the show to those aged three and above, and to older family members as well.
In fact, anyone who enjoys a charming, funny, inventive afternoon at the theatre will be sure to come out with a grin on their face.
Reviewer: Mark Smith