The Producers
Book by Mel Brooks and Thomas Meehan, music and lyrics by Mel Brooks
Palace Theatre, Manchester
–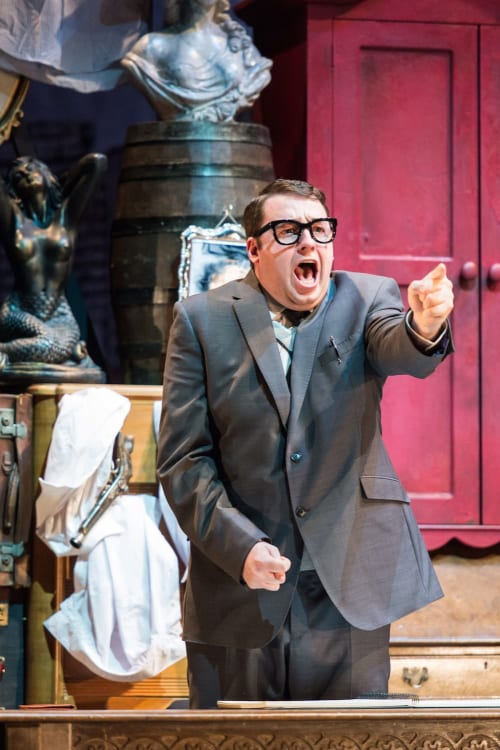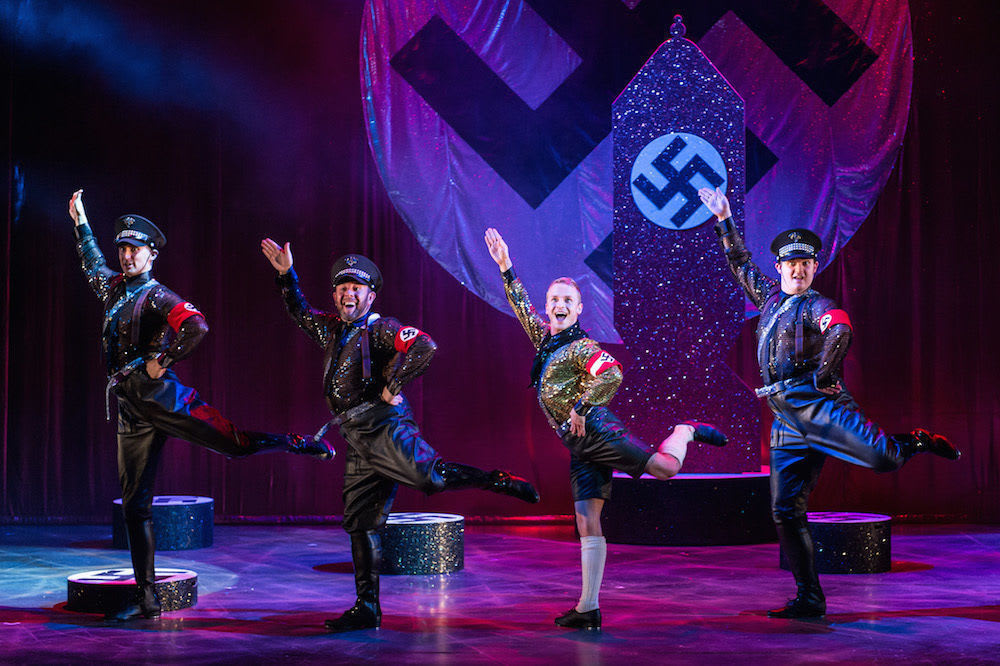 Eight years on from the last tour of this Mel Brooks musical, based on his wonderful 1968 comedy film, Cory English returns to Manchester's Palace Theatre to reprise his role of failed Broadway producer Max Bialystock.
It's based on a great premise: a producer and an accountant come up with a plan to over-finance a show, so that if it fails they are left as millionaires. However if the show succeeds, they can't pay their creditors and will end up in gaol. This doesn't appear to be a problem, as producer Bialystock has a string of flops behind him which he has financed by seducing rampant, rich, little old ladies.
The guaranteed failure which they unearth is called Springtime For Hitler by Nazi sympathiser Franz Liebkind, for which they employ the worst director in town, Roger De Bris and his equally incompetent production team. Of course things don't go entirely to plan and this shockingly pro-fascist love letter to der Führer is perceived as a masterpiece of ironic satire.
It's a brilliant idea for a comedy with a script shot through from beginning to end with hilarious one-liners, surreal fantasy and meta-theatrical acknowledgement of the audience as you'd expect from Brooks. The lyrics are very well-crafted with very few cheats in the rhymes, and the music, while not immediately catchy, certainly keeps the mood at every point.
But the real killer scene is the staging of the title song of Springtime For Hitler, a genuine masterpiece of comic staging, all in the worst possible taste. It's fabulously camp, terribly shocking in its politics and absolutely hilarious. I can't think why they chose to perform it outside the UKIP conference...
Compared to the film, it doesn't quite have the same pace as it has to accommodate the extra songs, and certain moments in the film, such as the frozen, shocked faces of the silent audience, won't work on stage. However, Matthew White's production is slick and full of details with some sharp choreography from Lee Proud.
The fact that he has played Bialystock before isn't enough to explain just how good Cory English is in the part. Someone else described his song at the end when he summarises the whole plot as a tour-de-force, but this is a tour-de-force performance from beginning to end. He blew away all memories of Zero Mostel in the film, and that's saying something.
The same isn't quite true yet of Jason Manford as terrified accountant Leo Bloom, as there are still some remnants of Gene Wilder mixed with moments when he brings something more of himself to the part. However it is still a pretty good performance—in which he displays a lovely singing voice—and I'm sure he will grow more into the part during this lengthy tour.
There is another stand-out performance from David Bedella, who gives a very assured portrayal of De Bris throughout but still steps up a gear or two when he has to play Hitler. Louie Spence as his partner Carmen Ghia does what you'd expect Louie Spence to do, playing up on press night to his screeching fans with his bizarre gyrations.
With Phill Jupitus as the mad German Liebkind, Tiffany Graves as Swedish actress and secretary Ulla and a very talented and hard-working ensemble, this is probably the most fun you could have in a Manchester theatre this year so far.
Reviewer: David Chadderton