The Queen in Me
Teiya Kasahara
Theatre Gargantua, Nightwood Theatre, Amplified Opera, Canadian Opera Company
The MAC, Belfast
–

Listing details and ticket info...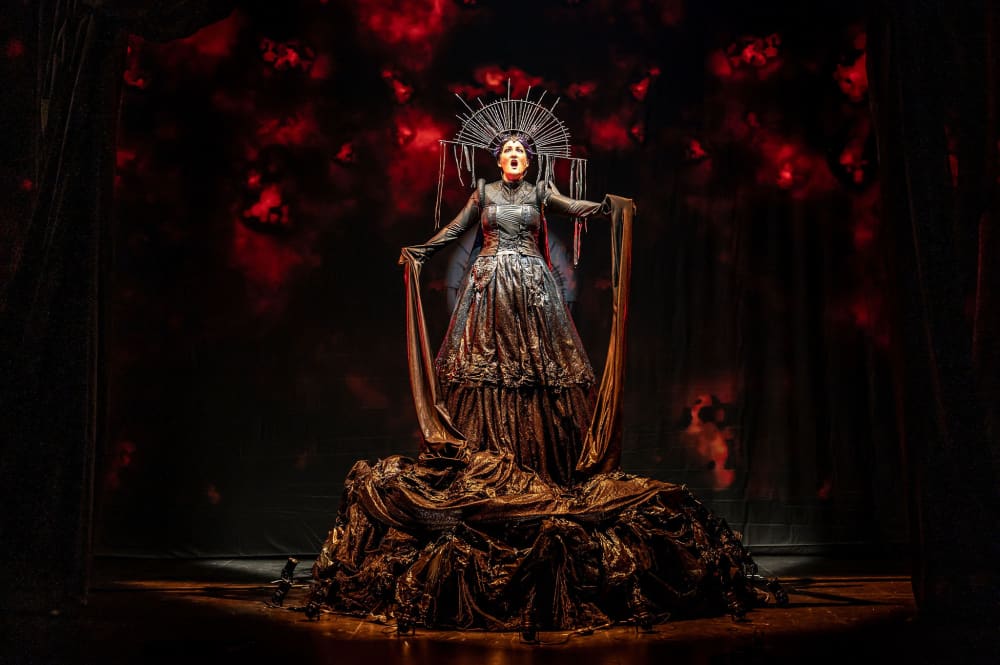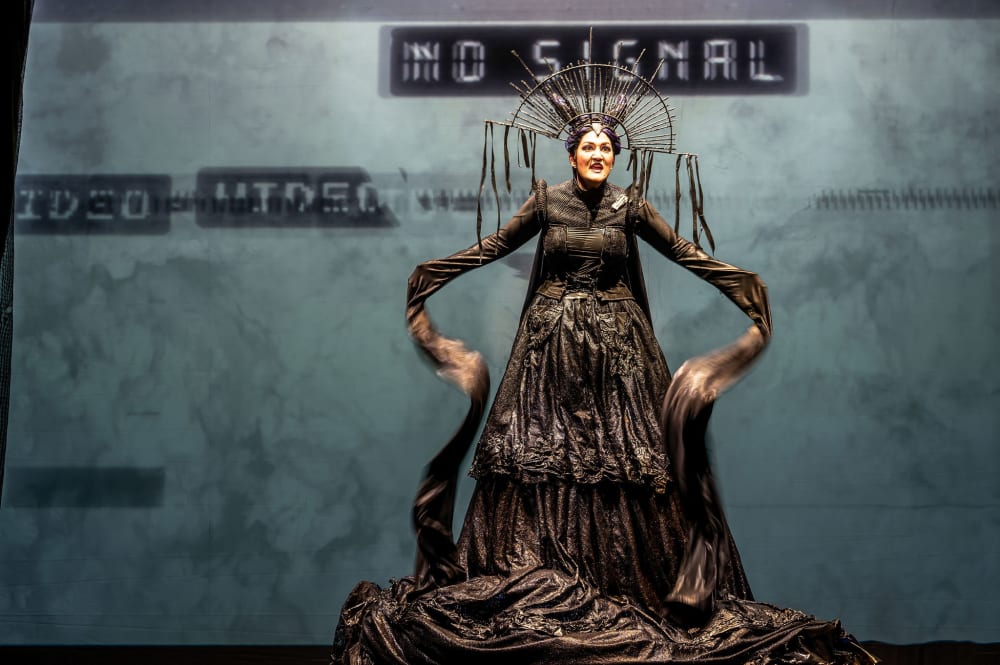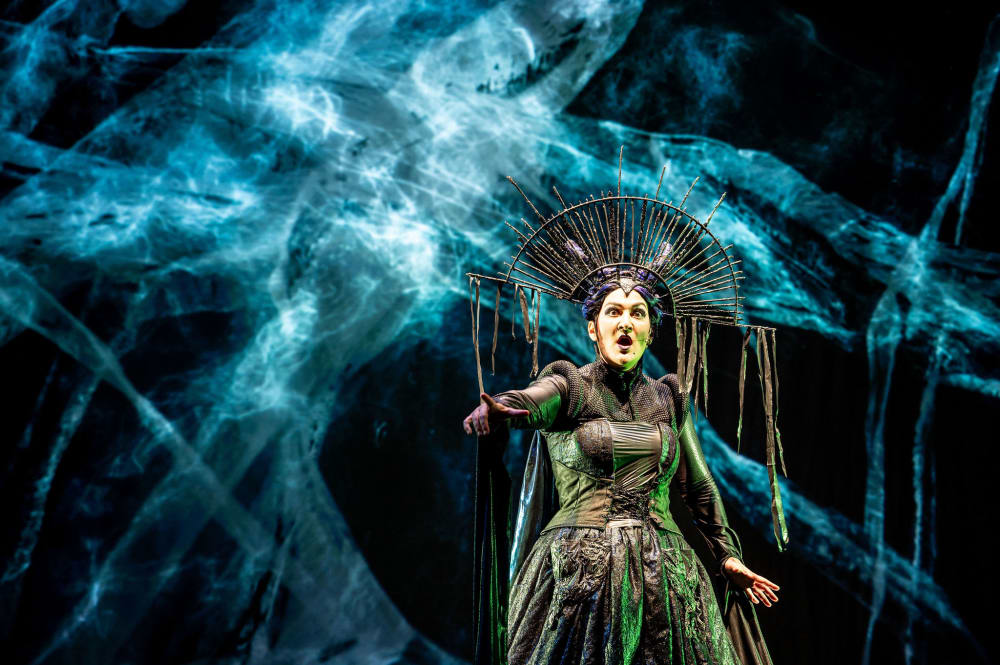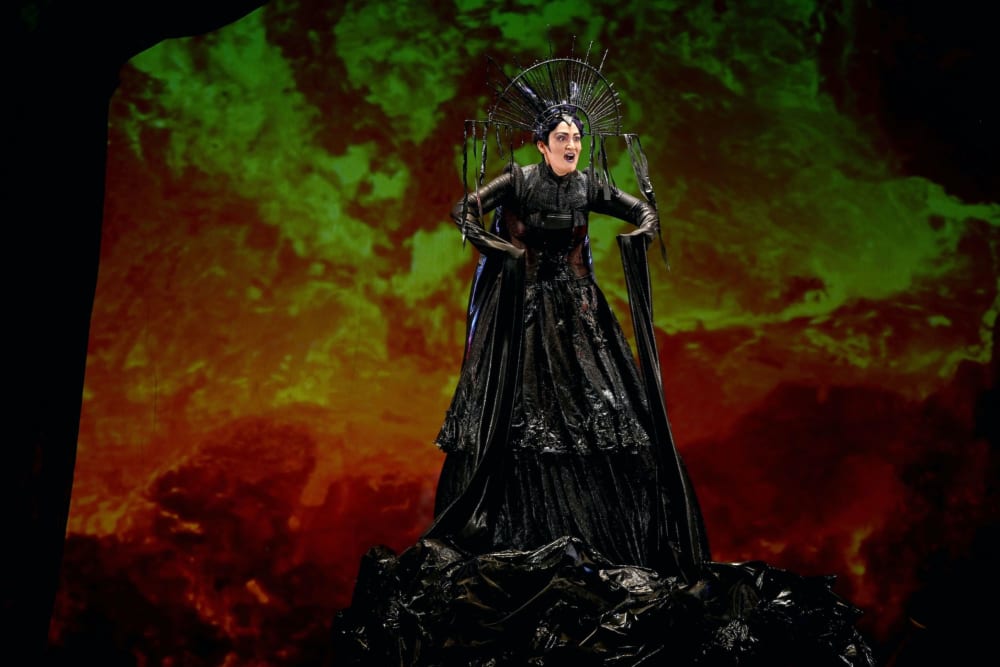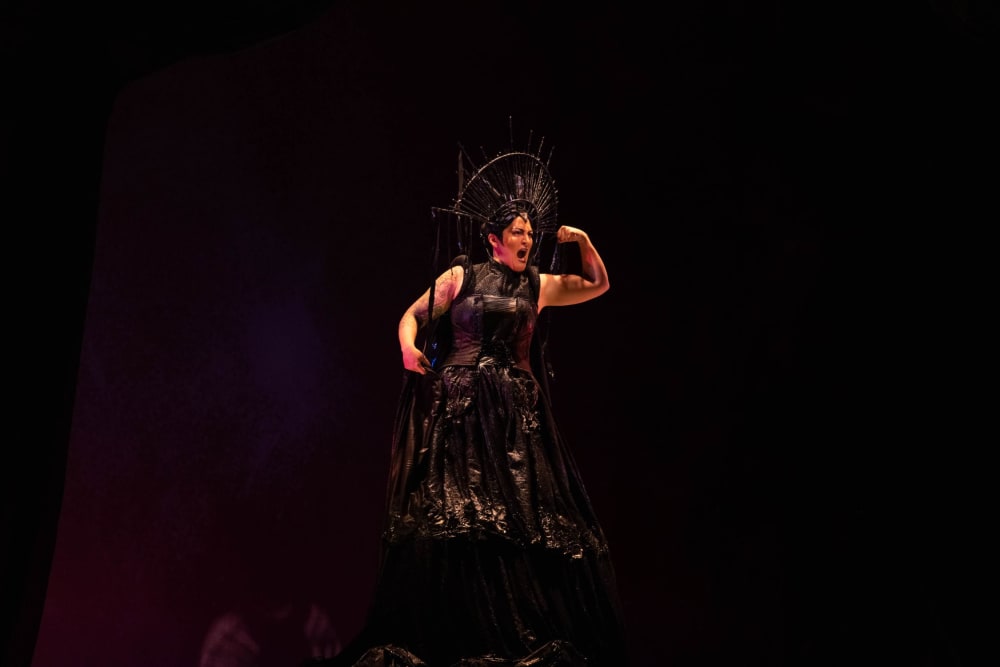 Opera has a problem, indeed may well be the problem itself, argues soprano Teiya Kasahara in The Queen in Me, a clever, caustically funny, pointed and pertinent solo show receiving its European première at Belfast's The Mac.
Self-identifying as "a Nikkei-Canadian, trans non-binary interdisciplinary artist" with Japanese and German heritage and "they/them" as preferred pronouns, Kasahara is an established figure on the opera landscape of their native Canada. One suspects they may well be a somewhat unique figure there.
First seen in 2017 and much re-worked since with versions utilising full orchestra and, as here, solo piano, The Queen in Me blends grand opera, agitprop theatre and gender politics with a pronounced European accent on theatre as a vehicle for polemics and provocation.
Kasahara's perspective on opera's treatment of women is as indisputable as it has been ignored: the 'good' are married off, the 'bad' are murdered, contract terminal illnesses or commit suicide. That the thesis broadens the argument into the opera industry's inability to divorce on-stage fiction from off-stage reality, and its resistance to change, adds muscular punch to The Queen in Me's melody-filled poetry.
Running at 50 minutes, it is a compact piece. And a dense one, Kasahara's machine-gunned soliloquy ricocheting between history lesson, musical analysis and a multitude of 'isms' laced together by some of opera's most familiar arias, alongside a carefully insinuated autobiographical element that imbues the evening with a stirring challenge and a compelling call to action.
Erudite and admirably, righteously, angry, it finds Kasahara rooted to a raised, ornately decorated wedding-cake pedestal as Mozart's Queen of Night, railing with coloratura vehemence against being forever reduced to the dimension of wicked Disneyesque villainess. What follows is a fast-paced race through opera's misogynistic conventions (via "characters on the precipice of love and death, love and despair" as imagined by Puccini, Verdi, Richard Strauss et al) and, more damningly, the industry's endemic aversion to change and diversity.
If an element of self-therapy is discernible—for Kasahara the show has proved "an unpacking, healing process"—it is what imbues The Queen in Me with its agreeably unsettling fierceness and force. And underscores the startling, literal, reveal at the show's finale.
With Kasahara clothed in Joanna Yu's textured black dress (part Wagnerian Valkyrie, part medieval gothic, part Japanese sci-fi) tethered to, folding into and organically becoming the raised platform on which they deliver their ardent complaint, Laura Warren's strikingly sensual animated video backdrops add telling shifts of mood and atmosphere, all dexterously lit by André du Toit.
Andrea Donaldson and Aria Umezawa's discrete direction moves proceedings along with an engaging if not always easily digestible fleetness, David Eliakis provides eloquent support at the piano.
The Queen in Me is the sort of uncategorizable show that only the Belfast International Arts Festival could bring to Northern Ireland, and is all the more recommendable for that.
Reviewer: Michael Quinn