The Queen of Spades
Peter Ilyich Tchaikovsky, Libretto by Modest Tchaikovsky
Met Opera on Demand
Metropolitan Opera House, New York
From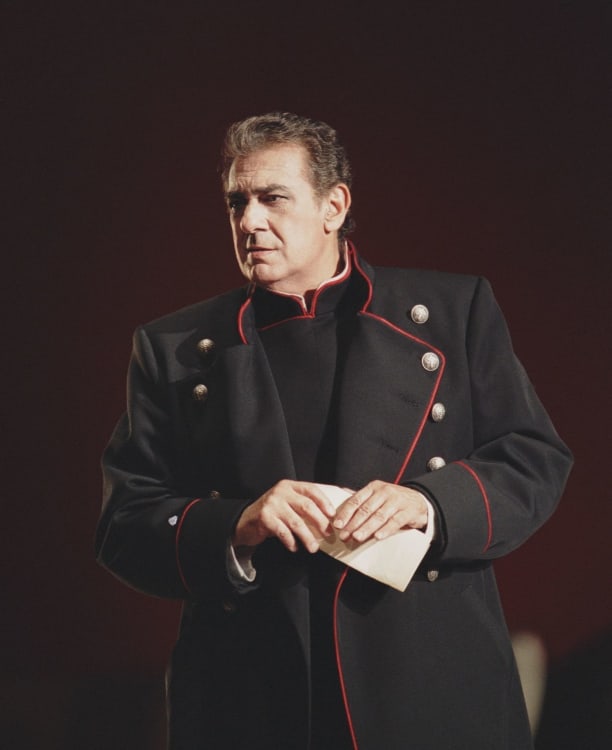 Life is but a game. Rien ne vas plus. Alexander Pushkin published his short story in 1834. Tchaikovsky premièred his opera in 1890. His brother, Modeste, wrote the libretto.
Elijah Moshinsky's production, designed and elegantly costumed by Mark Thompson, conducted by Valery Gergiev, was seen at The Met in New York in 1999. Plácido Domingo was Hermann, Galina Gorchakova was Lisa. Elisabeth Söderström was the old countess. Dmitri Hvorostovsky was Prince Yeletsky. The dark and melodramatic action takes place behind a gigantic picture frame.
The major difference between Pushkin and Tchaikovsky is that Pushkin's Hermann does not love Lisa; he only uses her to gain access to the countess. Tchaikovsky's Hermann is an ardent lover, passionately calling Lisa "my beauty, my goddess, my angel," constantly threatening to kill himself if she does not love him.
Lisa is shattered to find she has given her love to "a monster, a murderer, a fiend," but Tchaikovsky's Hermann is no demon. He is a tortured romantic soul, an obsessive gambler unable to kick the habit, a doomed victim, powerless to escape his destiny.
The countess is a very old lady who remembers a time long ago in the 18th century when aristocrats were aristocrats who knew how to talk, sing, dance and had manners; so very unlike the nouveau riche nobodies of today. In her youth she allegedly sold her soul to the devil in order to be able to gamble at cards and always win. She made a fortune. Hermann, short of cash, is desperate to discover her secret. He begs, he implores, and finally he threatens her with a pistol. She dies of fright.
There's more drama when he is describing her horrific eye-catching funeral and she reappears as a ghost in his nightmare. And there are also thrills at the gambling tables when he is convinced he has the winning streak of cards. Placido Domingo cuts a brooding, nihilistic and delirious figure. The performance is very impressive.
Dmitri Hvorostovsky (wearing a short 18th century wig and almost unrecognizable without his trademark silver hair) has a fine aria when Yeletsky expresses his love for Lisa.
Tchaikovsky is always good theatrical value. However, if you want see Pushkin's The Queen of Spades (as opposed to Tchaikovsky's The Queen of Spades) and you want the full Imperial Russian 18th century Rococo, then you must watch the 1948 classic Thorold Dickenson film version with Anton Walbrook as Hermann, Yvonne Mitchell as Lisa and Edith Evans (magnificently costumed) as the old Countess.
There are a number of ways of tapping into this opera and others at will. The Met Opera on Demand service offers annual ($149.99) and monthly ($14.99) subscriptions as well as a one-off payment ($3.99) for those who have limited time or only want to watch the occasional opera.
Reviewer: Robert Tanitch