The Rake's Progress
Igor Stravinsky
Bury Court Opera
The Barn at Bury Court
–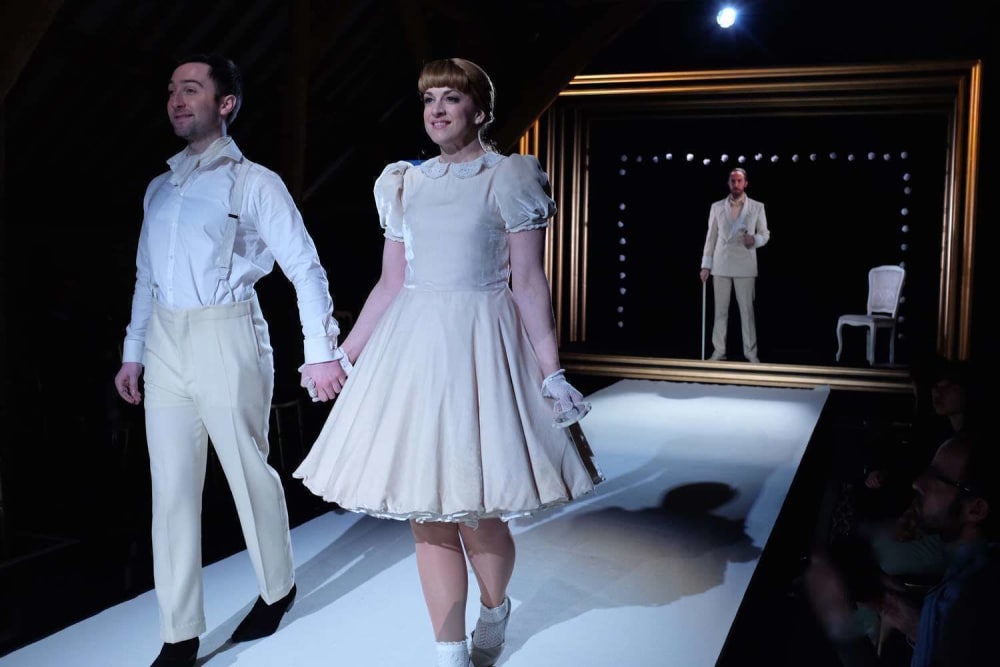 The Barn at Bury Court is home to a lesser-known countrified opera company. As winter draws to an end, those longing for rural operatic splendour will be pleased to hear Bury Court Opera is a March fixture, a nice aperitif to the summer festivals.
Audience members can't help but be affected by location, even if it's only the show that's meant to impress upon us. Arriving at Bury Court, tucked away in the rolling fields just outside Farnham, to be greeted by a complimentary champagne reception certainly sets the tone for a wonderful evening.
Luckily Stravinsky's The Rake's Progress provided plenty more delights. Entering the barn, the audience is met with a catwalk style runway, audience ogling from each side. At both ends, giant gold picture frames encase the stage.
Director Aylin Bozok and movement director Ozer Ercan present a slickly stylised The Rake's Progress. Certainly not aiming for naturalism, we are transported through the locations by changes in the traverse stage floor in an otherwise bare playing space.
Clearly inspired by the fashion front row feel, designer Freidrich Eggert delights with a black and white Cruella De Vil aesthetic, barring Baba who sparkles from head to toe in glittering gold. The identically clad chorus pack a punch in 18th century ruffs with a Commedia dell'arte twist.
Initially, we are in the snowy-white, uncorrupted world of Anne Trulove (Madeleine Pierard) and her father (Oliver Hunt). Anne is engaged to our protagonist Tom Rakewell (Andrew Dickinson) who is kindly offered a job by her father. Tom has other ideas, not intending to work so hard in a mundane fashion. He wishes for money and Nick Shadow (Simon Lobelson) appears, declaring that he has been left a fortune by an unknown uncle.
Once away in London, Tom is persuaded to frequent brothels and marry Baba the Turk. As his pure love for Anne is lost, he is stripped of his white garb and redressed in black to match his polluted manservant Shadow.
Lobelson is suave and imposing as the devilish Nick Shadow, contrasted by Dickinson's initial gentler innocence. In the first act, Dickinson and Pierard take a little while to settle into their roles, not quite commanding the stage. This results in overly static action. From act two, direction keeps this two-and-a-half-hour opera snappily engaging.
The highlight is the wonderfully choreographed auction scene, when Tom has lost all of his money and his possessions are being sold off. The auctioneer (Lionel Pinheiro) leaps among telephone cables wielded by the chorus. The delightfully comic Pinheiro exudes energy, easily grabbing our attention.
Tom Rakewell is a big sing, but Dickinson proves he has the range and stamina, and subtly alters his character as he goes from country bumpkin to seasoned Londoner, before finally ending up in Bedlam. The diction from the cast is exemplary—I have never understood an English opera so clearly and there was no need to glance at the subtitles.
In this well characterised and vocally strong cast, Rhonda Browne (Baba) still manages to sparkle brightest. Browne has the rare talent of truly inhabiting a character, so one forgets it is an actress onstage. Her rich timbre and vast instrument indicate she'll have no trouble in a large opera house—evidently a singer to watch.
The only weak link in this whole evening is the lack of musical direction by conductor Simon Over. The cast lack instrumental support, and Over fails to make eye contact with the cast at many key moments. Sadly, it appears there is no overarching musical vision—the eighteenth century aspects of the score are not brought out from the singers or the orchestra.
It's exciting to discover another event worth adding to the operatic calender. Bury Court Opera is well funded with a strong artistic team and uses exciting singers at the start of their careers. All topped off with interesting programming, it's certainly worth a visit.
Reviewer: Louise Lewis