The Rape of Lucretia
Music by Benjamin Britten, words by Ronald Duncan
Grimeborn Opera
Arcola Theatre
–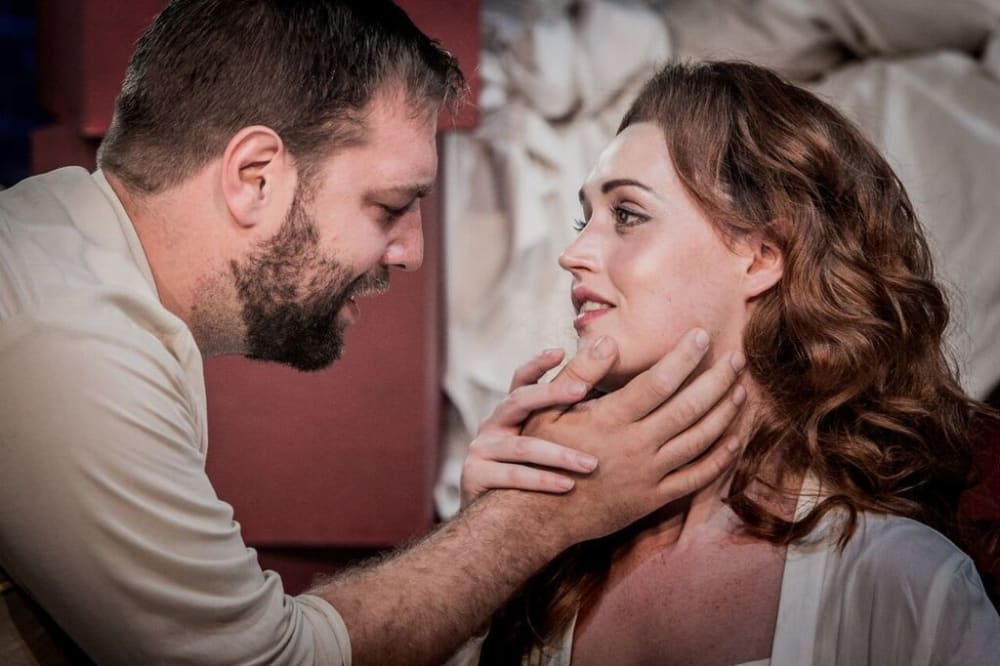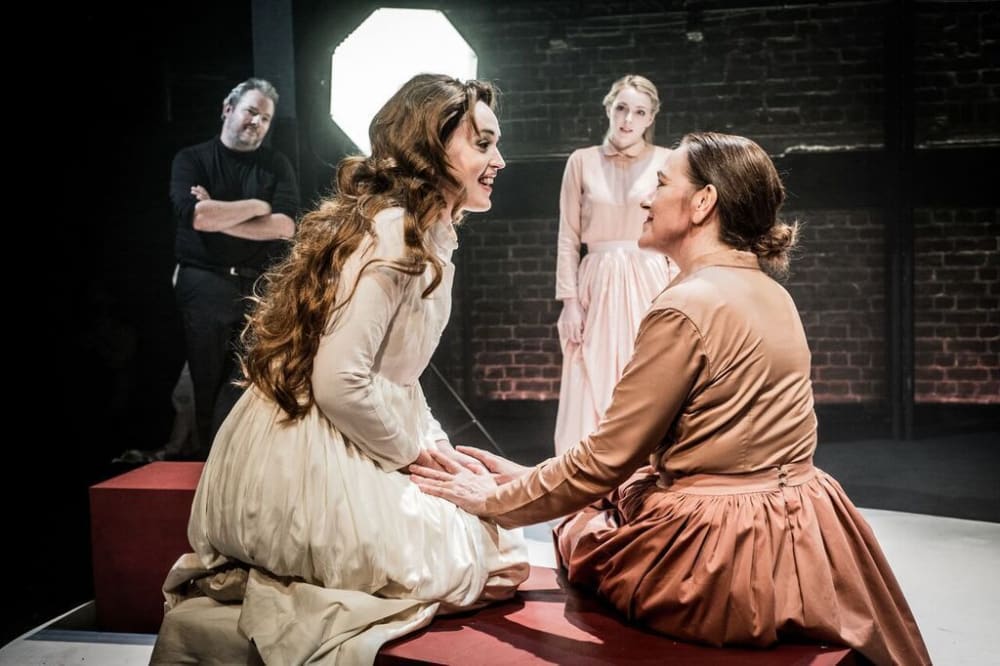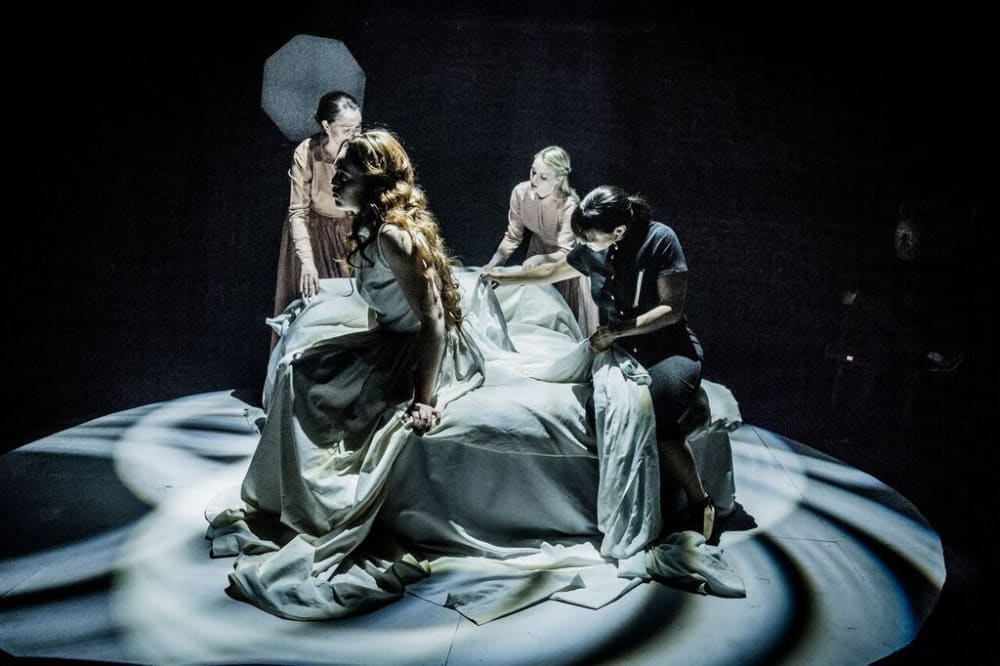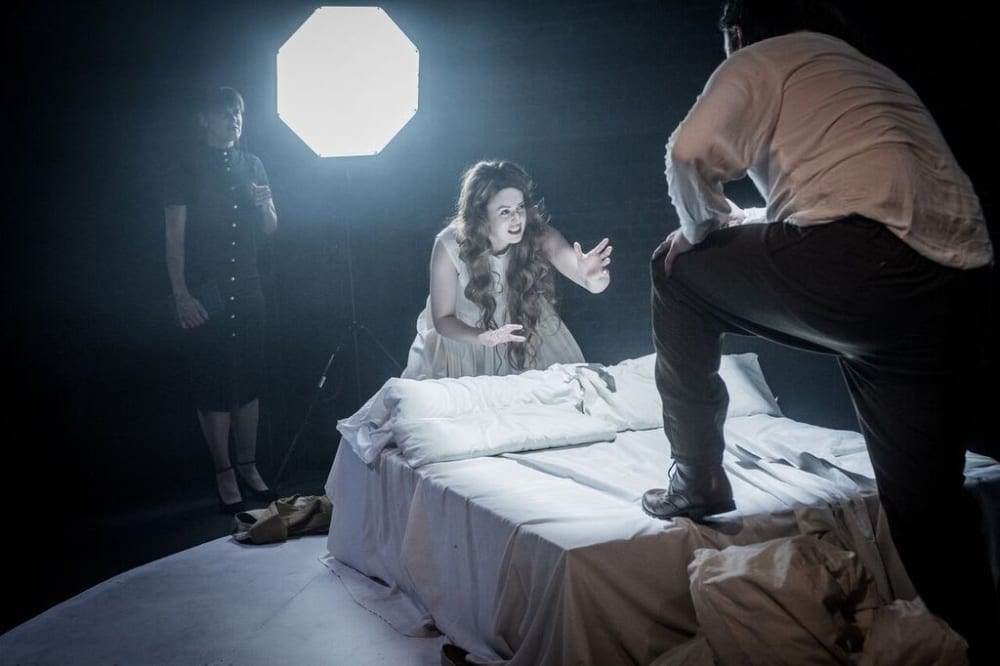 Britten's chamber opera gets an appropriately intimate production as part of this year's Grimeborn Festival. Plutarch, Ovid, Chaucer and Shakespeare have all told the story of a virtuous Roman wife, the only one found not being unfaithful while their husbands were absent routing a Greek attack, whose subsequent rape by Sextus Tarquinius sparked the rebellion that removed the Tarquins and established the Roman Republic.
Ronald Duncan drew heavily on Andre Obey's 1931 Le Viol de Lucrèce play for his libretto, turning French prose into English verse. It presents us with a tenor and a soprano who act as Chorus explaining the background and commenting on the action. Although the setting is pagan Rome in the sixth century BC, this Chorus comments from a Christian perspective, though that only becomes noticeable when the tragic story is offered a final resolution in Christian redemption.
The two Chorus members are in modern dress and other costumes avoid any obvious period but the men in the story have a view of women straight out of Genesis that assumes their guilt. What is hailed as Lucretia's "virtue" becomes a challenge that Julia Burbach's production seems to be turning into a "Me Too" protestation to unsettle the audience.
A sleeping and vulnerable Lucretia is already on stage when the audience enter, other cast members quietly present. When the Chorus, tenor Rob Murray and soprano Natasha Jouhl, begin the story, they are not just bystanders but almost participants, always aware and in the midst of things.
Strong-voiced Murray, who brings the same control to outburst or whisper, seems often to control the action, not just commenting, steering Tarquinius on his way. Jouhl's voice is just as powerful but volume too often takes preference to clarity and, though it sounds good, text often becomes incomprehensible. Fortunately, that doesn't prevent following the story as Junius Brutus (James Corrigan), whose own wife has proved unfaithful, sets Tarquinius on the road to test Lucretia.
Bearded and long-haired, Benjamin Lewis gives Tarquinius a romantic attraction, but his threat and his growing lust are powerfully presented through Britten's music. Lucretia's husband Collatinus (who writes home twice a day) is richly sung by Andrew Tipple. While the men in their early scenes are somewhat stylised, in his grief at the end of the opera he becomes very moving.
The Orpheus Sinfonia, conducted by Peter Selwyn, gives a sensitive reading of Britten's score with its many tantalising, sinuous melodies, though perhaps he could have taken greater freedom with the tempi to add to the drama for Tarquinius's crossing of the Tiber and even more tension to his pantherine pace as he prowls the house towards Lucretia's bedroom.
The goodnight ensemble for Tarquinius, Lucretia and her household (Claire Swale's Lucia and Katherine Taylor-Jones's Bianca) and their early-morning flower song are delightful.
Bethan Langford's Lucretia looks lovely and is well sung. She gives us a moment of true terror when in a dream about Collatinus she wakes to find herself kissing Tarquinius, but the production also has her rise after death and, as the rest of the cast play out the end of the opera, awkwardly eyeing the audience as though to make them feel guilty then unpinning her hair and removing her wig in the background, distracting from the final moments. What was that intended to signify?
Julia Burbach's production is intended to make its audiences think and in that I think it succeeds as well as telling the obvious story, but more importantly it gives us a chance to hear Britten's intriguing music.
Reviewer: Howard Loxton