The Rat Pack - live from Las Vegas
Devised by Mitch Sebastian
Flying Entertainment
Opera House, Manchester
–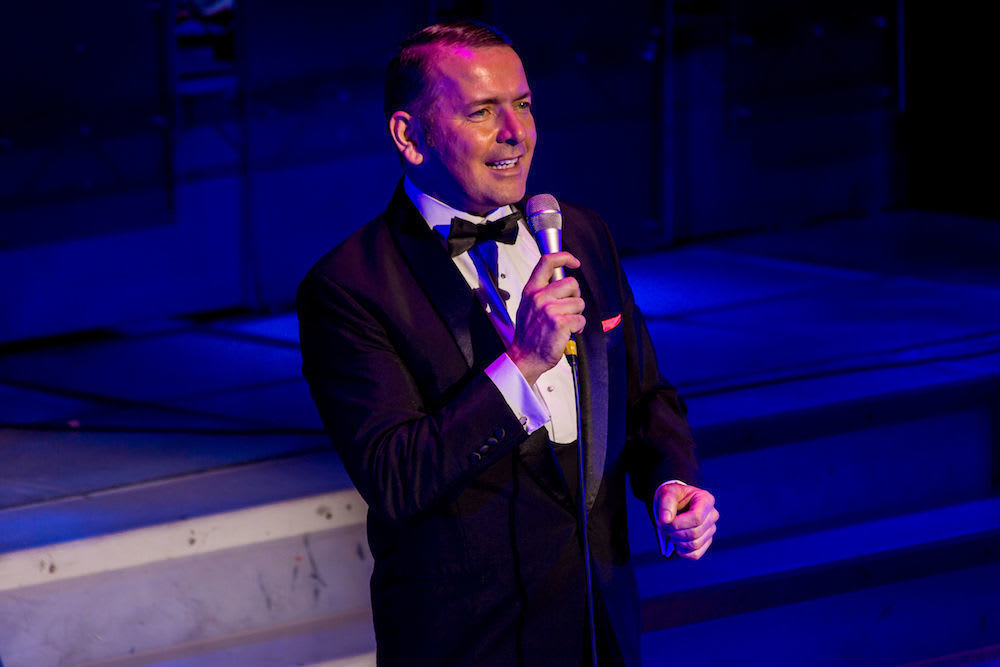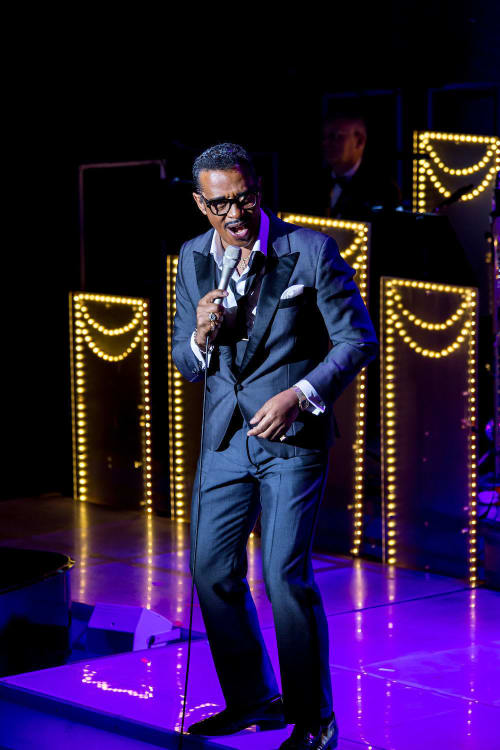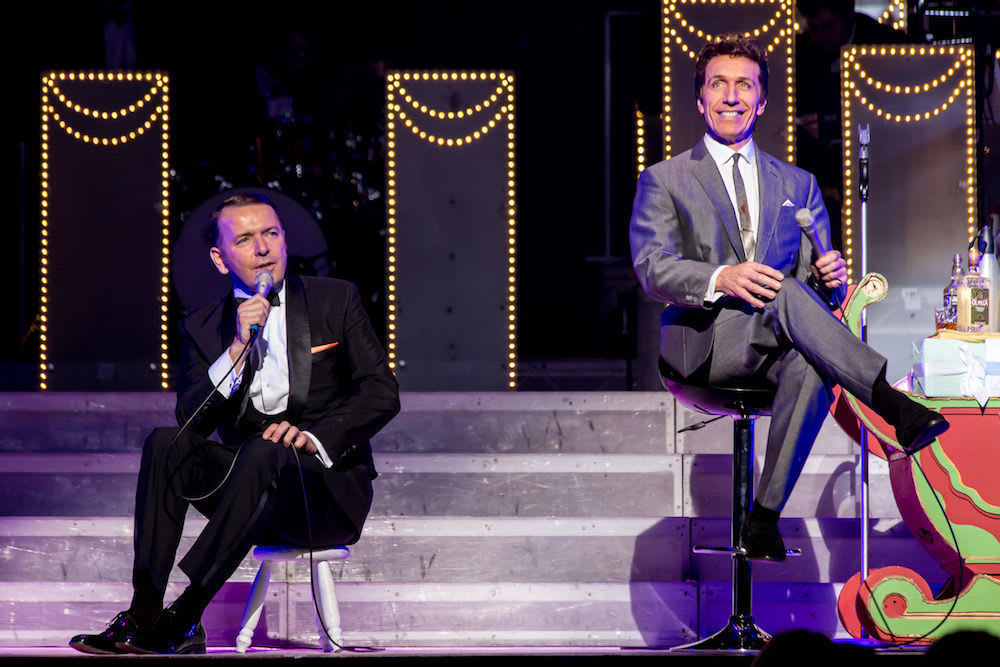 In the early 1960s, Frank Sinatra held an extended residency at the Sands Hotel, Las Vegas. Some of his best showbusiness friends—members of the so-called Rat Pack—including Sammy Davis Jr and Dean Martin, made regular guest appearances.
This arrangement lasted several years, before the hotel changed owners and Sinatra (in a huff when the new guys demanded he pay his casino bills) upped sticks and took his act across town to Caesar's Palace. The Rat Pack—live from Las Vegas, devised, choreographed and ably directed by Mitch Sebastian, sets out to recreate one of those heady nights in the Copa room at the Sands.
It takes guts (or chutzpah) for an actor/singer to take on the role of a man many regard as the greatest vocal talent of his era. Aficianados will note every minor deviation from the uniquely articulated delivery-style of the master. Garrett Phillips takes a little while to seem comfortable carrying this burden, but by the time he tackles the torch song, "Angel Eyes", his phrasing and pitch is just about perfect.
David Hayes takes on Sammy Davis Jr. The hero of Bruce Forsyth, Davis was the consummate song and dance man with the sassy nightclub patter. Hayes handles two of those three and, though the humour is largely of its period, his sensitivity and timing on "Mr Bojangles" and the Newley/Bricusse classic, "What Kind of Fool am I?" is a delight.
Nigel Casey, as the self-mocking, legendary drinker Dean Martin, gets the better deal when it comes to jokes: "my name is Dean Martin and I'm an alcoholic… oh no, that's tomorrow." Casey staggers around the stage, and slides and slurs his way charmingly through "Volare", "That's Amore" and one or two others.
By and large, this audience is old enough to get the wry cultural allusions (often playing on racial issues): Davis to Martin, "you want to dance with me, but you won't go to school with me." Sinatra to Davis, "Sammy, get to the back of the bus." Some of what's offered up might seem in questionable taste to a 21st century ear, but bear in mind that Sinatra was well known for opposing racial segregation, especially in Vegas.
Part one closes with a rousing, ensemble rendition of "New York, New York". In the background (and sometimes, the foreground), we have Amelia Adams-Pearce, Rebecca Parker and Joanna Walters who, in keeping with the times, dance, sing and provide the glamour of the Burelli Sisters—they do a grand job on all three counts, by the way. Sean Cavanagh's costumes, for sisters and Packsters, ooze class and period authenticity.
After the interval, the pace increases and the entertainment edges up a few notches. Part of this is down to the interaction of the principles, who succeed in making us feel we are watching three gifted friends at work and play. The other element lifting this part of the show comes with the stunning voice of Nicola Emmanuel, remarkably at ease and accomplished as she owns the role of the queen of jazz, Ella Fitzgerald.
Historically, Ella's shows with Sinatra came at Caesar's Palace and there's enough zing in this pairing to suggest some future recreation of this legendary double-billing.
For tonight, Emmanuel treats us to "Lady is a Tramp" and "S'Wonderful" as solos, then a duet with Sinatra (Phillipps) of "The One I Love (Belongs to Somebody Else").
As, no doubt, it must, the evening closes with "My Way". Phillipps does Ol' Blue Eyes proud.
Underpinning it all is Matthew Freeman's band, sumptuously reviving those glorious arrangements of Nelson Riddle and Don Costa, without which Sinatra's greatest hits would not have been nearly so great.
It's impossible, looking around the auditorium, not to wonder if the days of this production are numbered, due to the advancing age of its potential audience. Time for a rethink? While the Rat Pack's significance begins to slide into history, the music of the era endures. Time for a tribute show to Frank and Ella?
Reviewer: Martin Thomasson