The Realistic Joneses
Will Eno
Theatre Royal Bath Productions
Ustinov Studio, Theatre Royal Bath
–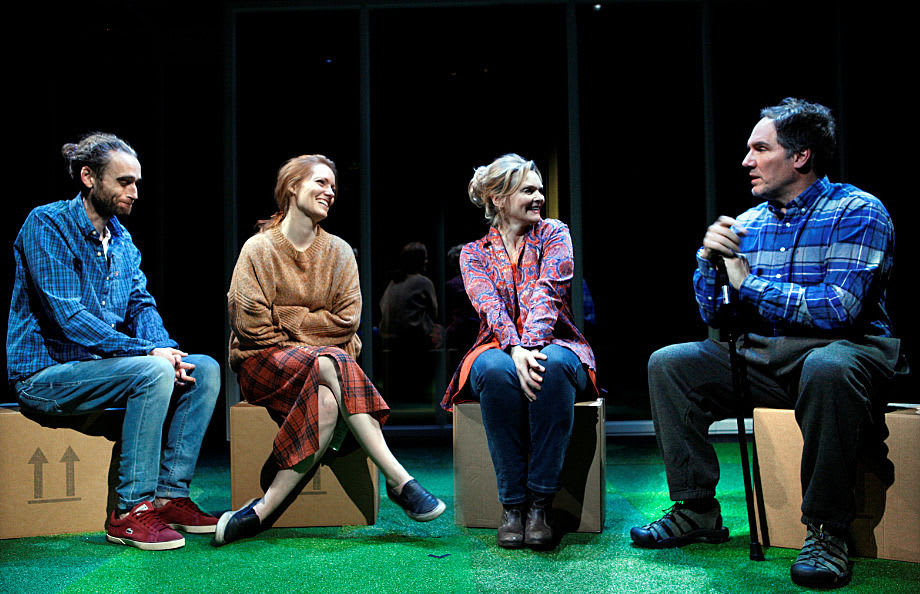 Will Eno's The Realistic Joneses, performed on Broadway in 2014 to widespread acclaim, is the latest play from across the pond to receive its UK première in Bath's Ustinov Studio.
There's a very small-town American feel as it opens in the backyard of Bob and Jennifer Jones's house, with the couple contemplating the heavens on a starlit night, their conversation as habitual and intermittent as any other middle-aged, long-married pair. Hints that all is not as it seems—that Bob has difficulty in expressing himself—are set aside as they are visited by their new young neighbours John and Pony, who happen to share the same surname.
The conversation plays out awkwardly between the four of them, but under Simon Evans's direction it does so naturalistically—realistically even—in fits and starts, like any newcomers taking each other's measure. Sharon Small, in particular, nails the character of Jennifer: alert and astute, sensitive to Bob's moods and neuroses but equally tuned into the quirks and affectations of her younger guests. She is the mother in the room and on occasion could afford to be even more knowing.
Corey Johnson is convincingly monosyllabic as Bob, while Clare Foster as Pony—contrastingly anxious and consumed with restless, nervous energy—deflects attention by asking John (Jack Laskey) to say one of his 'things'. But John's tense, unfunny anecdotes repeatedly fall flat; socially he is off kilter. He mentions a company that transcribes audiobooks; "wouldn't that just be the book?" Jennifer fires back.
Peter McKintosh's set design of sliding patio doors is economically arranged as the backdrop to both houses, revealing and concealing their inhabitants and slivers of unseen secrets. Brown cardboard packing boxes are reconfigured as the props for each scene—tables, chairs, cupboards and a fridge—perfectly encapsulating John and Pony's newly arrived status (even though partway through they celebrate having got rid of their last box with a show of fireworks) but less apt for the long-settled homeliness of Jennifer and Bob. Or, are those boxes perhaps representative of life's transience, no matter how long you've lived in one place?
There are layers of meaning here in Eno's verbally acute focus on everyday routine and his meditation on the shades and reality of human existence. The experience of the older couple becomes mirrored by that of the younger, as attractions and complications arise between them. In this play of words, the loss of the ability to use them effectively becomes more obviously cruel for both generations.
Yet, as the initial gathering gives way to a series of two-handers between different members of each couple, in this production the pace of storytelling begins to flag. Scenes become increasingly static, barely differentiated by lighting or props, and there are too few glimpses of the play's underlying depth of emotion. Though there is still humour to be found in Eno's darkening narrative, its nuance is often obscured.
As the couples come together once more under the stars, the ending becomes more fluid and affecting, each individual beginning to accept their lot and the realities of their shared futures. In this production, the Joneses work better together than apart; like life itself, it has its flights of glory, but also moments when it struggles to rise above the mundane.
Reviewer: Claire Hayes