The Red Shoes
Choreography by Matthew Bourne and music by Bernard Herrmann, based on the film by Powell and Pressburger
New Adventures
Bristol Hippodrome
–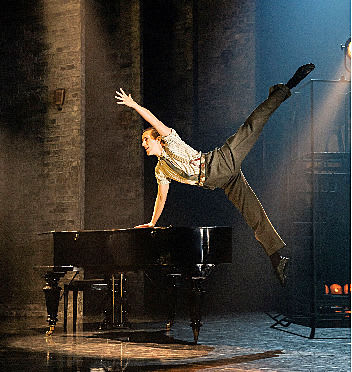 Michael Powell and Emeric Pressburger's 1948 film The Red Shoes was a landmark of its time, a surreally visual cinematic feast in an era of realism, with an extended ballet sequence at its core. Based around the Hans Christian Andersen fairy tale of the same name, it tells the story of an ambitious young dancer torn between art and love.
Now, more than three years after its world première at Plymouth's Theatre Royal, Matthew Bourne has revived his Olivier Award-winning dance production of The Red Shoes for a UK tour. And, as you would expect from New Adventures, there's no holding back or compromising on the sheer gorgeousness of the costumes and set just because this is a touring show. Long-time Bourne collaborator Lez Brotherston's design incorporates a traditional curtained proscenium arch that frames the performers for the audience, before revolving to reveal their moments backstage or moving to the side in rehearsal, uncovering all the agony and ecstasy of a dancer's life.
It's a perfect setting for the story of Victoria Page, a rising star in the fictional Ballet Lermontov, danced on press night by Cordelia Braithwaite with a lyrical and expressive grace in the role originated by Ashley Shaw. Victoria's big break comes when the ballet's prima ballerina Irina (Michela Meazza) is injured and she is selected by domineering impresario Boris Lermontov (Glenn Graham) to dance the principal role in his new show—a dark fable of a girl who covets a pair of red ballet shoes, only to find that, once she puts them on, they have a mind of their own and dance her to her death.
This ballet-within-a-ballet is demarcated by a series of grey-toned projections onto a kaleidoscopic white dreamscape, with dancers in monochrome costumes in stark contrast to Victoria's vivid blood-red shoes and dress. Her increasingly frantic series of steps, as her character begins to realise her fate, comes to reflect her own swirling and chaotic state of mind as she finds herself more and more riven by Lermontov's ferocious and controlling demands and her love for the ballet's composer Julian Craster (tenderly portrayed by Dominic North).
Set to Bernard Herrmann's evocative golden age music, gleaned by Terry Davies from a number of films including Fahrenheit 451 and Citizen Kane, the story moves from London to the dazzling Riviera glamour of Monte Carlo and Villefrance-sur-Mer, before diving into the tongue-in-cheek seediness of an East End music hall, complete with comic sand dancers and world-weary showgirls.
There are so many detailed references in Bourne's choreography—from the ballet Les Sylphides through to Le Train Bleu—that it is virtually impossible to decide where to look first. You could spend all your time watching for the next gently lampooned classical pastiche and witty aside or—equally satisfyingly—just sit back and enjoy the ravishing spectacle. Like the film, the second act seems to rush too quickly towards its conclusion, but perhaps this is because you simply don't want it to end. From the passionately wrought pas de deux between Victoria and Julian, to Lermontov's controlling stillness, the company's stunning ensemble pieces, the cascade of astonishing sets, and inventive sound design layering applause onto audience applause, this is a stirring extravaganza for all the senses.
Reviewer: Claire Hayes