The Reluctant Fundamentalist
Adapted by Stephanie Street from Mohsin Hamid's novel
National Youth Theatre
Summerhall
–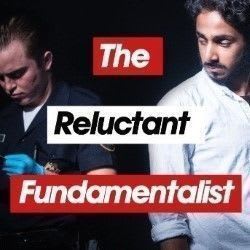 The Reluctant Fundamentalist, sensitively adapted from Mohsin Hamid's best-selling novel by Stephanie Street, is a heart rendering play that asks important questions about life, ambitions, love and hope.
A young Pakistani man sits on an empty bare stage. He has a conversation with the audience who sit in a traverse stage style creating an intimate atmosphere.
He asks some of them their names, where they come from and who did they love establishing a warm rapport.
He comes from Lahore where his brother Hafez (Qasim Mahmood) runs a café and also offers us tea and samosas.
Akshay Sharan gives an impressive performance as the earnest Changez who has won a full scholarship to study at Princeton University in New York where he becomes a top grade student amongst this Ivy League elite.
He has his first holiday in Greece where he meets Erica, a fellow student, sensitively played with charming conviction by Alice Harding. She has ambitions to become a writer but is a troubled soul having lost her boyfriend to cancer.
She can't get him out of her mind and suffers from depression and is on medication. Changez slowly falls in love with her.
When Changez returns, he manages to get a prestigious job as an analyst at Underwood and Samson. His boss the earnest Jim (James Dorman) offers him a project in Manila and he begins to enjoy the "American Dream" with first class flights and staying at expensive hotels where one night was the equivalent of a month's pay for his brother.
But everything changes after the terrorist attack on 9/11 and in a humiliating scene as Changez returns to the USA he is given a full body pat down by a border enforcement officer (Reece Miller).
Suddenly being of brown skin and a Muslim raises suspicion, anger and fear and Changez feels more uncomfortable in his skin.
There is excellent support from the ensemble Jenny Walser as the cold, efficient April, Adam Wadsworth as Chuck and Modupe Salu playing the well-meaning Wainwright.
This is a moving powerful production performed with passion by this talented company.
Reviewer: Robin Strapp