The Rinse Cycle
Richard Wagner and Roger Mortimer
Unexpected Opera
Charing Cross Theatre
–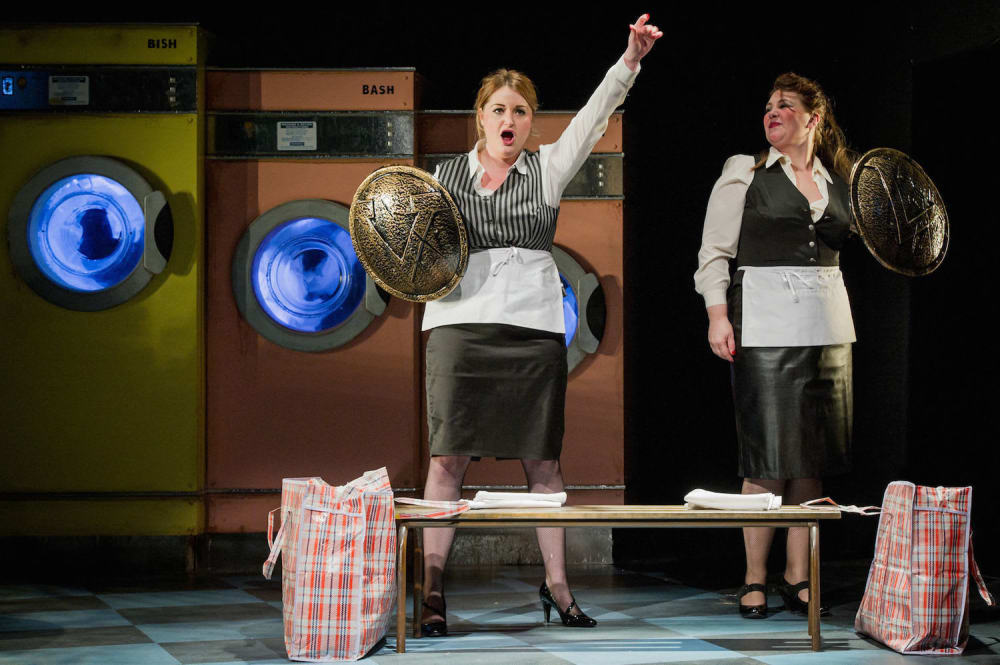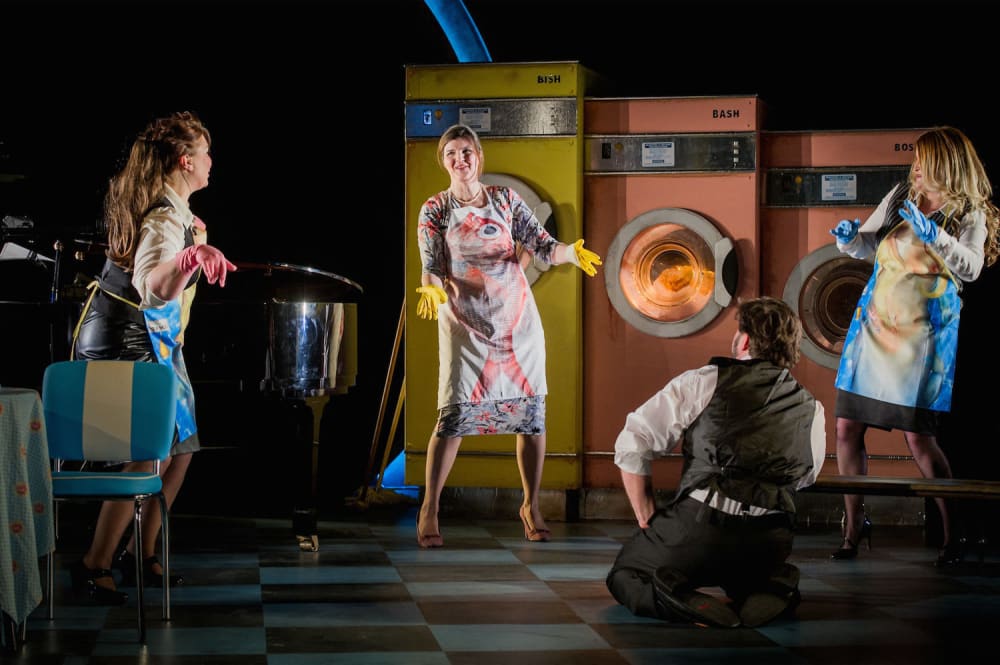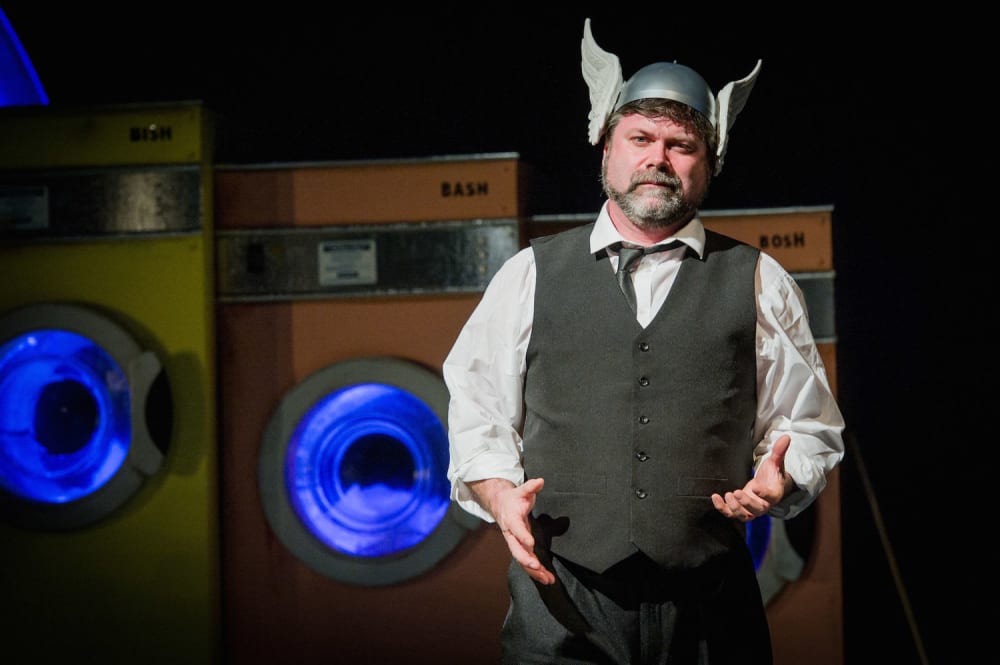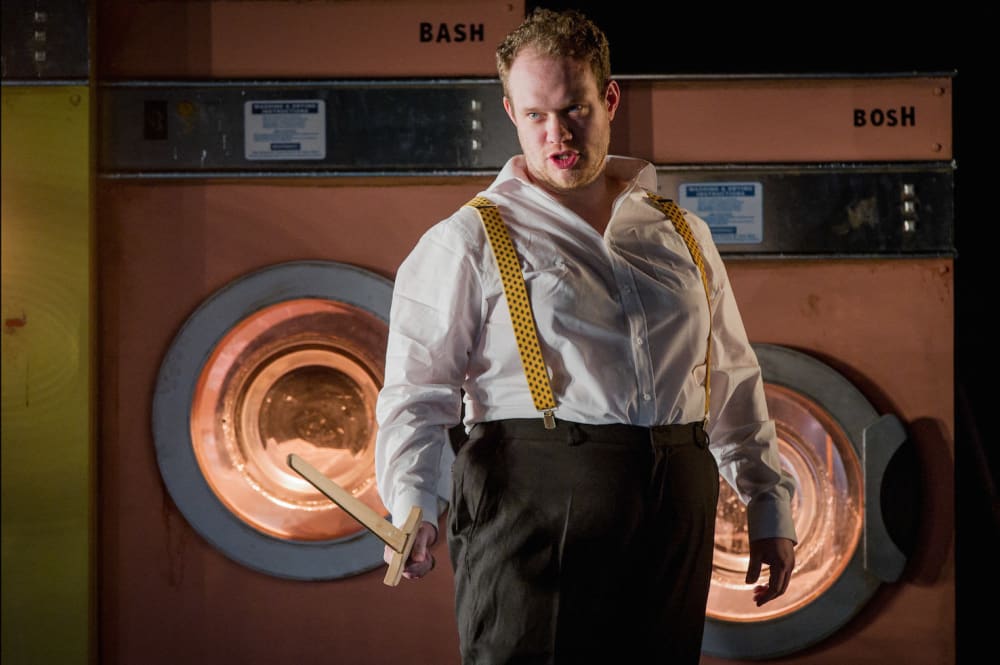 Why would a teashop want to put on a potted performance of Wagner's Der Ring des Nibelungen? That is the unexplained premise for this show.
Part of the reason seems to be that they already have a grand piano among the glittering pedestals on which they display their confections, another that they have already named themselves "Patisserie Valkyrie". They obviously have a soft spot for the Wagnerian blockbuster which is here presented, in the words of its promotion, as "sixteen hours of music shrunk to only two and conditioned with comedy".
It is not only the time span that's shrunk: the orchestra is down to a piano transcription and the cast to a tenor, a baritone, a mezzo and a couple of sopranos but size isn't everything. This is boutique opera with singers who've already played ROH and ENO and Kelvin Lim directing the music and at the keyboard delivering the energy of an entire orchestra.
If Ronnie and Robin, the Patisserie's owners, are opera fanciers, the Honourable Timothy clearly knows little about it. A tenor brought in for his society connections, he misheard the title and has bought three washing machines as scenery. Labelling them Bish, Bash and Bosh I found funny, along with the tongue-in-cheek homage to the famous cake shop whose Art Nouveau logo the shop imitates, but the comic framing is not as effective as the operatic input.
Though there are some jokey props, a vacuum cleaner dragon and an iron and ironing board to anneal Siegfried's sword among them, the snippets of score are taken seriously. There are two separate casts playing different performances.
I saw a very creditable Brunhilde from Mari Wyn Williams and Simon Thorpe as not only Wotan but the baritone roles from ring thief Alberich to Gunther and bass giant Fafner. Harriet Williams was Gutrune, Anna Gregory Fricka and Erda, and all the ladies became Rhine maidens, transformed by image-bearing plastic aprons to nubile nudity.
Edward Hughes, as doltish Tim, takes on Siegmund and Siegfried, which gives him no chance to deliver a heldentenor performance, but then he isn't very funny either.
The story of The Ring could be made vastly comic, but Roger Mortimer's script and Lynn Binstock's production seem hesitant to pursue that and the necessary long plot explanations leave too little time for lengthy musical extracts.
The production needs to concentrate on one aspect or the other: potted opera with perhaps just a leavening of humour or to really set out to be funny. At the moment, though running rather longer than the promised two hours, it doesn't really satisfy with either.
Reviewer: Howard Loxton