The Rise and Fall of Little Voice
Jim Cartwright
Sheffield Theatres
Lyceum
–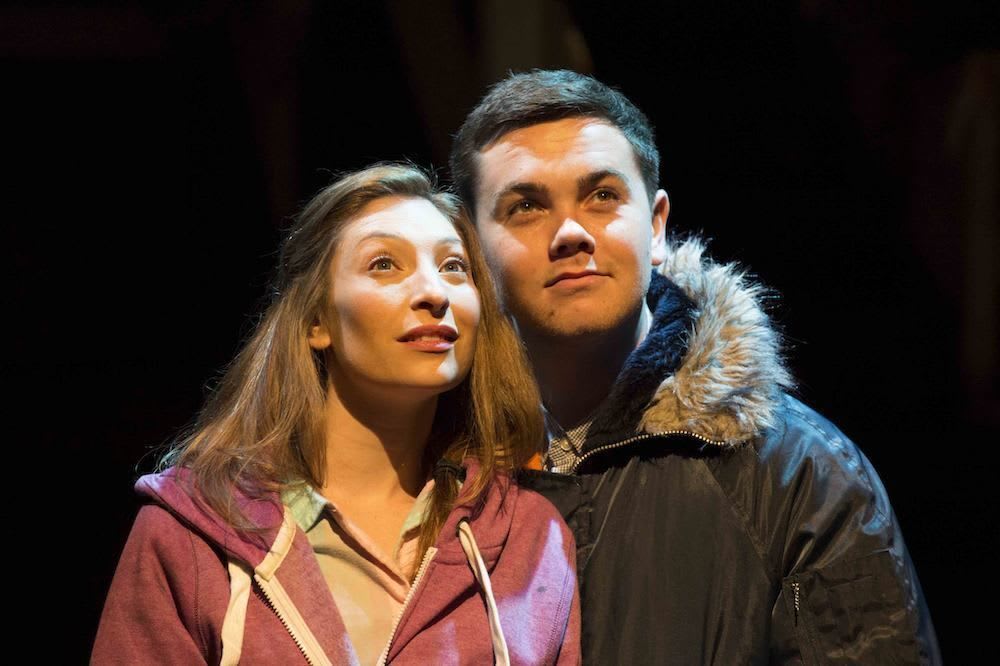 On a terraced road, not so far from Coronation Street, a painfully shy, repressed, agoraphobic young girl, known as Little Voice, lives with her coarse, tarty, alcoholic, widowed-but-not-so-lonely mother, Mari. But Little Voice (LV) has a secret. In the privacy of her own room, she sings along to her father's record collection of great female vocalists, Shirley Bassey, Julie Andrews, Judy Garland and more, which she can mimic perfectly.
She is overheard by her mother's exploitative boyfriend, Ray Say, who is embarking on a career as a manager and determined to push her into the limelight, despite LV's reluctance. There is success of a sort but at great personal cost to LV, and later, after a period of initial enthusiasm, to mother Mari. LV is saved by the love of a good man and in an unlikely, feel good conclusion, she eventually finds her own voice.
The play is written and directed by Jim Cartwright, first performed at the RNT in 1992 and made into a film, starring Michael Caine, in 1998. The issues are pertinent today, given the popularity of the X Factor and other quick fix, transformative entertainment programmes, in which the well-being of participants is of secondary importance to audience ratings.
In this production there is an uneasy mix between entertainment and the exploitation of women by ruthless men. As Mari, Beverley Callard (Coronation Street, Emmerdale, and a long list of TV credits) cavorts about the stage in a succession of skimpy outfits, mutton done up as lamb, and, while she undoubtedly gives the part a lot of wellie, the laughter arises from the spectacle of a middle aged woman making herself ridiculous. This is not so different from comedians' jokes about wives, mother-in-laws, etc. In this case it is difficult to separate the performer from the part.
Of more concern, is the laughter directed at Sally Plumb who plays the part of Mari's neighbour, Sadie. I am sure Plumb is a competent actress, but the production invites us to laugh at her as The Fat Lady, which is demeaning and insensitive, and horribly reminiscent of the fairground booths of an earlier era. Have we not progressed?
The role of Little Voice presents a problem for the casting director. It is essential that the actress is able to deliver the medley of old hits with musicality and effective mimicry. Jess Robinson (LV) has a Big Voice and her singing performance is a 'tour de force'. Unfortunately, her acting, particularly in the largely non-verbal first act, is over-reliant on fidgety movement and overdone facial expression, when a calmer, more internalised performance would have been preferable; by contrast, the emotional outbursts at the end of the play are over-strident and not always audible.
There is a curious mixture of performance styles in this production. The most consistent performance is from Ray Quinn as the young telephone engineer who becomes LV's boyfriend and Philip Andrew as Ray Say is a convincingly ruthless misogynist, once he drops the quasi-comic persona of the first half. A 'frame' for the production is provided by local community club setting, (raffle / bingo) which allows Duggie Brown (MC as well as Mr Boo) and members of the ensemble to use stand-up comic and pantomime routines. Beverley Callard's performance is substantially televisual.
The performance was enjoyed by the press night audience at the Lyceum regardless of the reservations I have presented above. It may not be everybody's cup of tea.
Reviewer: Velda Harris