The Rise and Fall of the City of Mahagonny
Kurt Weill and Bertolt Brecht
Met Opera on Demand
Metropolitan Opera House, New York
From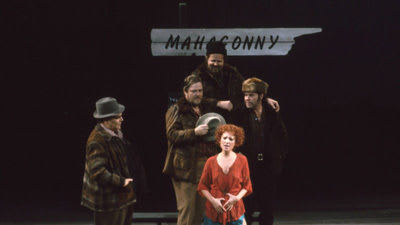 Money, money makes the world go round, go round. The biggest crime is to have no money. Kurt Weill and Bertolt Brecht wrote their satire on the self-destructiveness of capitalism in 1929. It was initially intended for the cabaret stage. It premièred as an opera in Leipzig in 1930, became a succès de scandale and has remained an opera ever since.
The Rise and Fall of the City of Mahagonny is a moral and a political statement as potent as George Grosz's cartoons. The 21 short and sharp scenes are a portrait of life in Germany in the terrible post-World War I period when inflation is high, life is hard and the nation is disenchanted.
Weill was never keen for the opera to be revived, feeling it was fixed in its time. I am surprised how well it stands up in this performance at The Met, New York in 1979.
John Dexter's excellent production, designed by Jocelyn Herbert and conducted by James Levine, brilliantly captures the 1920s period and gives the staging the full Brechtian expressionistic treatment, captions and all.
The score has the unmistakable Weill sound, a melodious mixture of jazz, ragtime, cabaret and music hall with tableaux to Gluttony, Lechery, Boxing and Corrupt Criminal Courts.
Mahagonny is a gold town, a town of pleasure, built by a whore and two gangsters in the middle of the Nevada desert as a net to catch people who want to escape the evil of the city. Despite the cheap whiskey and the cheap sex, the town becomes such a dull, godless, chaotic cesspool that even hurricanes and typhoons make detours to avoid it.
Nothing is more stupid than to end up in Mahagonny; but this is what happens to Jimmy Mahoney, a lumberjack from Alaska, who runs out of money. Being broke is far worse than committing murder. He stands trial, sheer farce, and, since he has no cash to bribe the court, he is executed by electric chair.
The cast is first-rate. Richard Cassilly is Jimmy. Teresa Stratas is Jenny, the prostitute who befriends him and sings "A Man is Not a Beast". Astrid Varnay is the formidable brothelkeeper who builds and runs Mahagonny.
There are a number of ways of tapping into this opera and others at will. The Met Opera on Demand service offers annual ($149.99) and monthly ($14.99) subscriptions as well as a one-off payment ($3.99) for those who have limited time or only want to watch the occasional opera.
Reviewer: Robert Tanitch