The Rise and Fall of Little Voice
Jim Cartwright
Octagon Theatre, Bolton
–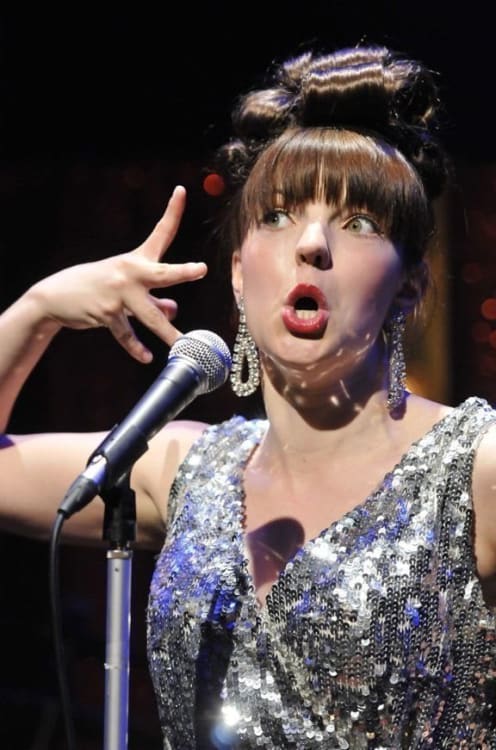 As always, the Octagon ends its season with a production with some kind of musical element, which this year is not a musical but a play about a singer: Jim Cartwright's The Rise and Fall of Little Voice.
The Little Voice—or LV for short—of the title lives with her mother Mari, who drinks heavily, likes to party and throws herself at men, the latest target for her affection being Ray Say, who is trying to break into show business as an agent. LV shuts herself off from her mother's neglect and verbal abuse in her bedroom, where she plays records of famous divas—Shirley Bassey, Edith Piaf, Judy Garland, Marilyn Monroe and many more—from a huge, treasured collection left to her by her late father.
When the dodgy electrics in the house blow again while Ray is cavorting with Mari on the sofa, LV starts to sing, copying the singing voices on her records to an uncanny degree of accuracy. When Ray hears this, he starts to smell fame and money and immediately contacts night club owner Mr Boo, but LV is painfully shy and the thought of singing with the light on, let alone in front of anyone else, makes her sick with fear.
There are several key roles in this play, but the title role was written around the very particular ability of the original actor Jane Horrocks to sing like these great singing stars, which poses quite a casting challenge. Katie Elin-Salt plays this shy character perfectly for the dialogue scenes, and when she eventually comes to the singing, her impressions aren't by any means perfect but they're good enough and performed with gusto. But would she stop an experienced night club owner in the street when singing in her bedroom and make him desperate to sign her up? Probably not as played here, but only because she seems to have been directed to hold back a bit in these early scenes instead of belting out the full diva performance.
The part of Mari could have been made for Sue Devaney, and she plays the loud-mouthed, hard-drinking, neglectful mother to perfection, performed with a good comic sense but even managing to evoke a little bit of sympathy at times. Sally Bankes brings some real humanity to the role of Mari's friend Sadie, making this difficult character perfectly believable. Matt Healy makes a good Ray Say, and Max Beesley Snr as Mr Boo doesn't always look totally comfortable in the scenes in the house, but in the night club he becomes the epitome of that particular style of night club comic, working the audience like a real pro.
Ciaran Bagnall's set design looks great, with the living room and tiny kitchen below, which rotates out of the way to become the night club, and LV's bedroom upstairs with cutaway brick walls revealing rows and rows of record sleeves. The aftermath of the fire is a little disappointing, as is the light show put on at the end by the shy boy Billy who takes a shine to LV.
There are some rough edges to Elizabeth Newman's production, with some scenes seeming underworked or played mostly behind the sofa, but most of these should settle down during the run. The second half is quite a lot longer than the first—90 minutes compared with a 50-minute first act—and the scenes before the odd finale do start to drag and feel a bit drawn out.
However overall the Octagon has put together a great cast for a pretty decent production of quite a difficult play to stage with plenty in it to entertain.
Reviewer: David Chadderton