The Rise and Fall of Little Voice
Jim Cartwright
Stephen Joseph Theatre Company
Stephen Joseph Theatre, Scarborough
–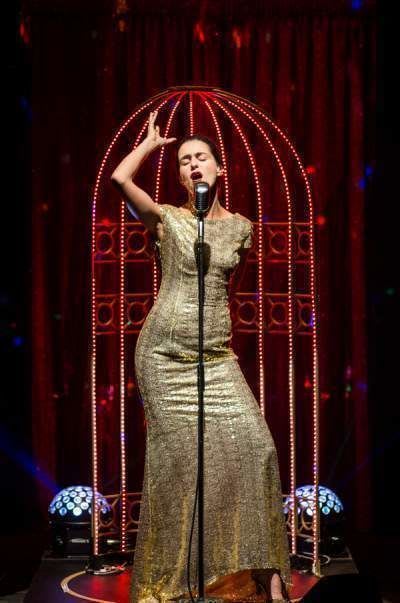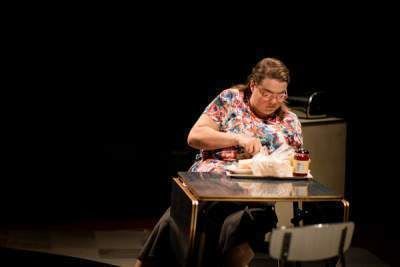 It's been over 30 years since Jim Cartwright exploded onto the theatre scene with Road (1986), a visceral, scorching play about working-class Lancashire folk struggling to survive the deprivations of Thatcher-era Britain. Although The Rise and Fall of Little Voice (1992) is more light-hearted in tone, Cartwright is not afraid to combine laughs with real pathos and suffering.
LV (Serena Manteghi), a shy and reclusive teenager, lives with her larger-than-life mother Mari (Polly Lister) in a small northern town. Since the death of her beloved father, LV spends most of her time locked in her bedroom, listening to his record collection and impersonating his favourite singers, including Judy Garland, Marilyn Monroe and Shirley Bassey. Despite being painfully awkward in everyday conversation, LV has an extraordinary talent for musical mimicry.
When Mari starts dating Ray Say (Sean McKenzie), a small-time showbiz agent, the future starts to look brighter for all concerned. Will Ray finally hit the big time with his latest client? Will Mari find happiness with her new lover? Will LV receive the recognition she deserves?
It's been 25 years since the original production of The Rise and Fall of Little Voice, and the play has held up remarkably well. The idea of a musical impressionist may seem less novel in our talent show saturated media landscape, but Cartwright's dialogue still crackles with wit and the play is filled with vivid characters.
Mari Hoff is one of the most extraordinary comic creations I've ever seen on stage—a shrieking, caterwauling tornado of libidinal energy—and Polly Lister is terrific in the role. Not only does she capture Mari's hunger for love and a more exciting life, she also conveys her underlying sadness and discontent. Despite being a terrible mother who treats her daughter appallingly, there are several scenes where Lister manages to win our sympathies.
LV is a tricky role to pull off for two reasons: 1) the actor who plays her will have to find a way of not being overshadowed by the more vocal characters who surround her, and 2) they need to have a talent for musical impersonation. Fortunately, Serena Manteghi succeeds in both respects. Her quiet and soulful performance offers a pleasing contrast to Lister's pyrotechnics. Manteghi may not possess Jane Horrocks's chameleonic talents, but she manages to hit some of her targets dead on, particularly Audrey Hepburn and Marilyn Monroe.
There are impressive turns from the rest of the cast. Sean McKenzie invests Ray with the right level of ebullience in the early scenes and reveals an unexpected darkness later on. Siôn Tudor Owen is equally hilarious as Mr Boo, the bewigged club promoter. Laura Crowhurst is genuinely touching as Mari's overweight neighbour Sadie, who seems oblivious to all the insults thrown at her. Finally, Gurjeet Singh gives a sweet and charming performance as Billy, LV's phone engineer beau.
Paul Robinson's direction is purposeful and sure-footed, and he ensures that the three gobshites don't overshadow the quieter characters. Tim Meacock's set design evokes the claustrophobia of LV's unhappy home without burying the production under extraneous detail.
Alan Ayckbourn ran the Stephen Joseph Theatre for 37 years and his plays are performed there every year. With its comic exuberance and sharply observed characters, there is definitely something Ayckbournian about this revival of The Rise and Fall of Little Voice, and I'm confident that the theatre's loyal patrons won't go home disappointed.
Reviewer: James Ballands