The Rise and Fall of the City of Mahagonny
Kurt Weill, Libretto by Bertolt Brecht
Teatro Regio di Parma
Teatro Regio di Parma, Italy
–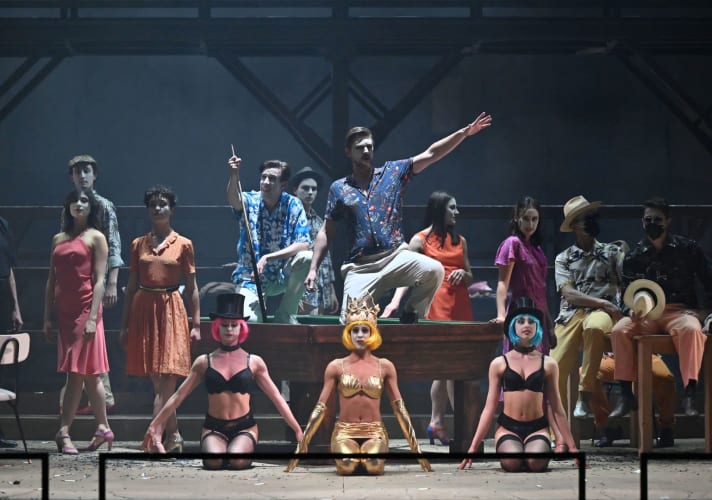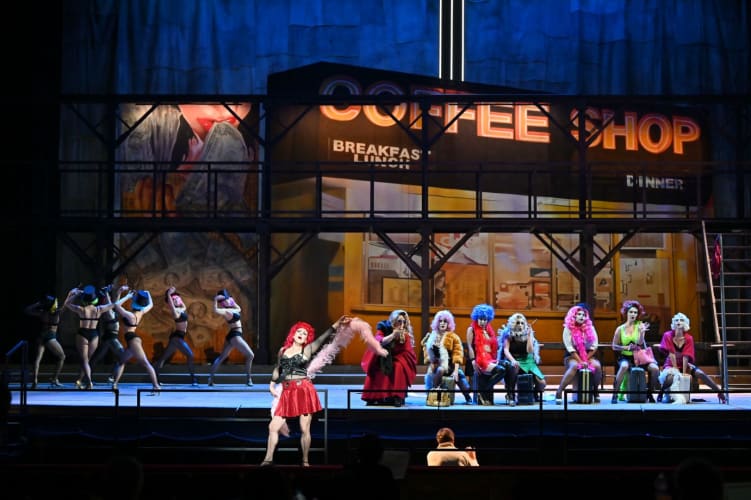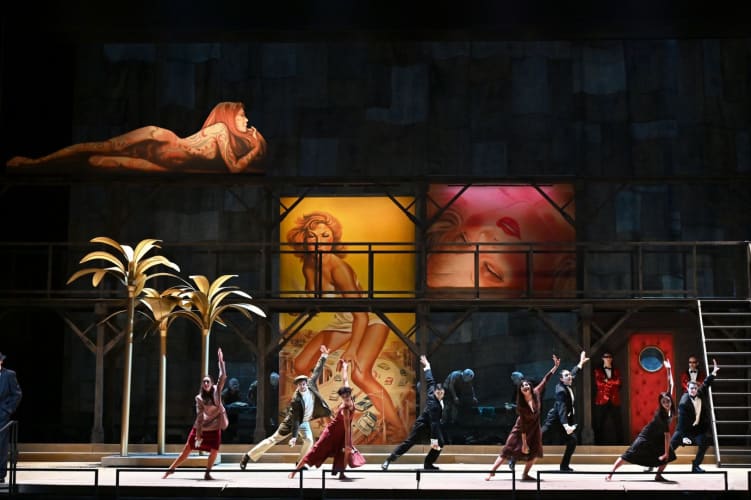 Kurt Weill and Bertolt Brecht wrote The Rise and Fall of the City of Mahagonny in 1929. Weill was never keen for it to be revived, feeling it was fixed in its time. The opera was initially intended for the cabaret stage. A succès de scandale, it is now performed in opera houses all over the world.
The opera, a moral and a political critique, relentlessly cynical, is a shocking and disturbing portrait of life in Germany in the degenerate post-World War I period. Nobody will be surprised the Nazis banned it. The 21 short and sharp scenes are given the full Brechtian expressionistic treatment, with a narrator announcing each scene with a megaphone.
Mahagonny, a city where everything is allowed and nothing is forbidden, is founded by a whore and two gangsters in the middle of the Nevada desert as a spider-web to catch unsuspecting tourists, offering cheap whiskey and cheap sex. The city is doomed.
Money, money makes the world go round, go round. Everything depends on money. The greatest crime is to have no money. A lumberjack from Alaska runs out of money and cannot pay for the alcohol he has consumed. He is arrested and stands trial. Since he has no cash to bribe the court, he is found guilty and executed by electric chair.
Henning Brockhaus's lively, aggressive, sensual, production, conducted by Christopher Franklin, for Parma's Teatro Regio is excellent, totally confident in the period. The strong cast is headed by Tobias Hächler as the lumberjack, Nadja Mchantaf as the prostitute he loves and Zoltan Nagy as the public prosecutor. There is also a bevy of prostitutes and some are in their underwear and some are naked.
The score, a melodious mixture of jazz, ragtime, cabaret and music hall, is unmistakably Kurt Weill. The music for "And if somebody kicks you, it's me, and if somebody gets kicked, it's you" is indelible.
Teatro Regio di Parma's The Rise of and Fall of the City of Mahagonny can be viewed free online on the OperaVision channel.
Reviewer: Robert Tanitch