The Rite of Spring / Gianni Schicchi
Igor Stravinsky and Giacomo Puccini
Phoenix Dance Theatre and Opera North
Leeds Grand Theatre
–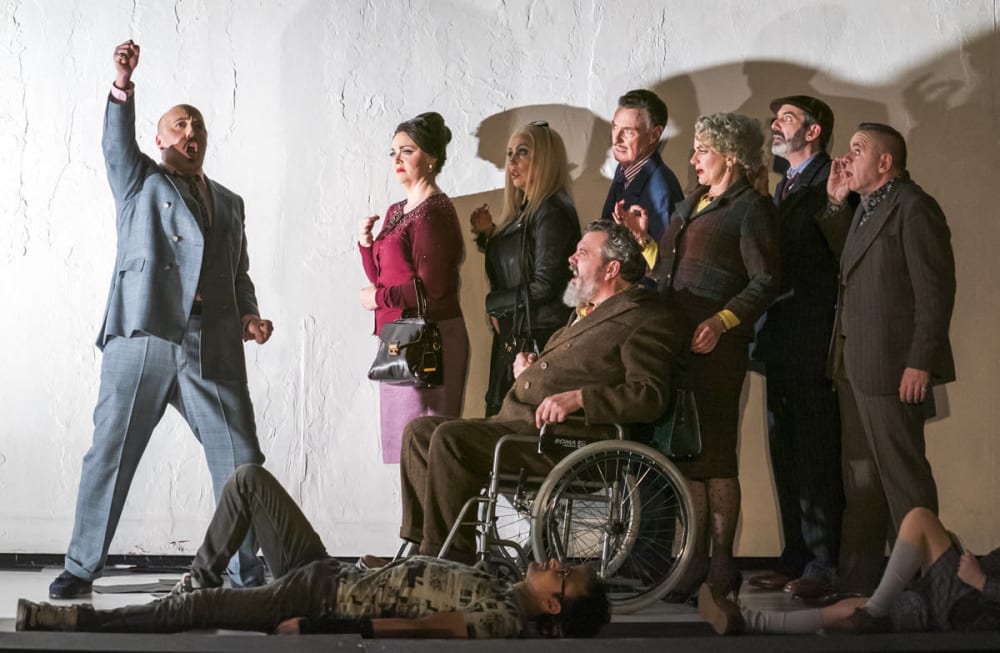 Programmed as part of Opera North's 40th anniversary, this double bill offers a thrilling combination of dance and opera. The Leeds-based company has past form when it comes to unusual double bills—as demonstrated by their marvellous 'Little Greats' season in 2017—but this is the first time it has paired an opera with a ballet since 1992.
At first glance, Stravinsky's The Rite of Spring (1913) and Puccini's Gianni Schicchi (1918) don't seem like natural bedfellows. The former is a challenging dance piece that depicts bloody pagan rituals in prehistoric Russia, while the latter is a darkly comedic opera based on an incident briefly mentioned in Dante's Divine Comedy.
It's also interesting to note that Puccini was no fan of Stravinsky. When the great Italian composer attended the second performance of The Rite of Spring in 1913, he denounced the score as "the work of a madman".
Despite their lack of obvious connection, these two pieces conspire to make a scintillating evening at the theatre.
Choreographed by Jeanguy Saintus, making his UK debut, The Rite of Spring marks the first mainstage collaboration between Phoenix Dance Theatre and Opera North. For 40 spellbinding minutes, eight talented dancers (Manon Adrianow, Natalie Alleston, Aaron Chaplin, Carmen Vasquez Marfil, Carlos J Martinez, Michael Marquez, Vanessa Vince-Pang and Prentice Whitlow) transport us to an ancient world, culminating in the sacrifice of a young girl who dances herself to death.
The Rite of Spring is staggeringly good, filled to the brim with danger, tension and excitement. Saintus's voodoo-inflected choreography responds beautifully to the high drama of Stravinsky's score, and the dancers perform with dazzling precision.
I have enjoyed many Opera North productions over the years, but I have seldom heard its orchestra play as brilliantly as it does in The Rite of Spring.
The second piece, Gianni Schicchi, may not generate the same electricity as the first, but it remains a fun and imaginative revival of Puccini's single foray into comic opera.
Giovacchino Forzano's witty libretto, based on a few lines from Canto XXX of Dante's Inferno, begins with the demise of rich Florentine Buoso Donati (Tim Claydon), who is smothered to death by one of his money-grabbing relatives.
Determined to claim what they consider their rightful inheritance, the relatives enlist the assistance of no-good trickster Gianni Schicchi (Richard Burkhard), who poses as Donati in order to rewrite the latter's will. Much to the relatives' chagrin, he also sees fit to leave himself the dead man's prize possessions.
First staged in 2015, director Christopher Alden's production is riotously good fun and filled with bravura performances. Richard Burkhard is wonderful as the title character, wringing every moment of comedy from the piece. Tereza Gevorgyan impresses as Schicchi's lovesick daughter, delivering a beautiful, tear-inducing rendition of "O mio babbino caro". Donati's appalling relatives, stylishly dressed by Doey Lüthi, are brought to exuberant life by a strong ensemble.
Gianni Schicchi also boasts a striking performance from movement director Tim Claydon, who transforms from Dante to Donati and subsequently serves as a sort of supernatural witness. His unpredictable physicality adds another level of weirdness to a pleasingly bonkers production.
This double bill marks a great success for Opera North and Phoenix Dance Theatre, and I hope these companies will collaborate again in the near future.
Reviewer: James Ballands