The Rite of Spring; Gianni Schicchi
Rite of Spring: Igor Stravinsky (music); Jeanguy Santus (choreography). Gianni Schicchi: Giacomo Puccini (music); Giovacchino Forzano (libretto)
Phoenix Dance Theatre, Opera North
The Lowry (Lyric Theatre)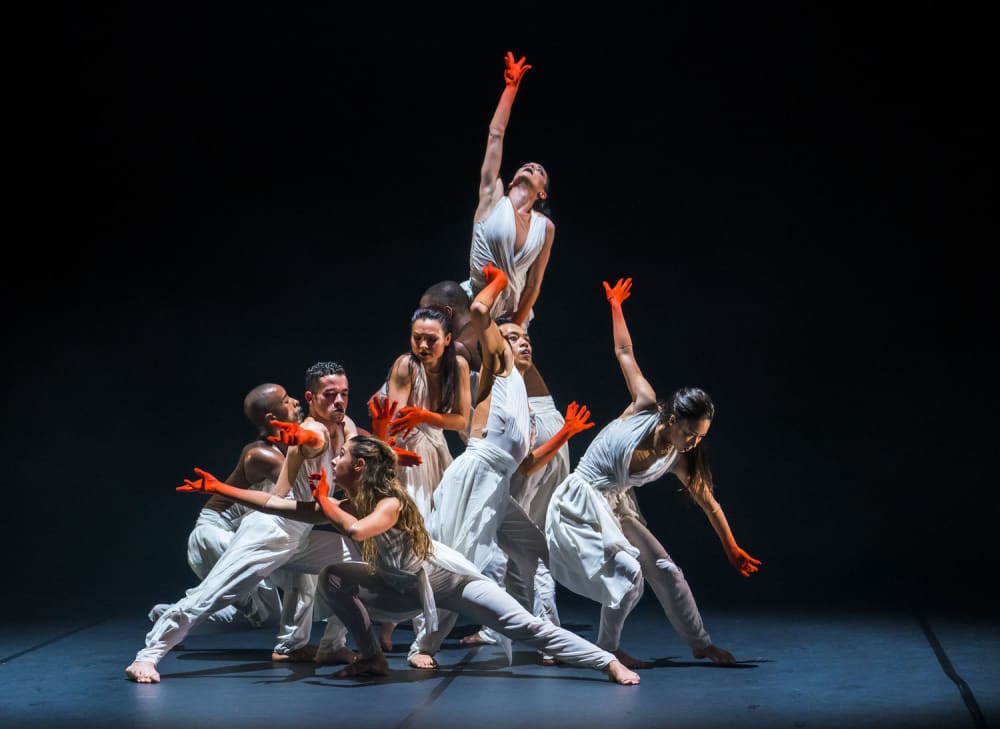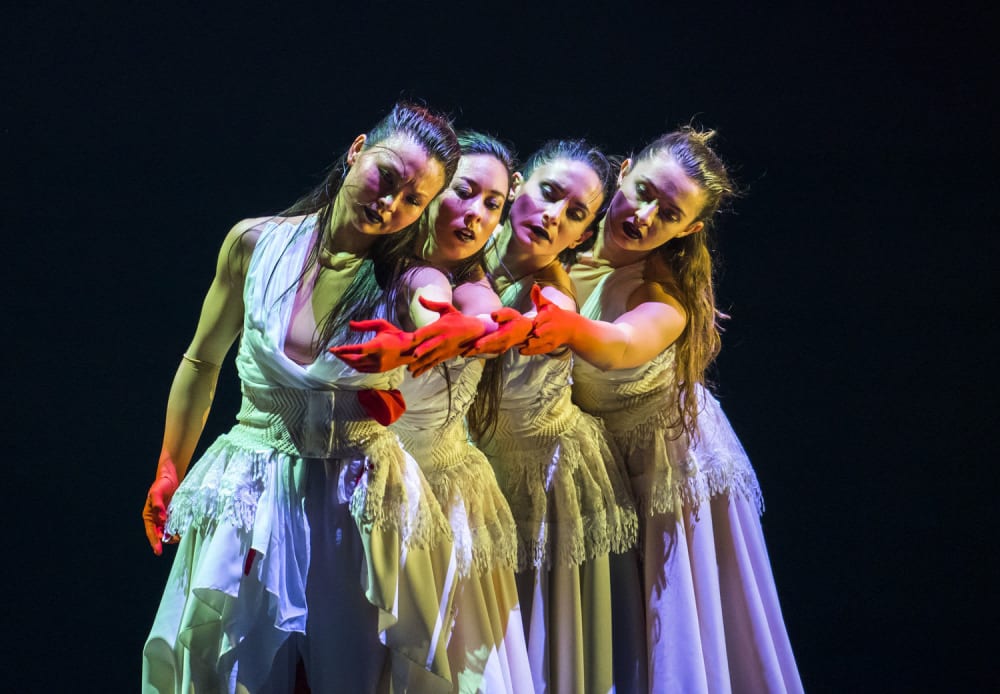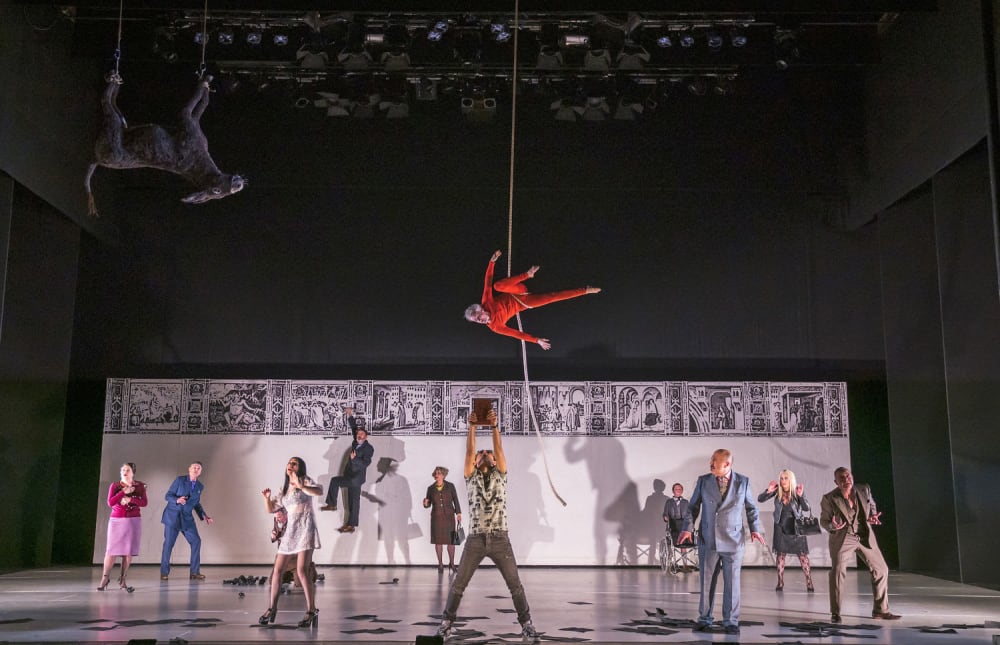 Times change. Time was every professional football club would be staffed, with few exceptions, by local lads; people who had grown up there and had a special attachment to the club and the city. Nowadays, of course, no big city club (clubs like Leeds United for instance) could get by with just players who were born and bred within a stone's throw of Elland Road. Good thing too, most would think, given the marvels that casting the net far and wide has brought to English football.
As it is with football clubs, so it can prove to be with dance companies. Phoenix is a company born in a very specific area of Leeds, a company which, over the years, has grown and spread its wings across the country and then across the world. The child of Harehills and Chapeltown now features only one Leeds-born dancer. No doubt it is a stronger company for it but, as with football, something is lost as well as gained. An energy? A rawness? A need? A team spirit, perhaps?
Having seen more than one Phoenix show, stretching back over twenty years, I found myself wondering whether the earlier company might have brought something to tonight's performance that the current team can't quite muster. Some edginess. Some sense of grasping, almost desperately, for an excellence just beyond reach. A hunger to give physical presence to Stravinsky's great score. But, perhaps this is just an old-timer sentimentalising about old times.
Jeanguy Saintus's take on The Rite of Spring is pretty enough, and his concept—deriving the dance from Haitian folklore and vodou spirits called Loa—seems an apt and original approach. The melding of classical forms with elements of body-popping, flamenco and other street and contemporary forms is also commendable. Yann Seabra's costumes are lovely, flowing, androgynous creations. The dancers move with grace and precision (Vanessa Vince-Pang perhaps the stand-out member of a talented troupe). But the whole feels, paradoxically, too choreographed.
One can appreciate Saintus's choosing to decline Stravinsky's "invitation" for human sacrifice, but, whilst there is sweat here, we feel the lack of tears and blood. For the pagans the score seeks to represent, the arrival of spring was key to their continuing survival. Appeasing the god of spring was thus a matter of life or death. Even as the warm caress of possible rebirth caressed their cheeks, they could feel the chill hand of death still clutching at their shoulder. Joy and desire, danced with terror and revulsion. Not here, though. Not quite.
Still, the young people in the audience seem to like it.
It''s a clever move to put on a double bill of dance and a one-act comic opera (especially this one, which features such a well-known and beautiful aria).
I find this revival of Christopher Alden's 'Dead Donkey' production of Puccini's Gianni Schicchi less irritating than I did first time around. (For the sake of accuracy: I suppose it's a dead mule, not a donkey).
Puccini and his librettist Forzano twist a snobbish incident in Dante's Inferno to make the titular character a trickster hero (rather than the original upstart sinner, condemned to hell).
Gianni Schicchi is called in by the relatives of the very recently departed Buoso Donati, when they learn their wealthy relative has effectively cut them out of his will. They despise the nouveau riche Schicchi, but are persuaded by young Rinuccio that he is their only chance of salvaging the situation. Rinuccio has his own agenda. He loves Schicchi's daughter, Lauretta, but Lauretta comes with no dowry, so his only hope of marriage lies in Schicchi succeeding in giving his greedy relatives what they want—the fortune that Buoso's last will seeks to turn over to a local monastery.
Schicchi has as little love for this snobbish rabble as they for him, but is persuaded by his daughter to do it for her ("O mio babbino caro"). Needless to say, the crafty Schicchi has his own ideas about who deserves the bulk of the old man's wealth.
There are some genuinely funny and inventive moments in the production (as when the small boy, Gherardino, sneaks a selfie with the corpse), but the staging is self-indulgent and too busy. The decision to have Buoso's spirit as an active participant is interesting but ultimately unsuccessful—his antics (commendably acrobatic for one so recently deceased) too often distract from the storytelling.
The lack of father-daughter connection during Lauretta's aria (GIanni spends half of it offstage) undermines the poignancy of the moment, suggesting a director who hasn't grasped that the moral of the tale stands or falls on an audience's empathy with a father who, over and above being a class warrior, is willing to risk mutilation and exile, not for profit, but for love of his child. The more we love and admire the resourceful Schicchi, the louder we laugh at the despicable Donatis.
Richard Burkhard—the issues I describe not withstanding—makes an admirable case for Gianni Schicchi not to burn in hell as Dante decreed. He not only carries the day but, with any luck, will carry some of this evening's young dance fans one big step towards to becoming fans of opera, too.
Reviewer: Martin Thomasson