The Rivals
Richard Brinsley Sheridan
Arcola Theatre
–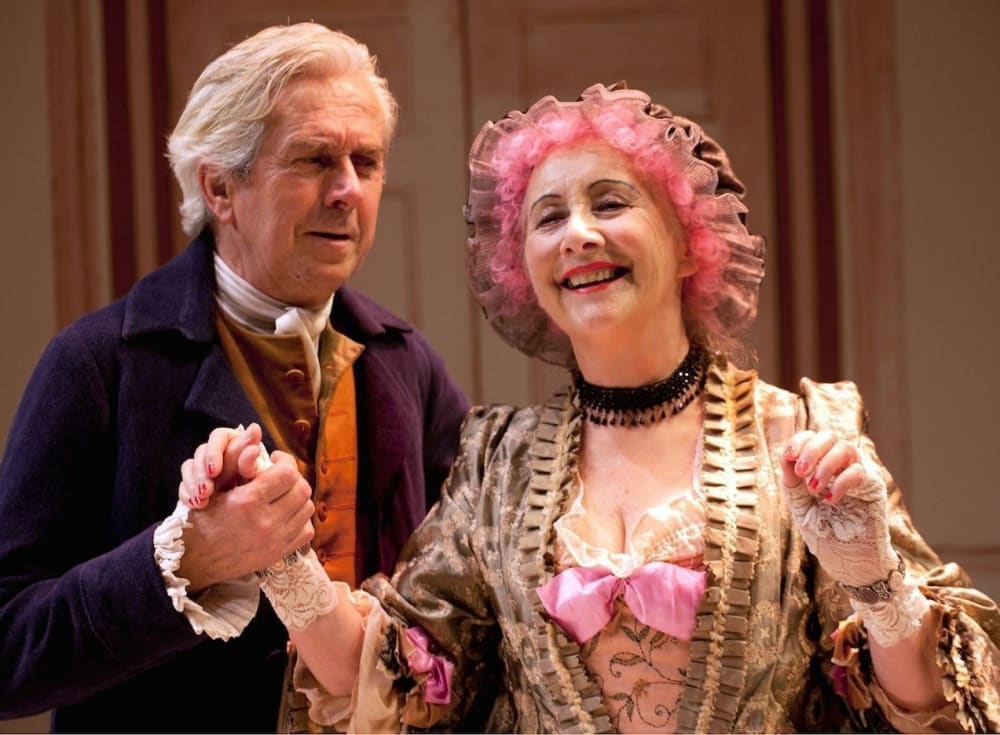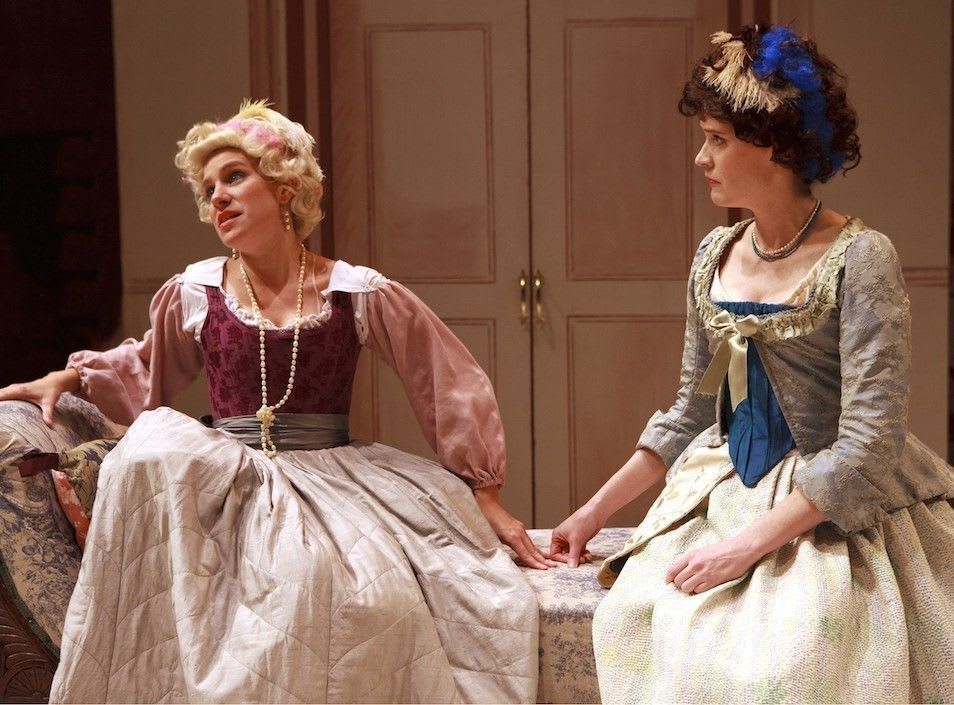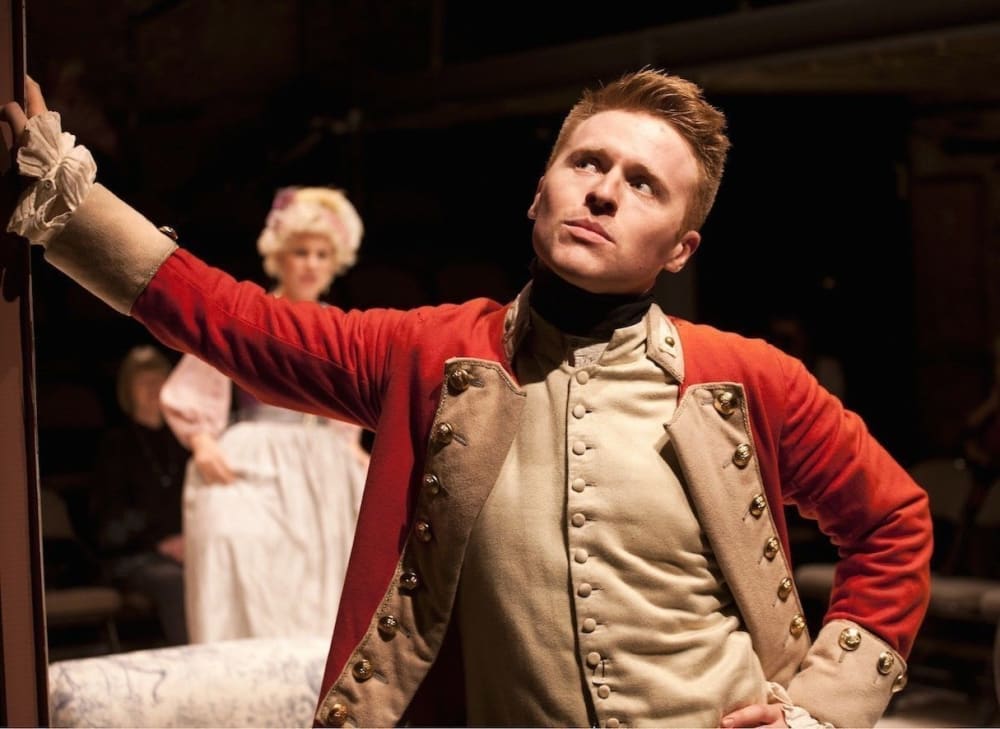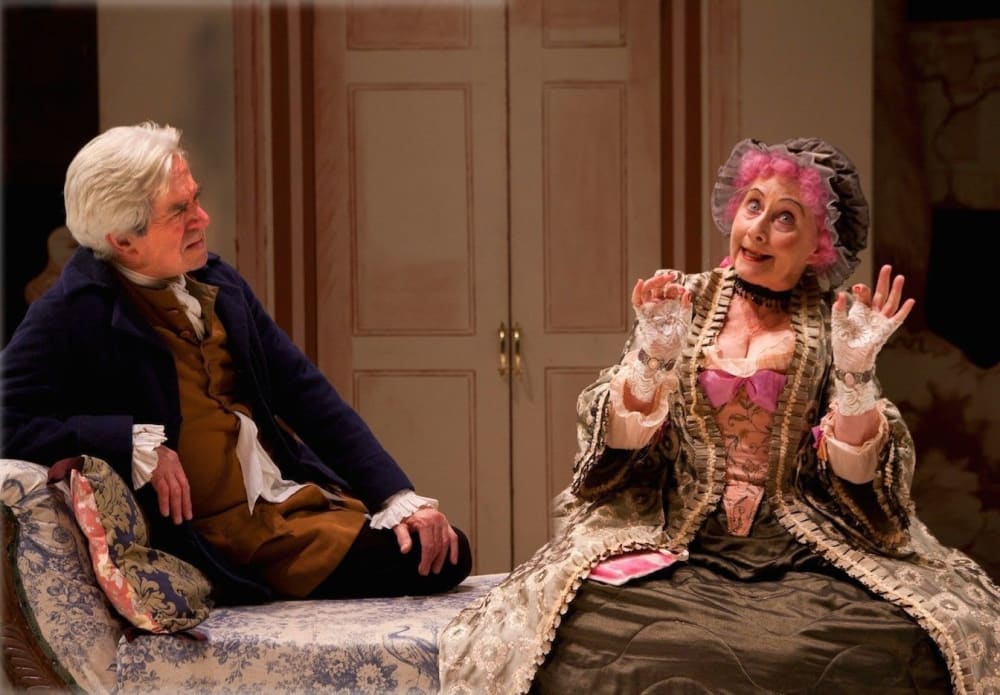 Richard Brinsley Sheridan's play is set in fashionable Bath, where romantic young Lydia Languish has set her heart on elopement with a penniless young Ensign rather a marriage to what her aunt thinks is a suitable suitor.
What she doesn't know is that the Ensign, Beverley, is actually the son of rich Sir Anthony Absolute masquerading because he wants to be loved for himself not his money. The audience is let into that secret within the play's first moments.
The Rivals has been a regular in the theatrical repertoire since 1775 but at its first performance it went on far too long and flopped. Sheridan rapidly rewrote it and it was restaged only 11 days later to rip-roaring success. That second version has become a much-loved classic but this production does still seem to go on a bit—three hours if you include the interval. There is much that is good but it does have its problems.
There is an excellent performance from Iain Batchelor as Captain Jack Absolute in his dashing military scarlet, stylish and clear spoken, like the rest of the cast free of any unnecessary foppery. He is particularly good in is scenes with his father—an impressive performance from Nicholas Le Prevost as Sir Anthony Absolute.
When we first meet Sir Anthony, he is with Lydia and her Aunt, Mrs Malaprop, in conversation about the proposed marriage to his son. Gemma Jones, sprightly in pink curls and a mobcap, gives her one of those strangulated voices that mark many of the English upper class.
This is the character that gave the word "malapropism" to the language; her ongoing contribution to the comedy is the way that she gets words wrong, so it's a shame that this vocal affectation sometimes makes those words unclear, especially when played to the opposite side of the audience. However it is rare to see a face as expressive in her reactions when she and Sir Anthony bring the two young people together.
As Lydia, her ideas and aspirations formed by the novels she loves reading, could be a be more languid than Jenny Rainsford makes her but she gives her a pert charm and both she and Justine Mitchell as her friend Julia Melville develop their characters more strongly in the second half of the play.
Julia is the lover of Jack's friend Faulkland, played with panache by Adam Jackson-Smith, a subsidiary love interest, while Lydia has another suitor in Justin Edwards's lumbering bumpkin Bob Acres and Adrian McLoughlin's lively little Irish Sir Lucius O'Trigger also thinks that he has been wooing her as Delia, not knowing his letters have been delivered instead to Mrs Malaprop. They all end up together on a duelling ground but that doesn't prevent a happy ending.
Director Selina Cadell dispenses with pseudo 18th-century flourishes and has sought to create the intimacy of real 18th-century performance with clouds pulled across the stage and flown in token pieces of scenery that hint at the sliding panels of the first Covent Garden production. Here the Arcola's thrust stage poses a problem.
The 18th century actor played on an end-stage. With most of the audience in front of him he could address them as one, or make an aside directly to the people in the stage boxes. Cadell has her actors trying to share an address in turn to each of the three sides of their audience, ladies even giving a sequence of three courtesy bobs on a first entrance. It is a way of acknowledging that this is theatre not pretended naturalism but it feels awkward.
Work at the Globe and in in-the-round theatres has shown that, in such formats, such contact works better when addressed directly to individuals—and indeed they do that here by using audience members to take charge of props or temporarily relinquished costume.
To cover the changes of location, moving furniture or scenery has been built into the performance accompanied by snatches of contemporary ballads. It slightly stretches the playing time but the effect is delightful and, though the first act could do with more pace, things seem to go much more rapidly after the interval.
If it doesn't take flight early on, this Rivals reaches a happy conclusion.
Reviewer: Howard Loxton