The Rocky Horror Show
Richard O'Brien
Alhambra Theatre, Bradford
–

Listing details and ticket info...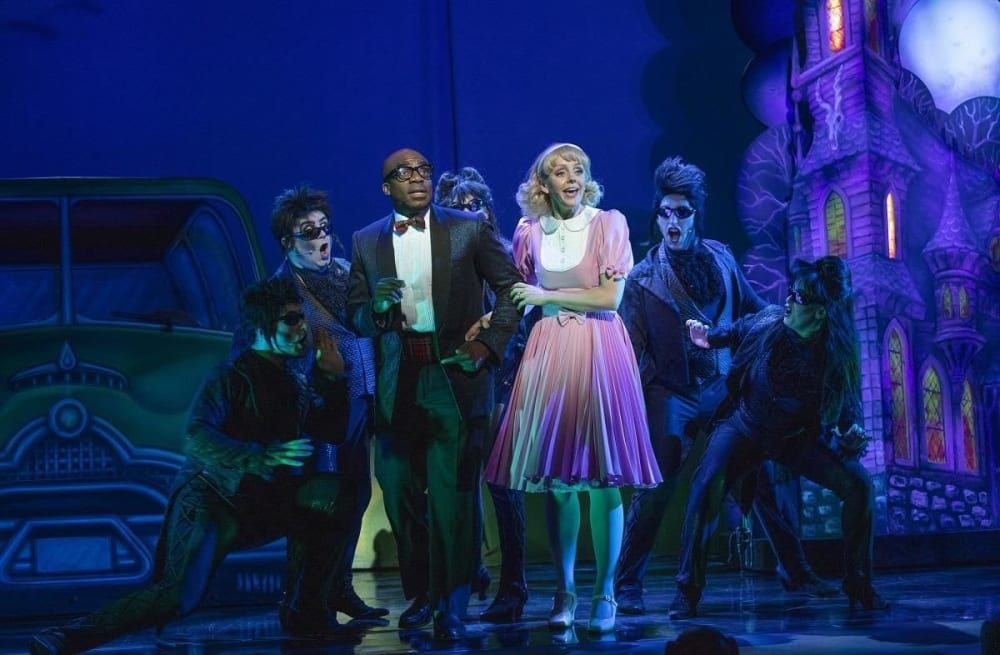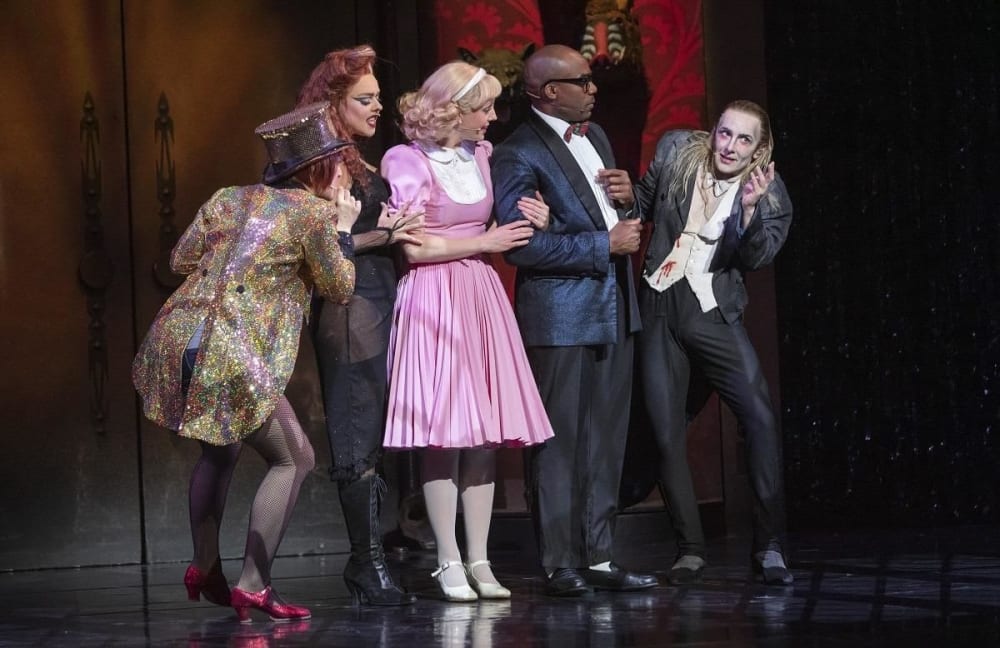 As I travelled to Bradford to watch The Rocky Horror Show on stage for the very first time, I was reminded of Simon Pegg's slacker Tim in the cult Channel 4 sitcom Spaced, who memorably described the film version as "boil-in-the bag perversion for sexually repressed accountants and first-year drama students." It's a great line, reflecting my own frostiness for a film that I loved intensely as a teenager but haven't seen in nearly twenty years.
Described by its creator Richard O'Brien as a "fairy tale", The Rocky Horror Show offers audiences a cheerfully perverse blending of science fiction and B-movie tropes. When a sweet young couple—Brad (Ore Oduba) and Janet (Haley Flaherty)—are forced off the road during a rainstorm, they decide to seek a telephone in a nearby castle.
Upon entering the sinister abode, they fall into the clutches of Dr Frank N Furter (Stephen Webb), a crossdressing mad scientist, who uses his considerable genius to create a blond hunk named Rocky (Ben Westhead). O'Brien has likened the musical's plot to the story of Adam and Eve, with Brad and Janet doubling as the first man and woman, and Dr Frank N Furter representing the wicked serpent who breaks down their inhibitions.
I mentioned earlier that it's been a long time since I last watched The Rocky Horror Picture Show, starring the inestimable Tim Curry, and that my feelings for the film had cooled since then. After watching this dynamic production, I'm glad to say that I'm back on board with the Rocky phenomenon.
The narrative of Rocky may be thin as tissue paper, but this only serves to underline its roots in 1950s sci-fi cinema, which are memorably invoked by Suzie McAdam's cinema usherette at the beginning and end of the show. The script is full of sharp one-liners and more double entendres than you can shake a suggestively shaped stick at.
The songs are undeniably strong, and audiences get to watch the show's most memorable tunes—"Time Warp" and "Sweet Transvestite"—for a second time during the encore. While the show deserves heaps of praise for its supremely catchy parodies of rock 'n' roll songs, I was also impressed by the show's quieter, more languid tunes, such as "Don't Dream It, Be It".
When Rocky was first performed at the Royal Court in 1973, it quickly gained praise for its polymorphous perversity and joyful celebration of homosexual desire. In the current climate, some newcomers might be put off by a show in which the main character is depicted as a homicidal, sex-obsessed transvestite. Viewed as a lovingly preserved period piece, however, the show still retains much of its original vitality.
Stephen Webb faces a near-impossible task in trying to live up to Tim Curry's immortal performance. However, he rises to the challenge with panache, capturing the character's wit and swagger. Equally impressive is Philip Franks as the Narrator, who offers a deadpan counterpoint to all the craziness that ensues. His responses to the audience's various heckles were priceless.
Kristian Lavercombe has performed in Rocky a mind-boggling 1,800 times, which explains why his turn as Dr Frank N Furter's hunchbacked servant Riff Raff seems so effortless. Suzie McAdam is suitably sinister and seductive as Magenta, and Lauren Ingram brings explosive energy to the role of Columbia.
Brad and Janet may be written as squares, but Ore Oduba and Haley Flaherty have great fun in portraying how their small-town American virtue crumbles under Frank N Furter's erotic charms. There's also strong support from Joe Allen and Ben Westhead as two of the mad scientist's experiments.
The production is only two hours long and director Christopher Luscombe manages to keep the momentum up throughout. Praise must also go to all members of the creative team, but I was particularly dazzled by Nick Richings's spectacular lighting design.
The Rocky Horror Show may not seem as subversive as it once did fifty years ago, but this production proves that there's still a place in theatres for this badly behaved musical.
Reviewer: James Ballands