The Rocky Horror Show
Richard O'Brien
Howard Panter for Ambassador Theatre Group
Palace Theatre, Manchester
–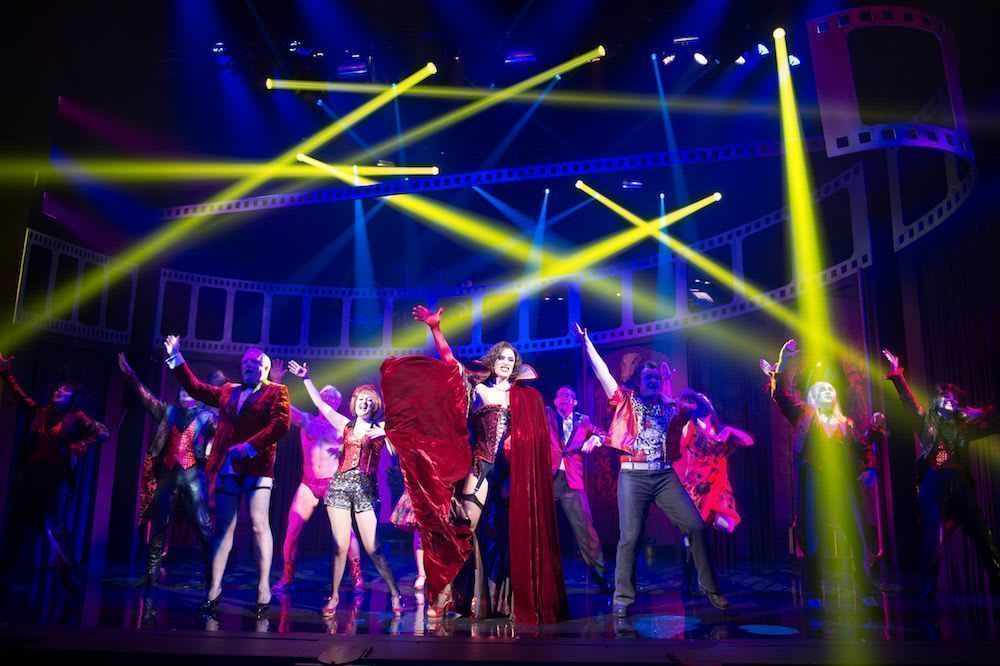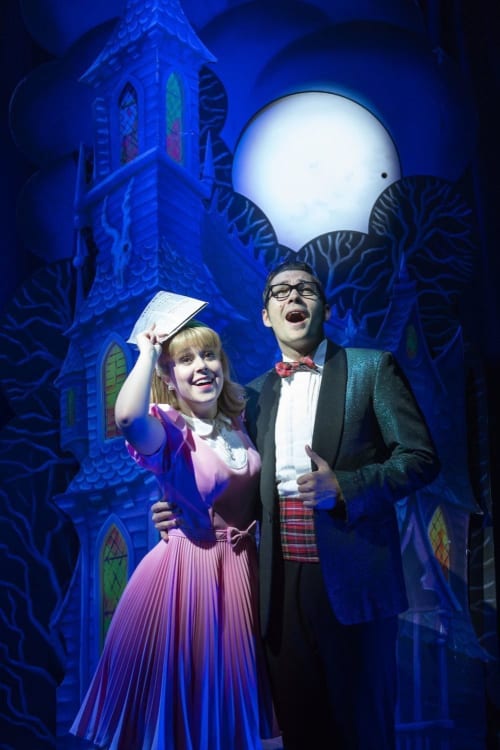 It's all about antici...
Insulting The Rocky Horror Show would be a little bit like saying nasty things about her Majesty the Queen—not quite treasonable, but hurtful to those who, for whatever reason, hold her in the highest esteem and affection. Moreover, the reviewer who spoke against the 'biggest cult musical of all time' would surely live in fear of crowds of men in basques, fishnets and stilettos gathering at his door, clutching flaming torches, pitchforks and sickles, whilst baying for his (or her) blood.
Thankfully, not only does this reviewer lack the courage to take such a stance, tonight at the Palace Theatre, on this fortieth anniversary tour, there clearly is no need. Richard O'Brien's outrageously camp goldmine continues to deliver the nuggets of familiar naughtiness, beloved of audiences around the world since 1973 (when, no doubt, it was rather more edgy than it seems nowadays).
It's an everyday story of Brad and Janet, the newly engaged, clean cut American couple whose car breaks down in the back of beyond one rainy night. The only place nearby is the Frankenstein mansion, where the sinister 'handyman', Riff Raff (marvelously revived here by Kristian Lavercombe) introduces them to his master Frank-N-Furter (Oliver Thornton), a 'sweet transvestite from transsexual Transylvania' (bear in mind that this particular Transylvania turns out to be an alien planet).
After inviting the naïve couple to witness the creation of his perfect partner, Rocky (Henry Davis), Frank helps himself first to Janet's virginity and then to Brad's. Even though it all ends badly for Frank, try not to cry; there'll still be time for one more chorus of the show's greatest hit—"The Timewarp".
The Rocky Horror Show has long been an audience participation piece. (That doesn't mean —note to the group of young women off to my left—behaving like you're watching a DVD, holding your own "private' and "hilarious" conversations throughout the performance: I may not have resorted to the language of the man six rows in front of you, but I fully endorse his sentiments. Where were the ushers?)
What 'participation' does mean is that there's a game being played by those who know the show—off-colour jokes and lewd comments are called out on cue, with our Narrator throwing back (more or less) off-the-cuff retorts. The Narrator's role (as O'Brien who has played it himself in the past, knows) is key to the success of any production of this show. Philip Franks is droll, inventive, scurrilous—the love-child of Brian Sewell and Tim Rice, if it's possible to imagine such a creature.
One of the admirable things about this production is that the women (and indeed, the men) come in all shapes and sizes, not to mention a reasonable range of ages. Frank's unbounded vampiness soars, as it must, above all and Thornton has the looks to outdo Tim Curry's original—'I would, would you?' flittering around the auditorium from the overactive fantasies of men as well as women (just, no doubt, as O'Brien would wish it). For myself, the words 'don't dream it, be it' seem to flow from the mouth of one of my former girlfriends—where did she get all those muscles?
The audience and their outfits are an essential part of any production of The Rocky Horror Show. At every turn are sights you've never seen, or thought you never would see—except, of course, coming here to this show, you kind of knew you would.
Two hours pass more than pleasantly and before we know it, it's ovation and reprise time. So shall we? You know? Do the Timewarp, again?
The sound needs just a little fine tuning—or perhaps the Palace's acoustics can't quite cope. Hugh Durrant's sets function well enough, while Nathan M Wright's choreography inevitably takes a back seat to hip-thrusting, jumping to the left and the like.
Whether you are old enough and smart enough to get the parody of genre B movies, or whether, like director Christopher Luscombe, you attribute its appeal to the spirit of carnival ('Rocky is like a holiday from life',) if you're bold enough to buy a ticket you won't be disappointed.
Oh, yes. Nearly forgot.
...pation.
Reviewer: Martin Thomasson