The Rolling Stone
Chris Urch
Orange Tree Theatre
–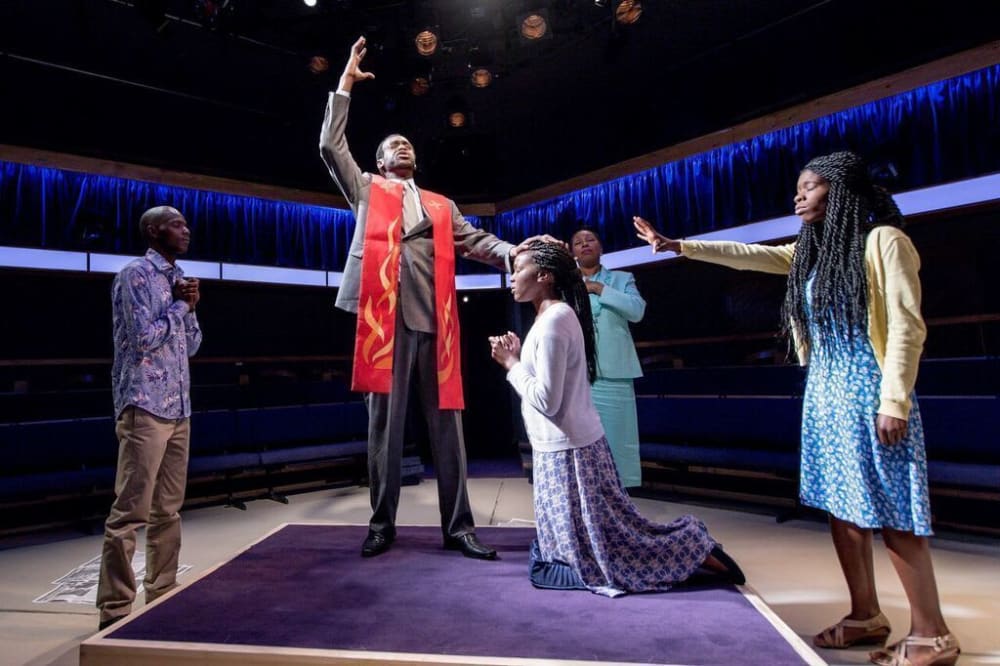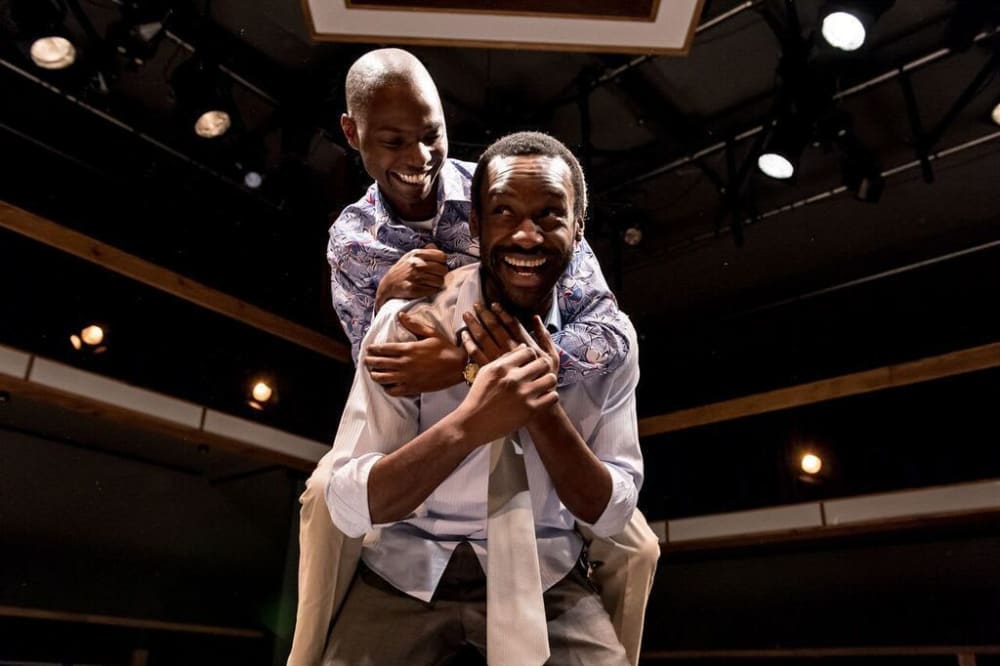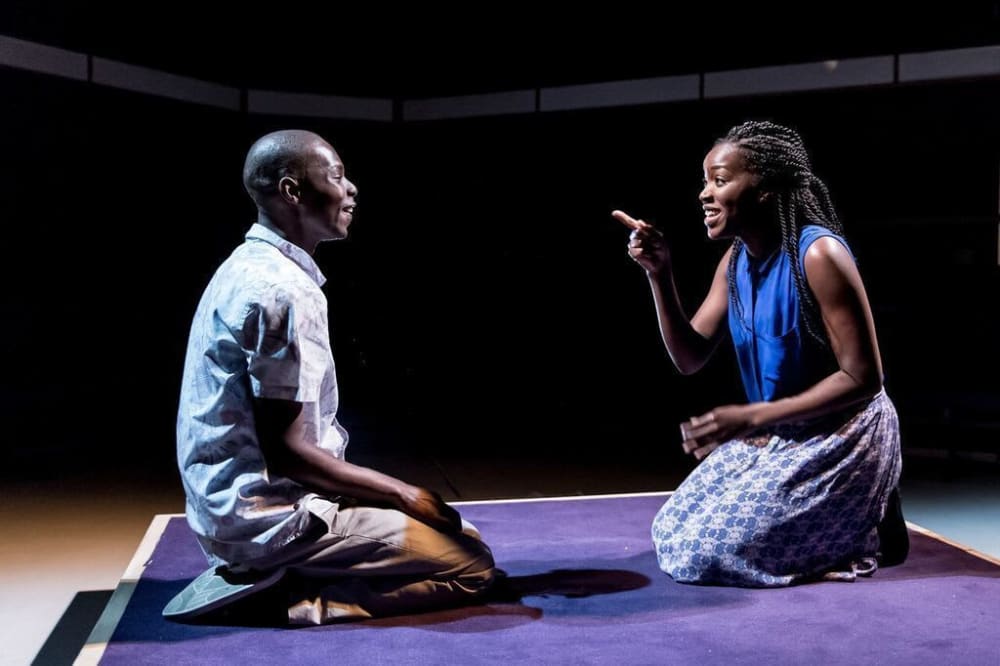 The Rolling Stone is a newspaper—not the long-established US pop music magazine but a recent newcomer published in Kampala, Uganda that published photographs and addresses of suspected homosexuals, alleging that they aimed to "recruit" Ugandan children and calling for them to be hanged.
After gay rights organisation Sexual Minorities Uganda petitioned the High Court, the paper was shut down but one of the associated plaintiffs, retired teacher David Cato, was then found brutally murdered in his own home, though the paper's editor, Giles Muhame, suggested he was simply the victim of a robbery.
Not only is homosexuality illegal in Uganda (ironically a legacy of colonial rule) but you might even be sent to prison for not reporting a family member you know to be gay.
That is the background to Chris Church's play which presents the effect of exposure on a pair of fictional lovers, one a half-Ugandan doctor from Belfast, the other local, and the local man's family of committed Christians.
The a capella singing of "Nearer My God to Thee" sets a Christian atmosphere for the Ugandan man, Dembe, and his community are dedicated Christians, his father recently deceased, the local pastor, but the first scene has Dembe in a romantic, starlit tryst at the lakeside with Sam, the doctor.
They seem relaxed and happy but Dembe finds his love in conflict with his religion and soon, with The Rolling Stone's first listings, the dangers become even greater.
Dembe's family have money problems following the death of his father. They seem solved when elder brother Joe is appointed to succeed him as pastor. A family friend, whom they all call Mama, an influential pillar of the Church, brings the news at the same time as waving The Rolling Stone's front-page exposure, but the pastor won't get paid until he attracts a larger congregation. Joe insists sister Wummie (due to take an important exam next day) take a job and give up her educational aspirations.
Sam's room is trashed, the Uganda slang for gay daubed on the walls, and his mobile 'phone is missing. There are picture of Dembe on it.
As the situation escalates further, this is both a look at the power of prejudice and the way that it operates and a study in family loyalties and it takes an unromanticised look at what love really means.
Chris Urch has written a powerful drama that won a Bruntwood Prize Judges' Award leading to its production last year at the Royal Exchange in Manchester, which its director Ellen McDougall now stages at the Orange Tree with many of the same cast. Here its intimacy makes it effect even stronger.
The staging is very simple, a single rostrum provides a focus for Joe's preaching and all other locations, its shape reflected in a square of light overhead. It makes the focus on the actors even sharper and they deliver fine performances.
As 18-year-old Dembe, Fiston Barek is charmingly happy with his lover but having to face up to that happiness being in conflict with the values of his faith and society. It is a performance that seems totally honest and very moving.
Julian Moore-Cook is Sam, open and confident for he has grown up with the relatively newfound freedom for gay people in Northern Ireland. He is particularly fine delivering a succession of things that reflect the nature of love: Urch isn't afraid to give his characters splendid speeches.
Faith Omole's Wummie is equally moving in a speech about love as she sees it within the family, a sister of understanding but who is losing all that she hoped for. Sule Rimi's Joe manages to suggest both the possibility of a charismatic preacher and the uncertainties that undermine it. Jo Martin makes a bossy, self-confident Mama, though she too hides a sinful secret to do with her mute daughter Naome, another well-defined performance by Faith Alabi.
Sacred song provides a touch of atmosphere but this isn't a production that needs to create place and society—that is represented by malicious newsprint. While the play will importantly bring the Ugandan situation to audiences who may previously have been unaware of it, this is a picture of the witch-hunt and savagery that victimises not just homosexuals.
Although The Rolling Stone was closed down in February last year, the Ugandan President signed a new anti-gay bill with new penalties, though a clause was removed criminalising those who do not report gay people, as well as a proposed sentence of up to 14 years for first-time offenders. The next day, another Ugandan tabloid, The Red Pepper, published a list of 200 gay people under the headline "Exposed". The curtain has not come down on this story.
Reviewer: Howard Loxton