The Rover
Aphra Behn
Artluxe
Hampton Court Palace
–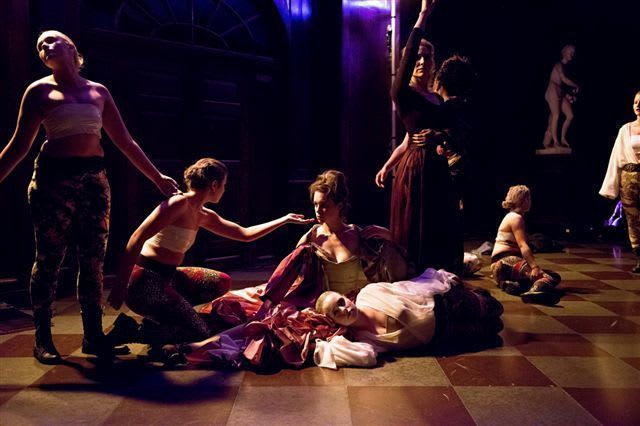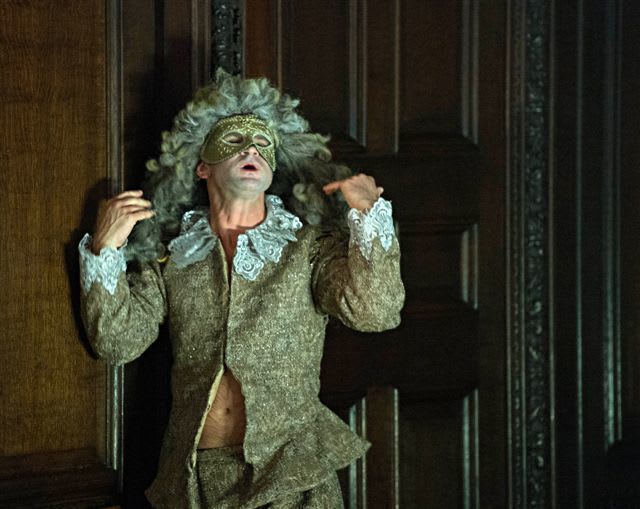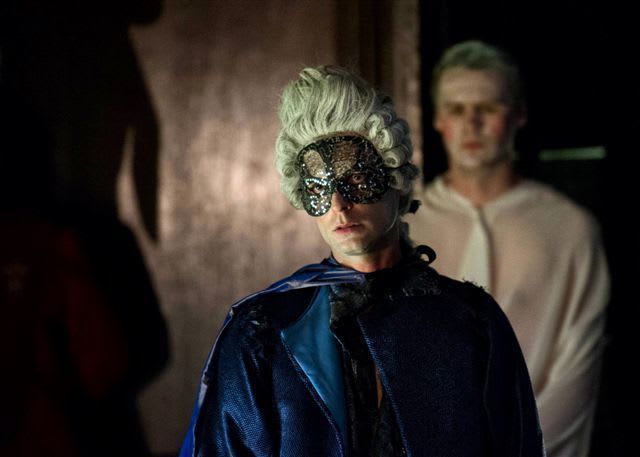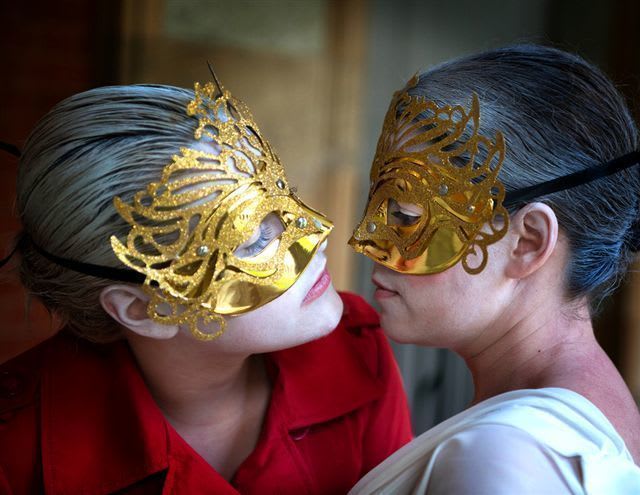 Alternatively titled "The Banished Cavaliers" Aphra Behn's play centres on some English cavaliers at large in Naples during the Commonwealth and their encounter with two sisters and a beautiful courtesan.
One sister, Florinda (Chloe Pirrie), wants to avoid the husband(s) her father and brother plan for her and marry her lover Bellville (David Ricardo-Pearce). Hellena (Beatriz Romilly), the other, wants to taste sexual pleasure before allowing herself to be sent to a nunnery. The men are all out to score where they can. Though in part a critique of society's double standards and a proto-feminist cry against woman's role as wife, whore or virgin, The Rover nevertheless revels in Restoration bawdy.
Amy Hodge's adaptation cuts a subplot along with a number of characters and drastically trims down the text and her production concentrates on the bawdy and a little interactive titillation for its promenade audience. There is some modernisation of the text—an "okay" suddenly sounding anachronistic, and at some points every sentence seems to contain at least one "prick".
You get the gist of the plot, which has an altered ending. The emphasis is less on the narrative than on a series of installations that draw their inspiration from the play. The audience experiences what might perhaps be best described as "palace porn" as they follow a carefully-constructed route through the private and state apartments of the baroque side of Hampton Court.
At first the audience is split into two and goes in different directions. I then saw part of the first scene of the play and, moving to a new location, this was followed by the second; we were then led through to Wren's Fountain Court where carnival is in progress with masked revellers, and as you mingle you may be propositioned by vendors, entertainers or prostitutes before you get another snippet of the play. Perhaps the other group had an introductory installation to fill the time before they saw the first scenes or perhaps they saw them in the opposite order, but thereafter we seemed to be synchronised even if we took a slightly different route. Another scene followed on a staircase but you could not see or properly hear it if still waiting at the stair foot. That probably didn't matter; perhaps it even helped the atmosphere to fail to eavesdrop.
Sometimes rooms are uninhabited, though laid out for dinner, bath time or study, a soundtrack, sometimes with conversation in the background, though as people move on there's no time to catch any real plot information if the text contains it. Lighting is low so you cannot study the paintings and architectural details of these royal apartments, but there is a certain frisson at being here out of hours as though sneaking around when people have left the room. Elsewhere, the performance art is much more voyeuristic. Red-coated women rolling orgiastically among a heap of blow up sex dolls, a blindfolded man reaching out to find a body to explore, people undressed in various intimate moments or masturbating in corners.
When the play reaches the point where a month with a beautiful courtesan is offered for £1,000, a gallery exhibits a series of other choices to suit different tastes as well as Nadia Cameron-Blakey's elegant Angelica. There is a girl with tasselled nipples, a curly-haired young sailor, a young man in suspender belt and leather cap, a string of diamante drawn over his face. I didn't ask their prices but, like the rest of this lavishly-staged show, they looked very expensive.
Don Antonio (Paul Albertson), who is due to marry Florinda, and her brother Don Pedro (Carl Prekopp), both bid for Angelica and start a spectacular sword and fist fight. At least I think that's who they were. It wasn't always easy to tell who the men were in their similar grey wigs and suiting. It is most effective as they dart through the audience (fight director Bret Yount).
In contrast to this realistic violence and the rough rapes that feature, the next sequence shows Angelia being slowly prepared for bed by Moretta (Clare Perkins) in the centre of a large salon with displays of weaponry (a pun there?). She becomes an isolated sex object and then succumbs for free to the advances of Wilmore, the Rover (Daniel Weyman), in a highly stylized, extended and rather beautiful copulation that turns sourly selfish with its climax of male satisfaction.
It is not surprising that she later turns a knife on him when she discovers him reneging on his promises of devotion. But before that we have another beautiful set piece as the audience assembles and settles in another long gallery as their final location. It develops from figures crawling on the floor reaching out to each other into line of figures slowly pacing almost on the spot, first in one direction then the opposite. Simple but so beautifully executed it is lovely.
There's violence again when the Rover, seeing Florinda waiting for Bellville, thinks she is a tart but when Hellena, herself hunting sex, catches up with him the production again becomes stylised. This production sees the other two women with offers of marriage, but this Hellena spurns that. It ends with an elegant tableau and a musical setting of the Earl of Rochester John Wilmot's poem "Signor Dildo". Who needs men after all?
Reviewer: Howard Loxton