The Royal Ballet's Gary Avis & Friends Dance for Suffolk

Ipswich Regent
–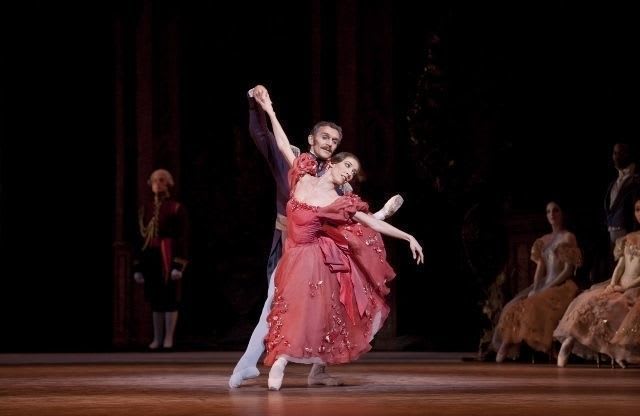 Ipswich-born Royal Ballet Principal Character Artist and Ballet Master Gary Avis returns to Suffolk to present two special charity gala performances to raise £100,000 for Suffolk Community Foundation.
Since he moved back to Suffolk two years ago with partner Tim Holder, who is Development Director for the charity, the gala has showcased fourteen Royal Ballet dancers, who appear with the kind permission of Director Kevin O'Hare.
Accompanied by the Royal Opera House's production team, Suffolk-based producer Bryony Wells co-ordinates this creative venture at East Anglia's largest theatre: the Grade II listed Ipswich Regent. Hosted by Anton du Beke from BBC's Strictly Come Dancing, with whom Gary Avis shares an enjoyable comic duet entitled A Little Something Else, the afternoon features a wide range of choreographic styles in full costume to both pre-recorded and live music.
After presenting each of the dancers' images on a larger-than-life projected backdrop, the gala opens to Swan Lake's act I pas de trois with soloists Luca Acri and Meaghan Grace Hinkis and First Soloist Helen Crawford. The staging of Petipa's joyful suite feels slightly restricted, perhaps due to the smaller performance space. Ipswich-born Helen Crawford later dances Brahms Waltzes in the Manner of Isadora Duncan. Performing three of Frederick Ashton's five waltzes, this heritage piece is accompanied by Royal Ballet pianist Kate Shipway.
Performed as part of the Royal Ballet's Winter 2015/16 season, Artistic Associate Christopher Wheeldon's metronomic Within the Golden Hour first pas de deux follows, danced by First Soloist Beatriz Stix-Brunell and Principal Alexander Campbell. Performed in the same mixed bill celebrating Wheeldon's work, After the Rain sees Principal Zenaida Yanowsky and First Artist Reece Clarke in the pas de deux set to Arvo Pärt's Spiegel im Spiegel. This one-act abstract ballet originally created for New York City Ballet in 2005 is accompanied by pianist Kate Shipway and violinist Benjamin Baker.
Recently promoted Soloist Mayara Magri and First Artist Reece Clarke exhibit a mesmerizing performance of Swan Lake's act II "White Swan" pas de deux, with pianist Kate Shipway, violinist Benjamin Baker and cellist Michael Petrov. In complete stylistic contrast from the classicism of Petipa's Swan Lake, Anton du Beke's quickstep, A Little Something ensues, partnered by world champion ballroom dancer Joanne Clifton.
Running through the auditorium, soloist Matthew Ball opens act II to perform an emotive interpretation of Kenneth Macmillan's Romeo & Juliet act I balcony pas de deux. First Soloist Yasmine Naghdi's refined technique and exquisite classical line and Matthew Ball's strength and maturity form a stunning and dramatic partnership, also broadcast on BBC Two as part of Shakespeare Live from the RSC earlier this year.
Two community performances also feature. Student dancers from DanceEast's Centre for Advanced Training scheme in Antonia Franceschi's well-choreographed contemporary piece Brim and Lead Vocalist Maria Mattisson and The Gallery Players, an Ipswich-based community theatre group, present gospel-inspired "I Know Where I've Been" from the musical Hairspray, sung in dedication to their late founder Pat Taplin.
Well-timed with Sir Peter Wright's 90th birthday approaching, Mayara Magri's precision in the placing of her limbs together with Artist Lukas Bjørneboe Brændsrød's elasticity and elevation in his ballon, project and engage with the audience in a shortened version of The Nutcracker act II grand pas de deux.
Superb energy and attack are relished in Vasily Vainonen's Flames of Paris pas de deux, which was also performed as part of The Bolshoi Ballet's three-week residency at the Royal Opera House this summer. Meaghan Grace Hinkis powerful fouettés and Luca Acri assortment of jetés display great virtuosity and panache in this dramatic piece on the French Revolution, one the Royal Ballet should add to their repertoire.
The afternoon also presents First Soloist Beatriz Stix-Brunell and Principal Ryoichi Hirano in the "Final Duet" from Wayne McGregor's Raven Girl and Principal Zenaida Yanowsky in William Tuckett's narrative theatrical abstract solo Nisi Dominus to music by Monteverdi. Flown in from the Sultanate of Oman, recently retired Principal Mara Galeazzi joins Gary Avis in John Cranko's Onegin act III "Tatiana and Gremin" pas de deux. Together, they complete the afternoon in a well-received revival of Ronald Hynd's The Merry Widow act III final pas de deux, a work created for The Australian Ballet in 1975, an adaptation of Franz Lehár's romantic operetta of the same name.
With live musical accompaniment, this unique talent-filled afternoon is an opportunity to witness the company's established and rising stars before the 2016/17 season gets underway.
Reviewer: Naomi Cockshutt