The Sacred Flame
W Somerset Maugham
English Touring Theatre
Northern Stage, Newcastle
–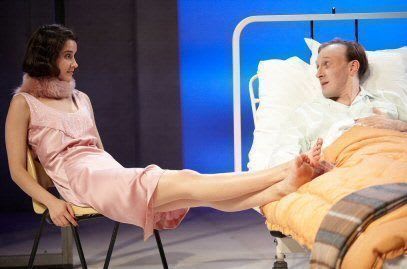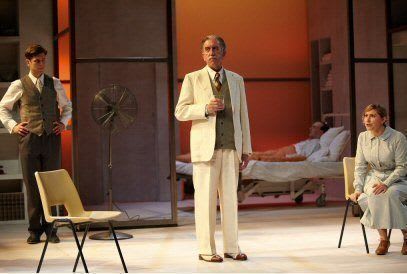 I must first admit that I have neither read W. Somerset Maugham or seen any of his plays. Of course I'd heard of him, but I'd relegated him to the 'old fashioned' annals of English Literature. But now - and thanks to director Matthew Dunster for switching the light on - I'll be down at my local library to collect as many Maugham books as I can lay my hands on.
What Dunster has successfully conveyed with his minimalist set is just how modern Maugham's thoughts and ideas about morality and love really are. However his idea of chucking out the chintz, although a good one in principle, does appear restrictive, leaving his actors a little lost and awkward.
I did like Anna Fleichle's stark design with echoes of Mondrian, but it didn't sit comfortably with what is essentially a drawing-room drama. With little else but a hospital bed and a couple of plastic chairs there were times when the dialogue turned the actors into 'talking heads'. It is very difficult to believe intimate conversations delivered from opposite sides of the stage.
The setting is small change compared to the rewards reaped from such a frank examination of the love phenomenon, which, although at odds with the times, surprisingly focuses on the female sexual appetite and is an implicit attack on conventional morality. There is no point going fishing in this plot; there isn't a herring in sight, let alone a red one.
The story follows the misfortunes of Maurice Tabret (Jamie De Courcey), who, having returned unscathed from the Great War to marry his sweetheart Stella (Beatriz Romilly), is crippled in a motor accident leaving him bedridden. He's found dead in bed one morning and, although the doctor is prepared to write the death certificate, his devoted nurse cries foul, believing him to be the victim of murder.
De Courcey's broken back is less convincing than the devoted love he shows for his spoiled young wife. I was disturbed at the lack of consideration for the acting profession, leaving this poor man playing dead in full view for some of the first half and all of the second. Maugham would have surely done the decent thing and covered him with a white sheet.
I especially liked Margot Leicester's thoroughly modern mother who tells us that morality isn't the same for everyone and proposes one type for the young and another for the old. Chastity, she claims, isn't for everyone. Mrs. Tabret's costume is also mentionably sumptuous with all the delightful tassel and swing that I would love to say matched her middle class house, but of course, she was delivering her lines from a moulded plastic chair with stainless steel legs.
All the costumes were glorious and looked tailor-made. I particularly Stella Tabret's stunning peacock blue blouson and her sensuous pink flapper gown; although it had received the death kiss from an over-hot iron leaving a very appropriate beige slap imprinted on the young wife's right buttock.
Robert Demeger is rather fabulous as the moustachioed Major Liconda, whose past opposes his own sexuality, but it is the nursing devotion of Sarah Churm who holds the key to the intricacies of the story. Although I did feel she lacked the maturity necessary to hold the family to ransom as Maugham demands of Nurse Wayland.
The music was a bit odd too. Big bundles of white noise intercepted by the annoying whine of a finger rolling constantly round a glass. Again, anarchically modern and for me just plain out of place.
It sounds like I didn't like this production, but I did, truly; it's just that my ears liked it better than my eyes. Bring on more Maugham, the theatre is ready. 
Reviewer: Helen Brown